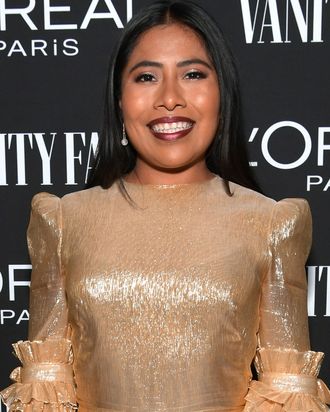 Yalitza Aparicio.
Photo: Emma McIntyre/Getty Images for Vanity Fair
It's possible that Roma's Oscar-nominated actress Yalitza Aparicio may head back to Mexico with a golden trophy after Sunday's Academy Awards, but after a few months of promoting Alfonso Cuarón's film she's definitely bringing home a go-to American catchphrase she's made her own.
"When everybody was running around [Hollywood] initially, I would hear all these words and couldn't make sense of them," the Spanish-speaking teacher turned actress told Vulture through an interpreter at Vanity Fair and L'Oréal Paris's New Hollywood party, which she hosted with fellow cover stars Henry Golding and Amandla Stenberg. "They would always punctuate it with whatever. Then I would ask people what that meant, and it means the same thing in Spanish. And I like that!"
Aparicio also revealed what she'd miss most about her time in Los Angeles, and her answer was a bit surprising, given the region's sun-soaked reputation.
"I'm going to miss a little bit of everything, [but] first of all, the cold!" she offered after several unseasonably chilly nights on red carpets in designer wear crafted more for style than warmth . "Everybody tells me that Los Angeles is not cold, but all I've ever felt since I've been in L.A. is cold!"
"And also kinda the pace of life," she added. "That this has been so different than anything that I've lived through."