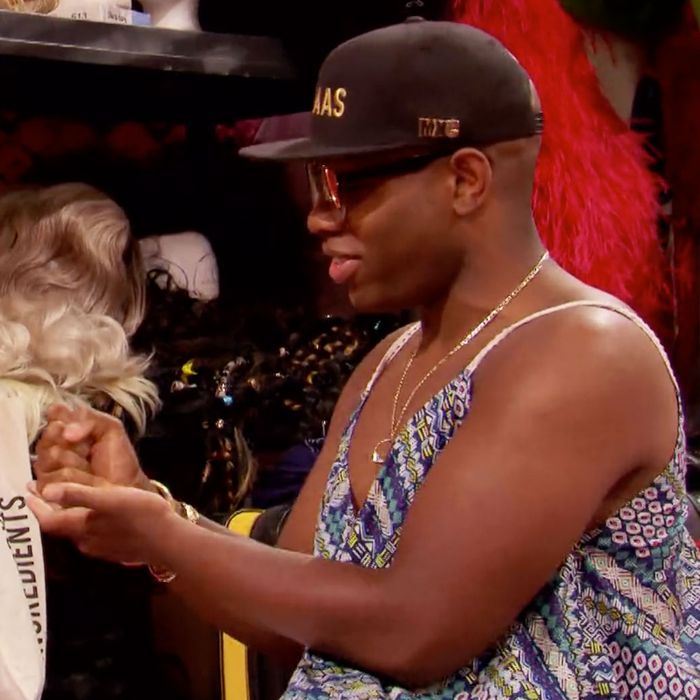 RuPaul's Drag Race
season four.
Photo: VH1
Just like when RuPaul brings back queens who were eliminated for one final shot at our hearts and minds, on this special episode of What the Tuck, we brought back past guests — Vulture's very own Drag Race recapper and one half of Las Culturistas, Matt Rogers, and Horny 4 Horror co-host Mano Agapion — to break down the goops and gags of this season of RuPaul's Drag Race: All Stars' penultimate episode. Together they discuss the still shocking elimination of last week's episode, what it means for Trinity the Tuck to be such a clear front-runner, the absolutely iconic game of rock-paper-scissors, what the hell Naomi thought she was doing in the Sex and the Kitty Girl 3 challenge, whose cat looked like a cat and whose looked like a mouse on the runway, and as a little bonus, what season of RuPaul's Drag Race a virgin should start with.
Seriously, we're getting so close to the end of RuPaul's Drag Race: All Stars 4, we can taste it. What's it? Hush. So, just like the queens themselves this episode, Mano and Matt talk a lot about what should be expected from the queen that wins All Stars and what that means for who should be in the final. Lastly, they each predict what might happen in the finale and who they think will win. Barring any cruise-ship-related mishaps, regular What the Tuck hosts, Joel Kim Booster and Nicole Byer, will be back to help you make sense of the final episode. Until then, there's still so much to discuss, honey, so click play below and let's get into it.
Make sure you subscribe to What the Tuck for new episodes following each new episode of RuPaul's Drag Race: All Stars. Follow co-hosts Joel (@ihatejoelkim) and Nicole (@nicolebyer) on Twitter and Instagram, and remember: No tagging!