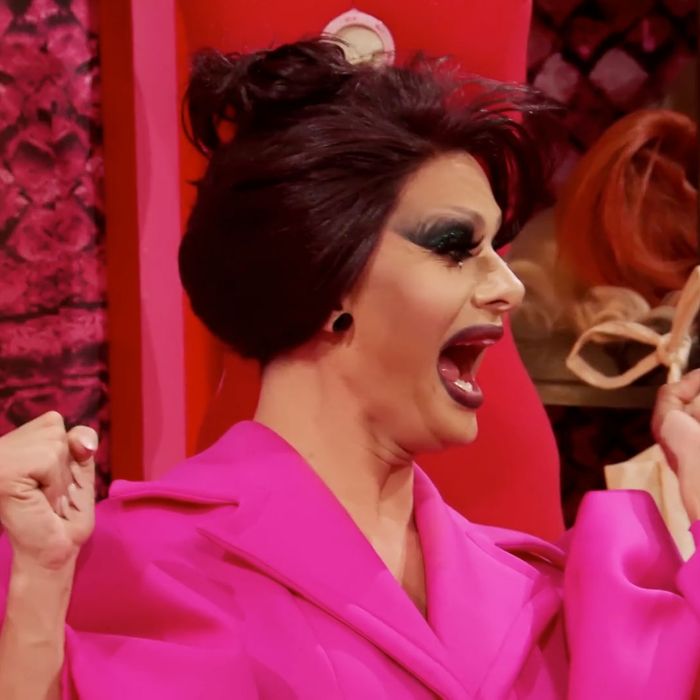 Well, bitches. The time has come to impress Ru and prove why you're a winner, baby. One hundred thousand dollars is on the line, and our top four is a competitive one. We have Naomi Smalls, who's proven this year she's got claws to go with those legs. We have Monét X Change, who went out and bought some new gowns, bitch. We have Monique Heart, now dripping in expensive garments instead of pulling shit together on the fly. And we have Trinity the Tuck, who lost the Taylor and all the fucks. Each one of them is a winner in their own right, having improved dramatically from their already memorable initial seasons. But who, bitch, will win? Who is entering that Hall of Fame with Chad Michaels, Alaska, and Shangela?
Okay, fine, Trixie. "Life's not fair," etc. I know, I know.
Our finale begins with some discussion about Latrice's second exit and a truly convincing gag by Monique, who convinces Monét that she chose her lipstick to eliminate, but then reveals she, like Trinity, chose Latrice. Monét looks really freaked out at the idea Monique would eliminate her, and I give a Standing O to Miss Heart in this moment for her commitment. This, for me, equals a challenge win and moves Monique up in the standings.
The girls are all gagged that it's Top Four and have the fire in their eyes whilst being told all about the final challenge. It's a music video to Ru's new single "Super Queen," which is in line with the finale challenges we've seen in years past. This is always a gag, and while I'm bummed that we're not seeing a ball challenge this year, I'm excited to see what these girls, all pretty fierce performers, will come up with. It's basically the grandest of all performance challenges, with a high degree of difficulty in terms of choreography and a high expectation in the lyrical department. This is, of course, where we got the famous, "My name is Roxxxy Andrews and I'm here to make it clear," intro. So, obviously, the bar is high. The ladies will also "guest" on Ru's podcast What's the Tee with Michelle Visage, which always gives me blue balls because we never get to hear the actual interviews? It's taken the place of the Lunch with Ru and I don't know if I live for it. But, get that promo Ru. This is your show, mawma. Sell the product! Get them Squarespace ads listened to, bitch! Click and drag! Easy!
Monique and Monét talk about what a gag it would be for the two of them to be in the final two together, and I have to say the thought of that is an alluring one. I don't see this finale without Trinity, but it's really fun to think about these two ladies, true underdogs, duking it out in the lip sync. The Tuck, across the room, is more nervous for herself than probably anyone is, but if you flash back to season nine, she definitely did have an issue with the choreography during this very challenge. It felt like she ended up doing it correctly by the skin of her teeth. This is an altogether more confident Tuck, so I'm sure it will be just fine. But she's a little shook, and it's tough to go into a big, fierce challenge with that mentality.
Todrick Hall is on hand to give the girls choreography that looks fucking insane. Trinity flat-out says right up top that she is nervous and uneasy learning choreo, giving Todrick the opportunity to raise a gay eyebrow and serve a sound-bite. Good assist, Trinity! Teamwork! Naomi is hilariously and obviously flirting with one of the hot backup dancers and Todrick calls her out on it right there on the spot. Naomi lets us know in her confessional she is horny and her DMs instantly flood with your dick pics. Yes, you, reader. Then the ladies all take turns doing cartwheels, and Monique has capital-D Difficulty. Trinity laughs in a register we've never heard before, and eventually the cartwheel gets cut from the routine. I would have kept it, but, hey.
Individually, Monét is standing out in the rehearsal big time. She looks like a pop star, and the other girls are taking notice. This is obviously a challenge where Monét is going to be a standout. Teeth begin to chatter thinking about Monét's slayage and Trinity's track record. How exactly can Monique and Naomi compete with this? Naomi gets lifted in the air and Monique tells us she'll be good, "when the lights to come on." K!
A podcaster in her own right (check out Sibling Rivalry with Monét and Bob the Drag Queen right after you've listened to every episode of Las Culturistas with Matt Rogers and Bowen Yang! Thank you RuPaul for the inspiration behind this shameless plug), Monét has an easy and fun rapport with Ru and Michelle. I feel an extremely good vibe and buzz around her this episode. Proving that there is so much yet to explore, Monique Heart reveals that she was once 300 pounds. back when she was closeted and in seminary school. This is a really shocking reveal and truly just goes to show how far this person has come to get where she is today. And, hello?! I want to hear this episode of the podcast!
Naomi, too, discusses a compelling personal narrative with the judges relating to her compulsion to be fierce and stunning at all times. She argues that she is, first and foremost, a drag queen, and I do think she has proven herself to be greater than the sum of her stems this year. Finally, Trinity sits down with Ru and Michelle and, correct me if I'm wrong, but is Ru not just glowing while talking to her? I hate to say that Ru shows favoritism toward any one contestant, but it is very clear to me that there is something about Trinity that she gravitates toward. I get it!
The next day, the girls enter the workroom to find Chad, Alaska, and Trixie waiting for them. They are here to lay a twist on the ladies: that they will be the ones who decide who wins All Stars. This is one of the most unreal twists of the season, and it is fake.
And honestly? Thank fucking God. We really don't need shenanigans. It's way, way more interesting to just let these women fight it out and judge based on merit. But, hey, it's nice to see these winners and we get a fun little moment where the girls all tell the Hall of Famers what their stats in the competition are and Naomi realizes she has the proverbial smallest penis in the room with only one win.
It's an emotional scene in the workroom before we get to the main stage, and then, before we know it, it's time to fucking go. Todrick joins the regular judges to watch the finale performance, and Alaska, Chad, and Trixie join the contestants as the band. The song "Super Queen" is weirdly midtempo, which definitely puts a ceiling on the whole affair, but overall this is a lot of fun.
Monét starts things off as iconically as it seemed she would. You can just tell she does this. Whenever she's been given the opportunity to get onstage and perform the way drag queens do dozens of times a week back home, she absolutely kills it. I've been saying over and over again, where is the Monét that New York City looked forward to seeing when it was first announced she'd be on the show? The Monét we were all as positive would win the show as we were about Bob the Drag Queen. This is her. You're seeing her. She deserves to be top two.
It's tough to follow Monét's performance, and Monique Heart is given that number-two spot. Everything about her is right in this performance, but it doesn't feel like it's right and more. It's not oozing that charisma and star quality that Monét just oozed all over the dance floor. We can still smell the Monét ooze. Monique Heart is a star, full out, but it feels like the previous competitor just laid it all out there and a bar has been set. With the information we got about her from What's the Tee just minutes ago and a performance here that feels great but not totally it, I almost wish we could see her on another season. I'm a fan for life. But I'm not sure she deserves to be top two.
Naomi Smalls's verse is definitely the funniest that we get in this challenge. "Giving body, no curves" is great. It's all great. But her verse, which I guess is serving as a type of bridge in the song, literally feels like it's setting up something bigger. And I guess that's where we stand with Naomi at the end of the competition: She doesn't yet feel like the Main Event. She doesn't feel like the contestant we watch this show every week for. Yes, she gags us on the runway. Yes, she surprises us more often than not when it comes to performance challenges this season. But does she feel like the winner of this season? Really ask yourself that. For me, she's not top two.
When Trinity the Tuck enters, you know a star has hit the stage. Her super queen outfit is the most memorable and stands out amongst everything going on onstage. She's obviously drilled the choreography, because it looks lived-in. Her verse feels lyrically climactic and you're not surprised listening to it that they chose to put it last. I guess I'll put it this way: Explain how you can be better at drag than Trinity is. She could stop improving right now and she'd be one of the best contestants that's ever been on the show. You could make the solid argument that, out of everyone here, she should have won her original season. Her track record speaks for itself. If she isn't top two, something's wrong. The show has done stranger things. Especially in All Star seasons. But this bitch is a top-two bitch.
With that said, it's time to see the final runways and hear from the judges. Everyone looks fabulous. Monét nails it. It's far and away the best runway she's ever done; serving you if Angela Bassett from Black Panther went to the Met Gala and the theme was "Fucking Fierce." I love it. Monique looks beautiful, even if the black gown she wears doesn't leave us with a lasting impression other than basic glamour. I'm not entirely sure about the gloves. Naomi Smalls gives us something no one else would think to give us, which makes it very Naomi Smalls: a puffy gown with a tearaway reveal that shows us, yep, those legs. Love the hat. Trinity, like Monét, gives us her best look of the season. Looking like a walking piece of fina china, she is serving teacup. I love the color, and the reveal that she has little teacups on her tits elevates this to high drag. She looks incredible. The top two is further solidified based on this runway.
Monét is obviously very moved to hear praise coming her way, especially from Michelle. She deserves it! Monique Heart is also clearly beloved by all of the judges, even if the praise isn't as effusive as the comments Monét just received. Naomi is told that her fashion, already elevated, has been elevated even more this season, and that's truly impressive. She's given some negative critique on her performance, which the other two did not get. Trinity, like Monét, is pretty much sailing through to the top two if these notes are anything to go by. She is told by Michelle Visage that she is a "drag orgasm" and that her current look is one of the best she has seen on RuPaul's Drag Race. Carson notes that sometimes it looked like she was thinking about the dance steps in the challenge, but I truly don't think it will matter.
All of the ladies have moving things to say about why they should win. The ladies all discuss how much better they've been made by being in the competition, but it's tough, ultimately, to argue with Trinity's final assessment of herself. When she says that she feels she has earned this, Ru warmly nods and smiles. Ru loves this bitch. Monét's growth from season to season is noted by the judges and the term "X Factor" is thrown into the mix. Monique is discussed as having sky-high potential and being an important part of the Drag Race story, but also as being slightly inconsistent. The judges agree that Naomi was impressive on the season but talk about how she may have some room to grow even more. But we'll always have that Prince look. Trinity the Tuck is obviously making that final two based on these critiques, as her highlights throughout the season are excitedly recounted by the judges.
It's not a surprise that the top two contestants, when all is said and done, are Monét and Trinity. Monique and Naomi are both good sports about this, probably because they can see it coming. Both of those queens should be really fucking proud about what they accomplished this season, but they will watch from the back of the stage as Monét and Trinity lip sync for their life to Christina Aguilera's "Fighter."
Both of them obviously want this so badly. It's a thrilling lip sync to watch, and to a great song for the moment. Trinity is probably serving the best lip sync she ever has in terms of what her lips are doing. She is serving the spirit of the song. But Monét is matching her, and has an extremely fun wig reveal. A short wig into a shorter wig — I guess we can call the latter one a full-on bus-driver moment. She also has a jump into a split. But Trinity has the conviction. She also has the tuck, which you know gets whipped out. The performance is a nail biter, and it's not clear who wins it. My gut says Monét, but it's so close that you have to wonder if an overall better showing this season will tilt this, deservedly, Trinity's way. It's really, really exciting, and either way the season is a huge success.
And, honey. Honey. Honey. Call it Sir Alec Guinness because it goes both ways. This is a gag and a half. Drag Race is … I'm gonna say unable to pick a winner, and it just doesn't feel right. Was this truly a double win, or were we scared to make a choice? As much as this particular event is going to be discussed going forward, probably as the defining gag of the whole go-round, this season had some incredible moments and a race so tight even the show couldn't decide. But, in the words of Thorgy:
… Said the Bitch!!!!!!