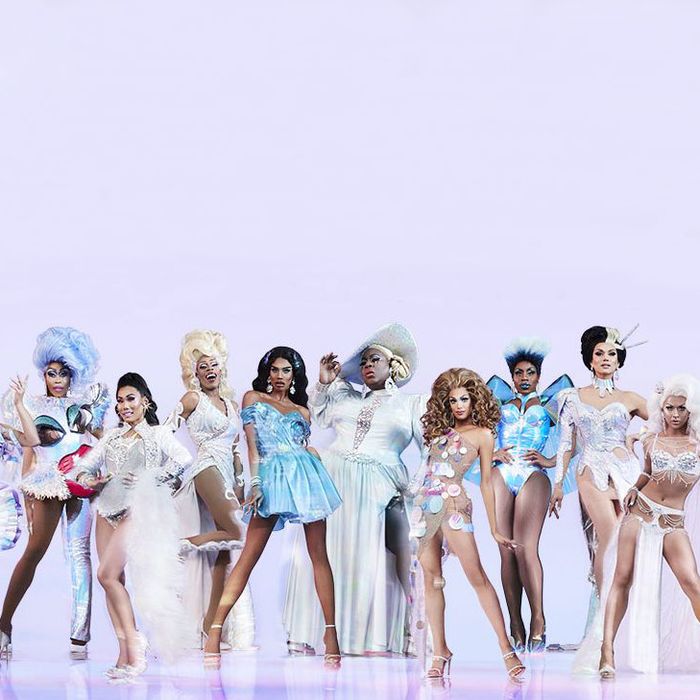 It's taken about a decade for RuPaul's Drag Race to go from a Vaseline-shellacked camp pastiche of Project Runway and America's Next Top Model to an Emmy-winning cultural phenomenon. After a few seasons of its gay target audience clamoring that it was the best thing on television, eventually the mainstream audience caught on, and its popularity spawned an entire economic ecosystem of touring productions, Instagram influencers, one-queen shows, and even DragCon, an annual bicoastal fan convention. Even as the show's most ardent fans these days seem to be teenage girls, it's still the closest thing we have to a modern gay monoculture. And if all of this excellence is to continue, one thing must happen: RuPaul's Drag Race: All Stars must die.
First of all, when I talk generally about All Stars, I mean seasons two through four, not the 2012 first season, which aired only on Logo and that even RuPaul seemingly wishes to will out of our collective memory. (Sorry about it, Chad Michaels.) Ever since the success of All Stars 2 in 2016, Drag Race's new network home VH1 has committed each year to resurrecting ten returning queens to battle it out for the Drag Race Hall of Fame. That is far too often to cast a new slate of All Stars. Just look at the cast of All Stars 4: Half of the queens were from seasons nine and ten. We didn't even have a chance to miss Monique Heart before she was back on our TV screens trying to make "Brown Cow Stunning" happen. (Much like fetch and Monét X Change's sponges, it will never happen.)
That's not to say it wasn't great to have back old favorites like Manila Luzon, Latrice Royale, and meme-generating villain Gia Gunn this season; even the quick fizzle of Jasmine Masters was appreciated. But the high ratio of very recent queens highlighted the fact that the production needs to dig a little bit deeper into Drag Race herstory, and if the All Stars seasons continue at this once-a-year rate, the pool of queens to choose from will get shallower and shallower. In another year, All Stars will just be all of the also-rans from seasons 10 and 11 fighting for what is essentially a second-place trophy.
It's not that the idea of bringing back beloved queens is a bad one. But the current All Stars format is increasingly eroding the foundations of the Drag Race franchise. (See also: what happened to Project Runway when it decided to make it work with more all-star editions than TJ Maxx has Michael Kors handbags.) A better strategy for Drag Race might be to trot out a new riff on the All Stars format once every three to five years, in lieu of the regular season, like Survivor does. (Heroes Vs. Villains and Fans Vs. Favorites are two of the never-ending series's strongest seasons ever.) Or perhaps have older queens return as team captains or mentors, which is a staple of Big Brother. Or maybe find a whole new use for our favorite queens, like reviving the late, great RuPaul's Drag U, or something entirely different. How about a Drag Race version of Bachelor in Paradise? I don't know what that would look like, exactly, but I would sure as shit watch it the house down [tongue pop].
In All Stars' current iteration, though, the thing many contestants seem to want most out of being on the series is redemption, which undermines its success as a reality-TV competition. Call it the Phi Phi O'Hara Syndrome. The queens most likely to book the series tend to fall into one of two camps: Either they aren't getting good enough gigs, or are willing to take time off of their lucrative touring schedule for a second chance at winning. That means the show increasingly attracts those who think they got a "bad edit," like Phi Phi, or those like season-two winner Alaska, who thought they should have won the first time around and have something to prove.
For the Phi Phis of the world, being on the show isn't about the competition itself, but rather prolonging a postshow career. I get it, everyone has to make a living. But when the prime motivation to go on a reality competition is to, as Kennedy Davenport said, have longer lines at the meet and greet, it sabotages the competition itself. All Stars queens tend to play it safe because they're anticipating what will best extend their popularity with fans after the show is over. Valentina didn't show up on All Stars 4 to actually win; she showed up to prove she can actually lip-sync and to put the "Villantina" persona to rest. She doesn't care about a crown; she cares about being cast in Rent: "Live" on Fox.
As for the Alaskas out there — who would literally trade her 10,000 dooolar tip just to stay in the game and get her chance at redemption — the show's format compels even those who are bringing their A game to bend the competition to their will, a desperation born out of the cockeyed way the winner is chosen. All Stars does not always award excellence, and that can be a deterrent for those who might be there "for the right reasons" to even show up in the first place.
That's the thing about the increasingly infuriating All Stars rules, where the winner of the week sends one of the bottom two home: So much of the decision is based on the queens' interpersonal relationships, which viewers are only very partially privy to. We hear brief snippets about how they became friends on tour, or about Manila and Latrice — Latrila if you're nasty — being super-close besties. These hints reinforce the notion that, for all the talk of "report cards," the winner's decision has as much to do with what happens offscreen as it does what happens in that episode. For the viewer not to be able to see everything impacting a decision is just bad reality television, and in All Stars it's baked into the process.
Even though we heard about Gia Gunn and Farrah Moan's falling out this season, hearing is not nearly as dramatic or as interesting as seeing it would have been. If either of those two had the opportunity to send the other home, the result would have been something that has nothing to do with the requirements for success on the show. It would be because of some offscreen beef we can't possibly judge because we didn't see it ourselves.
Gia Gunn is an interesting case study in how this problem has changed All Stars for the worse: She clearly arrived this season with a shit-stirring, "not here to make friends" attitude more compatible with the Real Housewives franchise than it is with Drag Race. It's an attitude that stuck out like a hamburger at a vegan buffet and something that seemed to make nearly all of the other contestants hate her.
This brings me to my biggest beef with All Stars: It's antithetical to the ethos of Drag Race. What many of us love about Drag Race is that it is a meritocracy. The best usually win (or at least make it far), and to succeed on Drag Race one has to master more skills than on any other reality competition on the air. Winners have to be able to do hair, apply makeup, sew, be funny, act, follow choreography, do a killer impersonation in the "Snatch Game," and have a sickening sense of style that even the fickle Michelle Visage will ultimately love. That is what makes Drag Race the best show on TV.
But as we've seen on multiple seasons of All Stars, that is not what gets a queen to the final. Sometimes just being friends with the winner will get you right to the very end. That's how Roxxxy "Too Many Xs" Andrews got to the end of All Stars 2. She was in the bottom practically every week but was saved by her friend Alaska three times. Or what about when Shangela failed to make the finale of All Stars 3, a season that she clearly should have won? (#Justice4Shangela)
No matter the outcome of All Stars 4, it's clearly a travesty that Manila Luzon, who had three wins and was only in the bottom once, got kicked off before she could make it to the end. She also got kicked off before Latrice, who was already eliminated from the competition for cause. (Love you Latrice, but step that pussy up.) When the finalists aren't competing against the best, it puts an asterisk next to their Hall of Fame win forever. I love All Stars 3 winner Trixie Mattel, but she's not my winner.
What all of these travesties have in common is that they're the outcome of a format where winning has less to do with performance and more to do with making alliances, eliminating threats, and airing petty grievances — things that usually mark lesser reality competitions like Survivor or Big Brother. And the reason Drag Race is so great is because it isn't those shows. We watch Drag Race because it's sweet and empowering. It's about a group of marginalized people who overcome the conflicts and setbacks in their lives to become superstars. It is about the queens hugging each other at the mirror as they talk about their experiences with families that abandoned them or being in conversion therapy. It's about pulling together something sickening even though they don't have all of that "personal appearance" money to buy professional costumes with.
All Stars takes all of those things and tramples them to the ground for the sake of dime-a-dozen reality TV "drama." If we wanted to watch psychological Superfund sites of humans fighting with each other and behaving badly, 90 Day Fiancé is just a few channels away and doing it much better.
Don't get me wrong, the more time I can spend with Latrice, Shangela, Katya, and the rest of my favorite queens in my living room, the better. But I'm willing to sacrifice my weekly exposure to their brilliance to protect the integrity of my favorite reality franchise. (Don't tell the Real Housewives I said that.) All Stars must die so that Drag Race can live. And I'm okay with that.