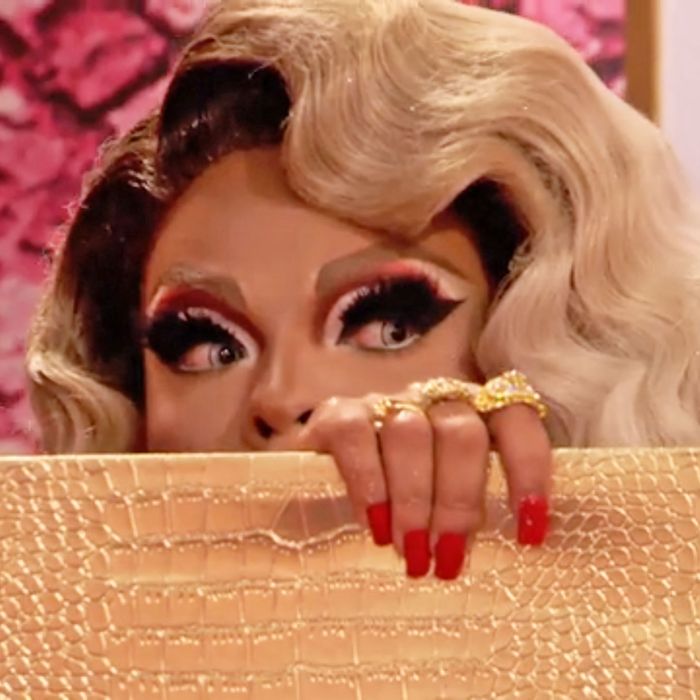 Pop the poppers, folks! It's time to take in this first episode, and it's huge. Anal sex jokes aside (and, yes, this was an anal sex joke for my culturally uninitiated/straight readers — who I love and accept, by the way!), it is time, just two weeks after the controversial culmination of All Stars 4, to begin again with 15 mostly new contestants. By episode's end, I'm not really sure what we are in for, as I find this to be an uncharacteristically rushed premiere, but there are certainly some really interesting and talented queens and several hints at juicy storylines going forward.
First in the house is a queen I am really looking forward to getting to know less as a meme and more as a queen, and that is of course Vanessa Vanjie Mateo. Last season, we were unable to "get these cookies," as it were, due to her early exit in episode one, but we did get "Vaaaaaaanjie," as well as a cultural conversation about just how long a bit can last. I'm really down to have something new to talk about regarding Vanessa, as there's obviously a lot there. Here to prove she is more than just one extended shouted word, she hides from the rest of the girls as they enter one by one.
Next up is Nina West, a comedy queen who lists largely male comedy or performance acts as her influences. She claims Sia once stole one of her ideas (a gown that turns out to be other performers and "moves" away from her mid-song), so this is obviously someone who is well-known enough to potentially intimidate the other contestants. That, or she is deranged enough to think one of the biggest pop acts in the world is copying her specifically and that other queens will absolutely know who she is and fear her when they see her. But it could be the former! Let's say it's the former! I like her hat and yellow dress.
New York City's Shuga Cain enters looking polished and altogether on point, and then gags me with the reveal that, at 40, she has only been doing drag for a year and a half. It doesn't look like year-and-a-half-old drag, but I'm sure that the fact that it's being mentioned here in her intro means that that lack of experience will be a roadblock later.
Plastique Tiara enters, "polished, persistent and pussy." She's absolutely beautiful and representing the Haus of Edwards this year, which means she will be much more than meets the eye. Mercedes Iman Diamond is next, and … it's something! She looks expensive, and we've never seen the sort of tribal call she intros with. But something about her seems a little removed. Scarlet Envy blends Southern elegance with a New York City attitude, which is an interesting point of view, to be sure. But the entrance look seems like it could have reverse–Coco Chanel'd. Maybe add one more costume element or accessory to make it feel like a RuPaul's Drag Race entrance? She gives you that vibe of, "I've seen it all, honey," but is, oh, I don't know, 7 years old? We'll see!
The girls, especially those from New York City, are super gagged to see Honey Davenport walk in the room. Am I the only one getting an older Aja vibe from her? Boasting talents in many different areas of drag, Honey should be one to watch if the other girls' confessionals are to be trusted. But, we only just met these girls. Don't trust them yet! They're sneaky, as Vanjie's hidden ass has shown us. She chooses now to break out from her peeping spot in the corner, and shocks the girls with her inclusion in the competition. They seem pretty open to competing against her, and we skip the usual, "She's been here before! She has an advantage!" soundbite we usually get regarding this situation. At least for now.
Vivica A. Fox, a.k.a. A'Keria Chanel Davenport enters and the competition pretty much starts for me. From the promo material I've seen, she seems to have everything I'm looking for in a queen. She's a Texas Davenport, so you know she can perform, and the bitch serves a big-ass costume with big-ass hair. I'm in. I'm also very, very intrigued by Yvie Oddly, who probably serves the most memorable entrance. Preceded by a remote-controlled car that ends up being attached by black boa to the train of her emerald green dress, Yvie is serving you weird-ass bitch. Only now do we realize how many of the queens in the room are versions of contestants we've seen many times. It's starting to become more difficult to stand out in this crowd of over 120 drag queens that have been on the show; Yvie does.
Speaking of standing out, in walks Silky Nutmeg Ganache. Her entrance is everything. A plus-sized queen with a plus-sized personality, she holds court immediately. Whether the other girls in the room know her or not, they're all fixated on her. She eats a cookie out of her bra, she pitches spin-off projects not even a minute into her time on the show, she starts a catchphrase with, "Attitude check!" Guns are blazing. Will this get exhausting, though? Watch this space.
Brooke Lynn Heights, of Canada by way of Nashville and definitely not Brooklyn, enters in a Mountie getup. She's a former Miss Continental, which is the biggest of all pageant titles, leaving the other pageant girls a touch shook. Ariel Versace is from the Farrah Moan school of being tiny, blonde, gorgeous, and white, but she is very good at being all of those things. She makes sure to let everyone know she is much more than an Instagram phenom. If you come to her show? She is never going to "just stand there." Know that!
Ra'Jah D. O'Hara is next up, and her earrings are falling all the way off. Probably not the way she envisioned her entrance being depicted on national television, but her personality comes across as fun and light. I want to say more about Ra'Jah, but unfortunately I am a human man who is interested in men and Kahanna Montrese has me distracted. Okay. This is obviously the hottest contestant we've ever seen as a boy? This is psycho. The drag may also be giving me a touch man (the arms, honey), but I am very down to watch whatever is going to happen with Miss Kahanna. Bye Kameron Michaels. Hello Kahanna Montrese. There's a new hot K.M. in town. And he knows how gorgeous he is too. Ugh. Ugh!!!!
Soju is last to enter the workroom, and with nunchucks in tow. A RuPaul's Drag Race YouTube recapper, obviously Soju has watched enough of this show closely enough to execute the challenges. Right?! After one more, "Attitude check!" RuPaul enters. No video intro teasing what's to come, just straight up RuPaul. Odd!
The first photo challenge pairs up all of the girls with iconic Ru girls of the past, the idea being that they can't allow these iconic contestants to overshadow them in a picture. Methinks this will range in difficulty greatly depending on which "Drag Race Legend" the girls are paired with, and right off the top Scarlet Envy has the unenviable task of posing alongside season-three victor Raja. To be quite honest, everyone looks great in these photos, and it feels like a mini-challenge in name only. I don't think doing better or worse at this is going to affect outcomes in a major way going forward, but it's fun to see some of the former contestants. I'm a fan of how Drag Race celebrates its herstory. Silky Nutmeg Ganache ends up winning, which doesn't feel right or wrong.
The main challenge is to take a box full of leftover drag materials from an iconic past contestant and use their scraps to create a look that distinctly represents your personal style. Silky assigns the boxes to all of her competitors, and does so fairly. Plastique is basically screaming that she wants Violet Chachki's box (and who wouldn't?) but Silky chooses to gift that box to Scarlet Envy, which also makes sense.
In the workroom, it's the usual drama. Some contestants have still come to this competition without appropriate sewing skills (Nina West), there's the returning contestant who feels they have a lot to prove (Vanjie), and there's that one person who is running the room and figuring out how to navigate being on television while also acting like a normal human being (Silky Nutmeg Ganache). Can pretty much confirm right now that if this is not dressed down right away, it is going to get extremely frustrating. She attempts to rally the ladies with another, "Attitude check!" and the girls do not respond at all. We are halfway through the first episode and we are already worried about a contestant being annoying. Woof.
A cute extended segment involves pop superstar Miley Cyrus (we stan, she is forever, icon, etc.) getting into boom guy drag in order to surprise the contestants with the information that she is the special guest judge this week. She is told that she needs to fix an issue with A'Keria's mic and, while she is doing so, catches the eye of Silky, who knows exactly who this bitch really is. Luckily, the other contestants are able to get her out of Silky's grasp before she runs through a wall whilst carrying Cyrus, and there's a celebration of The Fact That A Pop Star Is In The Room. Miley tells all of the girls to remember to breathe before they hit the stage and wishes them luck on their runway performance.
The girls take to the runway (to RuPaul's song "Mighty Love" which is … a choice) to show off their constructed personal styles out of the former queens' leftovers, starting with Plastique Tiara, rocking Sasha Velour. The rose pedals were always going to be an element of any Sasha-adjacent look, but the bodysuit-with-gown-elements that Plastique constructs is pretty impressive. She obviously knows her way around a sewing machine. Brooke Lynn Hytes uses Detox's old drag to celebrate both that queen and her own style with a neon-'80s-workout-diva meets Captain Marvel Brie Larson superhero moment. It's bold, it's colorful, it's Olivia Newton John if she glew in the dark. Really, really impactful.
Honey Davenport's look doesn't nail it for me because it doesn't tell us much about her personal style as much as it celebrates the personal style of BenDeLaCreme, whose materials she is using. Ariel Versace takes advantage of the copious green and weed-related materials in Laganja Estranja's box and puts a feisty little number together that even includes a tearaway reveal. It's not much of a tearaway reveal, but it certainly is one! She references Laganja while also staying Ariel. That's the assignment.
Yvie Oddly was given Alaska's box, and you get the feeling that she must have been able to do a lot more than what we see here. Alaska was always able to do something so memorable with so little, and this is forgettable. That being said, Yvie has been so great in the rest of the episode that I don't think it will matter. A'Keria, assigned Bebe Zahara Benet, sees your diva and raises you diva. This is a lot of hair, and I am down for it. This, to me, feels like exactly what the challenge asks. A'Keria promises big drag moments and she serves us a big drag moment here. I have never been so excited about a Davenport, and there have been roughly 6,000 of them on this television program.
Scarlet Envy's look is well constructed and executed, if a bit safe, whereas Soju's look, created from the legendary drag of Kim Chi, is the opposite of all of that. It's definitely standing out from the pack as the sloppiest so far, and it doesn't resemble the hanbok she described seeing in her mind's eye earlier. This is gonna be trouble. Ra'Jah O'Hara is slaying a short and colorful ensemble that a really fun and maybe insane girl would wear on a kooky New Year's Eve. It's a testament to her that there is really no Kennedy Davenport in this look, despite needing to use her drag to create it. This feels 100 percent Ra'Jah, or at least what we know of Ra'Jah so far.
I don't hate Mercedes's look from her Bianca Del Rio box, and I think the short cape moment is maybe even a little fashion forward, but it does look sort of ready-to-wear in an odd way that doesn't scream RuPaul's Drag Race. Vanjie was given Valentina's box, and what she comes up with is definitely much improved from the Barbie doll monstrosity that she put together last year during the first week's challenge. At least we know she is here to stay beyond episode one! That seems assured now. Silky's Peppermint-inspired look is performed and worn very well, as well as being put together quite nicely, while Nina West's outfit of Thorgy Thor–related regalia is performed well, but not worn or put together very nicely. She's selling it and working the runway with a big old smile and good energy, but the fit is not so good. It's, in fact, bad. I don't know if it's as bad as Kahanna Montrese's, but the race is tight. It seems like Kahanna confused the assignment and tried to blend the style of herself and Katya, and the result ends up not being much at all. Is this girl a dancer? Is she a hooker? We're not sure who she is or where she's going in this outfit. Also, the studding on her legs seems to stop at the top of her thigh, almost like she ran out of time in the workroom.
Plastique is softly commended by the judges on her classy outfit. Brooke Lynn is basically told she won during her critiques, and deservedly so. It almost seems like A'Keria's look is going to get negative attention, but Ru then uncharacteristically gags over the fact that A'Keria is wearing five different wigs and I take a big breath just like Miley told us to. Soju is the first to be told she done fucked up, followed by Mercedes. The judges are overall just not impressed by what they're seeing from these two. Vanjie is officially vindicated in terms of her week-one efforts, and Nina West breaks down onstage discussing her disappointment in herself and her look. The judges are also hard on Kahanna Montrese, who also sheds tears discussing how hard it can be living up to her legendary mother, season five's Coco Montrese. After the judges deliberate, it is decided that Brooke Lynn Hytes is our first main challenge winner of the season, and the bottom two are Soju and Kahanna Montrese. Mercedes Iman Diamond and Nina West eke out another week.
The lip-sync is to "Best of Both Worlds," iconically sung by Miley Cyrus's alter ego Hannah Montana way back in the day, and it will be fun for the audience to remember how ludicrous this song really is. Soju is clearly not much of a performer, and Kahanna serves an excited and energetic lip-sync, clearly winning. So long, Soju! You are a delicious drink.
I'm not sure if this season, at this point, feels like it will be one of the more exciting ones, but I'm looking forward to being proven wrong. The strong girls here seem superstrong, so maybe this will be a season that gets better as it goes à la season nine, and doesn't peter out at the end like last season did. Either way, we are off to the races. Let the best woman … win!