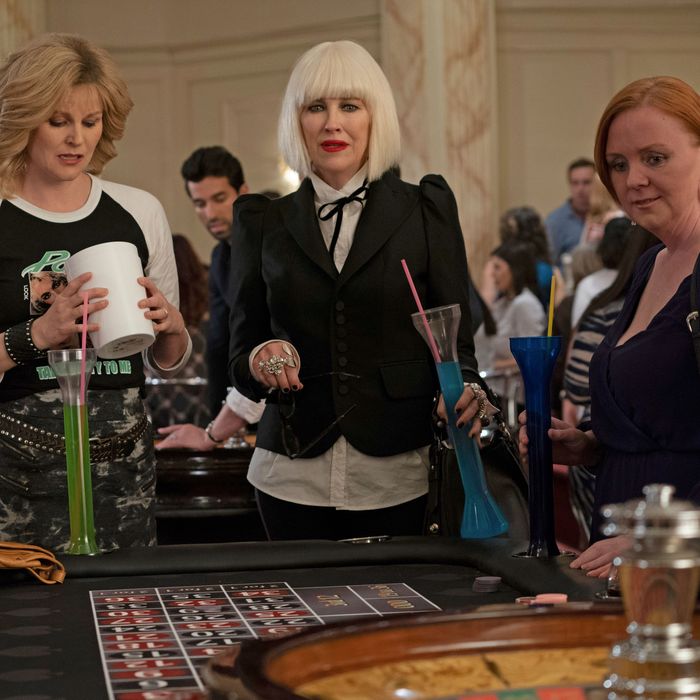 Oh, how our David Rose has grown. Not too long ago he was spinning out while competing with Stevie for affection in a throuple situation, and here he is today, sending his boyfriend out on a date with a cute guy because he wants him to experience other people. How mature! How confident in his relationship! I mean, does he eventually spin out over his decision? Of course! But that's mostly due to Alexis's less-than-helpful advice, and also, personal growth is all about baby steps.
It's a very nice thing David does for Patrick — who has dated his ex-fiancée Rachel and "been with a handful of other girls" ("We've all been with a handful of other girls," David replies) but has only ever been with one guy — by pushing him to go out with the cute customer who handed Patrick his number. David seems more than secure in himself and in him and Patrick as a couple as he convinces his partner that it will be good for him, and there's no doubt it will lead him to the conclusion that he has it great in his current relationship. That confidence is shot to hell the moment David tells Alexis that Patrick's off on a date with Ken from the store. She immediately cancels dinner with Ted because she "feels like [she] should be there for [David]." Alarmed, David asks why. "Let's just hope we don't find out." She responds. So, that's definitely not helping.
But Alexis is experienced in this sort of thing, and she knows there are some dos and don'ts when shipping off your boyfriend to date someone else. For instance, Don't Set Him Up With a Threat — Alexis would only let her boyfriends date someone like Pippa Middleton or Rihanna. (Listen, I love Alexis with all of my heart, but Rihanna is a threat to us all.) David is definitely breaking that by setting Patrick up with Ken, "that hunk with the teeny-weeny little polo." He's also failing on the biggest "Do": Do Set G.R.s (Ground Rules). Is this a onetime thing? Can they sleep together? Kiss? David doesn't know because he set zero ground rules. According to Alexis, even Josh Groban keeps a "thick, leather-bound binder full of them." It's this last thing that really sends David reeling (ground rules in general, not specifically Groban). This was a mistake! His relationship is too new to handle this! And that's when Alexis says the one sweet, partially helpful thing to her brother: If one cute customer can "unravel your whole relationship," it's better to know now.
But you guys, come on! This is David and Patrick! Just as David is about to descend down a dark path that could possibly lead him to binge-watching Downton Abbey again, there's a knock at the door. It's Patrick. He couldn't go on that date. "Was it the lack of ground rules?" Alexis yells from inside the room. No. I mean, probably a little once he thinks about it. But no, Patrick doesn't want to try out other people. He only wants David. So, David was right to trust Patrick, to trust their relationship, to trust his feelings. The only regrettable thing happening here is that we as an audience are unable to get in the middle of that lovely long hug David gives his boyfriend.
The story line isn't just a nice moment of growth for David, or David and Patrick's relationship — it also reminds us just how far David and Alexis (my personal favorite relationship to watch) have come. In the pilot, they were arguing over who should get murdered first. Yes, Alexis is the one who sends her brother into a panic here, but she also gives up her evening because she doesn't want him to be alone should he get his heart broken. David and Alexis care about each other even when they are telling the other to "fuck off." If that's not an authentic sibling relationship, I don't know what is.
Elsewhere in the magical land of Schitt's Creek, the Jazzagals are getting after it. Jocelyn's big night out (the lady needed it) was supposed to be a Poison concert at the nearby casino, but when the show gets canceled it's Moira who convinces the girls to have a "naughty night of debauchery" at the casino anyway. You know, like the nights she spent with Condoleezza Rice and Sharon Stone on their "annual casino sojourn to Ho Chi Minh City." And so the Jazzagals load up onto the school bus they rented, armed with Moira's "casino must-haves," which include "oxygen drops, antibacterial wipes, and military-grade caffeine pills." The pills came from Condi, natch. Jocelyn brings her own essentials: pot brownies.
It is only when she's high out of her mind, running out of chips at the roulette table, that Jocelyn opens up to Moira. She used to rock out. She used to LIVE. Sometimes she still feels 19, and doesn't know how she ended up where she is. Out of all the Roses, Moira is the last one to offer heartfelt advice to just anyone, but Jocelyn, somehow, has become one of her dearest friends. She shows that by telling her that she's only as young as she feels and that Jocelyn should "rock onward and upward!" Moira's moments of kindness always seem to hit me the hardest because for better or worse, Moira always speaks the truth. I both fear and love her, you know?
But Moira and Jocelyn's chat about continuing to rock on no matter their age doesn't end with a friendly hug or a crazy night wreaking havoc on casino-goers. Instead, Jocelyn takes that advice and … goes and gets the World's Worst Haircut. She goes from "I'm reclaiming my wild side isn't it great" to "I completely regret this decision" in the span of one bus ride back to Schitt's Creek. Oh, Joss. You were so close to finding your inner wild child again. You'll get 'em next time, girl.
The Wig Wall
• Johnny and Stevie's growing relationship is such an unexpected sweet spot for the show. Unfortunately, this beat in their friendship kicks off with Johnny walking in on Stevie taking a topless photo for Amir (and then accidentally seeing the dick pic Amir replies with), but it ends with Johnny telling Stevie he's really happy she's found someone and Stevie opening up to him about Amir. Once again, Schitt's Creek expertly delivers a heartwarming resolution without ever getting too saccharine. I mean, how can you become cloying when an accidental dick pic is involved?
• No one does awkward and embarrassed like Eugene Levy does awkward and embarrassed.
• The Rose Video Instructional Video on Appropriate Workplace Etiquette is nothing short of a delight — it stars TV's Moira Rose, of course — and since it is a series, let's hope we get to watch a few more. Apparently, the second tape "has a whole chunk on Polaroids."
• You guys, how many body swaps took place in order for there to be a double-tape set of The Best Body Swaps of Sunset Bay Season 21? I cannot wait to see some Sunset Bay footage. Show us the footage!
• Everybody loves zhampagne!
• It seems Moira used to party in Monaco with Maggie Trudeau and the Rolling Stones. Well, all of the Rolling Stones except Charlie Watts because "every party has a pooper."
• "Ken?! Just when I thought it was impossible to find a 30-something named Ken!"