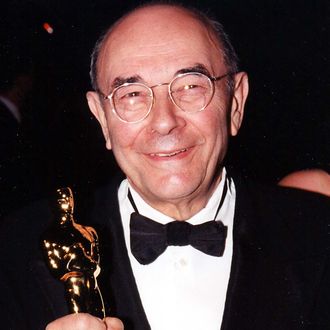 Stanley Donen.
Photo: Jeff Kravitz/FilmMagic
Stanley Donen, a director and choreographer who was one of the leading pioneers of the movie-musical throughout the Golden Age of Hollywood, has died at the age of 94. The Chicago Tribune first reported the news, with Donen's son confirming his cause of death was a heart attack. Donen's films included classic, stylish musicals such as Singin' in the Rain, On the Town, Funny Face, and Damn Yankees!, as well as the romantic-driven narratives including Indiscreet and Charade — an oeuvre that culminated with him receiving a lifetime achievement award at the 1998 Oscars. Additionally, Donen is perhaps best known for his long and fruitful creative partnership with Gene Kelly, which brought forth such iconic song and dance sequences as this:
Donen is survived by two sons and his longtime companion Elaine May.