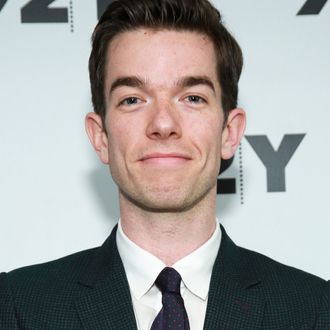 John Mulaney.
Photo: Jason Mendez/Getty Images
As so many Saturday Night Live hosts have said before, hosting Lorne Michaels's late-night institution is an honor. But after a grueling week working with writers and cast members and rehearsing sketches at 30 Rock, the question only few can answer remains: Was so-and-so A-lister host nice in person?
"That's my mom's question about every SNL host: 'Were they nice?'" said John Mulaney, veteran Saturday Night Live writer and friend of current cast member Pete Davidson. "Of course, they weren't nice." On Thursday night, while moderating a 92nd Street Y talk with Heléne Yorke, Drew Tarver, Chris Kelly, and Sarah Schneider for Comedy Central's The Other Two, Mulaney explained why he'll never reveal which hosts were actually really shitty. At least not to us.
After a few months working with hosts, particularly on monologues ("I would write a lot of monologues"), Mulaney learned why it's nice to be protective of people in the sometimes strange SNL setting. "They're in such a weird headspace," he said. "A film actor who's quite possibly never been in front of a live audience is so terrified or in an altered state that to hold them to their — not even bad behavior but just attitude, or what they were giving off that week is not fair. That's why in general we're not telling you about some of the really shitty people we encountered."
Mulaney made his hosting debut last April, and we suspect that he was a very nice host, as he returns for a second round on March 2. Just three more times and you'll be in the Five-Timers Club, John.