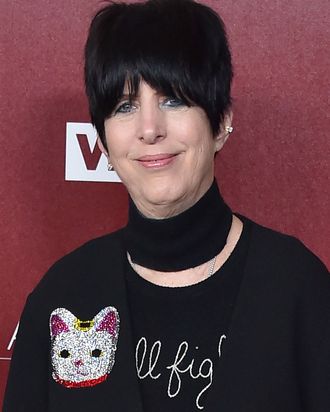 Diane Warren.
Photo: AFF-USA/REX/Shutterstock
Despite being a ten-time Academy Award nominee, revered songwriter Diane Warren has yet to bring home the fabled statuette, but she does have a special memento at home — in her refrigerator.
"I still have a chocolate Oscar in my refrigerator, from like years ago," Warren — who's nominated again this year for Best Original Song from "I'll Fight" from the Ruth Bader Ginsberg documentary RBG, to be performed at the ceremony by Jennifer Hudson — told Vulture, referring to the gold-dusted Oscar-shaped confections crafted by chef Wolfgang Puck each year for the post-ceremony Governors Ball. "It's still in there. I'm not going to eat it — it lives in my refrigerator!"
Over two decades, Warren has returned to the Oscars again and again as a nominee, for writing or co-writing power pop songs including "Because You Love Me," the Celine Dion hit from Up Close and Personal, Trisha Yearwood's version of "How Do I Live" from Con Air, Aerosmith "I Don't Want to Miss a Thing" from Armageddon and Common's "Stand Up for Something" from Marshall.
But Warren's yet to win the big trophy, and she doesn't expect to this year, either: she predicted Lady Gaga — her friend and collaborator whom she was nominated alongside in 2016 for co-writing "'Til It Happens to You" from the documentary The Hunting Ground — will bring home the Oscar for "Shallow" from A Star Is Born.
"I'm pretty sure that out of all the categories they don't know what the winner's going to be, but in my category, you kind of know what it's going to be: it's probably going to be Gaga," said Warren. "And so I'm just having a good time. I'm proud of my song, I think I wrote a great song. Jennifer Hudson is going to blow the roof off the Oscars, and I'm still going to walk out a ten-time loser, and it's okay."
She chuckled at the thought of the many potential acceptances speeches she's penned over the years — "all the scrunched pieces of paper" — and admitted she may jot down some notes once more, just in case, "but they're going to end up scrunched up."
She also has nothing but love for her friend Gaga, who she cites as not only the best Oscar-night performer of one of her songs over the years but also, when she sang "Til It Happens to You," their anthem of surviving sexual abuse, as "one of the best performances of all time."
"I never saw anything that great — especially as a song I wrote," Warren recalled. "Like, I saw grown men sobbing. The standing ovation was for minutes." But it was Spectre's "Writing's on the Wall" that claimed the Oscar that night. "I remember going, 'What just happened? What just happened?' And that's the one time I was genuinely bummed out."
But win or lose, Warren insisted that it truly is always an honor to be nominated. "I remember being a little kid watching the Oscars and it was so exciting," she said. "If I step back for a minute, I go, 'Oh my God, I've been nominated ten times.' Whether or not I win, being nominated double digits is a win. So I'm grateful — for real."