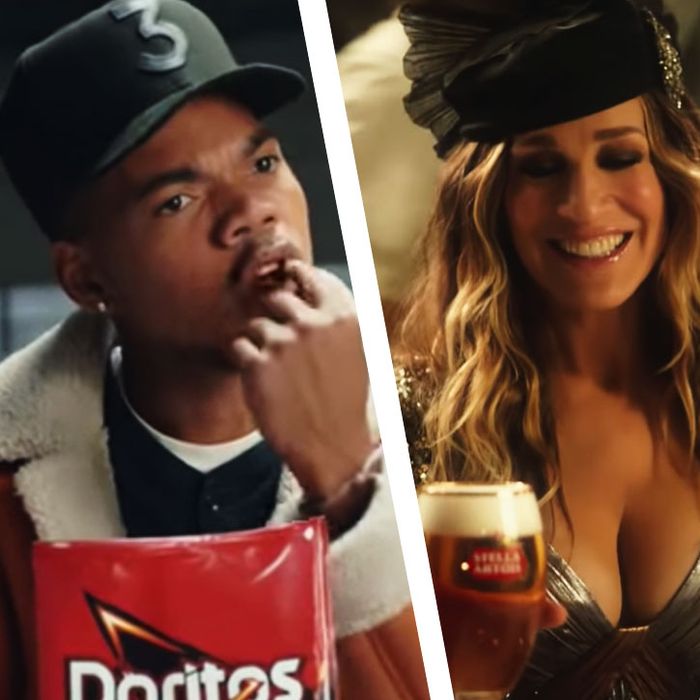 Photo: Courtesy of retailers.
As network TV seems to wither on the vine, one thing is for certain: The Super Bowl remains an evening of programming that advertisers can count on to bring in millions of eyes. We've come a long way from Farrah Fawcett and quarterback Joe Namath looking hot and selling shaving cream, but the spirit of celebrity and unexpected collaboration remains ever present in "big game" ads.
In 2019, advertisers pay close to $5 million for 30 seconds of airtime. (By comparison, it reportedly costs around $5 million to make an entire, hour-long episode of House of Cards.) But some big names chose to sit out the Super Bowl rush this year. According to Variety, Fiat Chrysler decided to focus on "social and digital" marketing rather than running a live ad, and Coca-Cola decided to air an ad before the game instead of during.
Still, this year's Super Bowl ads are more Black Mirror vibes than ever. It's clear that when ad slots cost seven figures, things go off the rails. From a Sex and the City/The Big Lebowski crossover we definitely didn't need, to a Chance the Rapper/Backstreet Boys collaboration we never knew we needed, we're honestly here for it if it means more of Zoë Kravitz in the mountains doing ASMR.
Chance the Rapper and Backstreet Boys for Doritos
Reintroducing the Flamin' Hot Doritos. A name that rings so eerily similar to another flaming-hot, cheesy, crunchy snack that they enlisted Chance the Rapper and the Backstreet Boys to promote it.
Pepsi Enlists Cardi B and Steve Carell
Cardi B and Steve Carell teamed up to taunt the classic "is Pepsi okay" response to a request for a Coke, and the result is Carell trying to roll his "okurrr" like Cardi.
Pringles and a "Sad Device"
Besides learning there are 318,000 ways to stack different Pringles flavors, we also found out that the company has a soft spot for light dystopian tech humor.
Stella Artois: The Collaboration Nobody Asked For
Thanks, Stella, for gracing us with the Sex and the City/The Big Lebowski crossover that literally nobody asked for in the service of selling beer.
Michelob ULTRA Pure Gold: ASMR With Zoë Kravitz
Zoë Kravitz sits in the mountains doing ASMR. That's all.
The Skittles Non-Commercial Featuring Michael C. Hall
This one definitely took a hard right into "we're living in a simulation" territory. Michael C. Hall is in his therapist's office talking through his anxieties about performing in an actual musical called "Skittles Commercial," to be performed in real life in a theater on Broadway, on Super Bowl Sunday, starring none other than Hall himself.
Expensify: 2 Chainz and Adam Scott Star in a Music Video
2 Chainz and Adam Scott team up to sell an app that makes expensing easy while 2 Chainz raps about spending money in the music video for "Expensify Th!$."
Serena Williams and Bumble
Who better to promote a dating app that puts the ball in the woman's court than queen Serena? This marks the first Super Bowl ad from Bumble, and it was reportedly made by a team of almost all women.
Pepsi Bublé? No, Pepsi Bubbly!
Michael Bublé doesn't want you to confuse him with a can of Pepsi sparkling water. But he looks great sitting on the floor in a suit.
Budweiser Says Embrace Wind Energy
At least you can always count on Budweiser to deliver cute animals, a moving musical score, and, these days, social activism. Thank you, Budweiser, for shining a light on environmentalism!
Tony Romo and Skechers
Although Tony Romo never made it to the Super Bowl himself, he'll now be live on the air during the big game in this Skechers commercial and as a commentator for CBS.
Bon & Viv Spiked Seltzer
Aptly titled "The Pitch," the Anheuser-Busch brand's ad features Bon & Viv styled as mermaids pitching their idea for seltzer to actual sharks, in a spoof of Shark Tank. They even got a Twitter shout-out from cast member Barbara Corcoran herself.
Kia Launches Scholarship
Kia chides the rest of the companies spending big bucks on celebrity endorsement, instead using its platform to shine a light on "The Great Unknowns." This year, Kia will unveil a scholarship to help "young people in need get a foothold in higher education."
DEVOUR Goes PG-13
Thanks to YouTube and the internet, companies can now have both censored and uncensored versions of their raunchier ads. This one from frozen-food company DEVOUR is a play on porn addiction.
Luke Wilson As a Close Talker for Colgate
Luke Wilson stars as a "close talker" in Colgate's Super Bowl ad.
Charlie Sheen, A-Rod, and Mr. Peanut
Charlie Sheen, A-Rod, and, of course, Mr. Peanut all feature in this Planters ad, which also includes a peanut-mobile, complete with a peanut-shaped stick shift.
Verizon's Tribute to First Responders
Verizon went for the tearjerker this year, offering a tribute to first responders.
Michelob ULTRA Reminds Us Robots Aren't Humans
Robots exercise, but apparently can't enjoy a cold one. Colombian singer Maluma is also featured.
Toyota Recognizes Toni Harris, Groundbreaking Football Player
Toyota also went the inspirational route, as they chose to highlight the story of Toni Harris, the first woman to be offered college football scholarships who does not play a specialized position.
Hyundai's Elevator With Jason Bateman
Jason Bateman is an elevator operator in his latest role.
Christina Applegate Has Some M&M's Backseat Drivers
Christina Applegate deals with feuding M&M's as she tries to drive home.
Avocados From Mexico Features Kristin Chenoweth and Dogs
Kristin Chenoweth judges the "Human Canine Show," where people compete for guacamole.
Sarah Michelle Gellar Flaunts Killer Skin for Olay
Olay's "Killer Skin" series stars none other than scream queen Sarah Michelle Gellar and an iPhone X.
Amazon Recruits Stars to Test Alexa
Harrison Ford, Abbi Jacobson and Ilana Glazer, Forest Whitaker, and Scott and Mark Kelly show off Alexa trials gone wrong.
Microsoft Makes Accessible Technology
Microsoft's ad tells an inspirational story about the importance of accessibility in technology.
Mercedes-Benz Featuring Ludacris
The car company wants you to know that their cars have amazing voice command. Ludacris is involved.
WeatherTech and Pets
From the company that brought you … those plastic things that go in your car so the carpet doesn't get wet comes a new pet bowl. At least cute animals are involved (spoiler: so is paw-recognition technology).
Sprint and Bo Jackson
More robots and athletes! But this one throws in a mermaid and horse.
A Tragic Dilly Dilly From Bud Light and Game of Thrones
The Bud Knight returns in Budweiser's Game of Thrones x Bud Light spot, but even his bravado is no match for all these fire-breathing dragons. RIP to every single person attending that jousting match. Time to drown your sorrows in a nice, cold Bud Light.
It's Andy Warhol, And He Just Ate a Burger King Hamburger
In a move Andy Warhol would have absolutely loved, then re-appropriated into his own pop art masterpiece, Burger King's Super Bowl spot was actual footage of Andy Warhol calmly eating a Whopper, captured in the early 1980s by Danish filmmaker Jørgen Leth for his project 66 Scenes in America. Burger King encourages you to #EatLikeAndy, so methodically and with zero affect.
The Washington Post for Democracy
In between drinking Pepsi and watching Avengers sequels, the Washington Post hopes you'll enjoy that most important product of all: freedom of the press. In their "Democracy Dies in Darkness" spot, Tom Hanks narrates the importance of, well, journalism entire. The spot also pays homage to journalists like Jamal Khashoggi, Marie Colvin and Austin Tice, killed or kidnapped during their pursuit of the truth.
T-Mobile Pokes Fun At Texting
T-Mobile released a series of big game ads featuring typical text exchanges. See the rest here.
The NFL Promotes The NFL
The NFL's spot offered a brief reprieve from all the football to give us, well, more football. To promote its upcoming 100th season, the league created an ad that features a whopping 44 of the greatest players of all time.
John Legend and Adam Levine Change Diapers for Pampers
John Legend changes his son Miles' diaper, with a little assistance from his daughter, Luna, while singing the "stinky booty" song that he and Chrissy Teigen actually sing to their kids. He has a little help from a chorus of dads and Adam Levine.
Google Helps Veterans with the Job Search
Google took the time to recognize veterans and show how Google can help them find jobs.
Google and the Power of Translation
Google's other ad promotes the power of translation. Looks like they really went for the inspirational tone this year.
Bud Light Shades Coors Light
Beer ingredients are discussed in an entirely plausible conversation between two medieval barbers. The gist: Bud Light wants you to know that they don't use corn syrup, but Coors Light does.
Bud Light Also Shades Miller Light
This time, the discussion about corn syrup takes place inside a Trojan Horse.
TurboTax Brings Us RoboChild
If you weren't already freaked out by robots, its unlikely you'll walk away from this ad unscathed. A robot baby who laughs when it feels sad just wants to do your taxes.
SimpliSafe Scares You Into Buying Home Security
What better way for a home security company to advertise than to remind you that "fear is everywhere"? Also, robots are scary. Again with this dystopian theme.
Turkish Airlines Made A Movie With Ridley Scott?
Turkish Airlines released what appears to be a trailer for a movie the airline made with Ridley Scott. The ad itself doesn't make a ton of sense, but you can watch the short film here.
Choke On A Cashew And You Might Get An Audi
A man's grandpa gives him a new all-electric Audi, but it turns out it was a dream or a hallucination. In reality, he was on his way to heaven because he was choking on a cashew in the office. Sounds weird, but it kind of makes sense if you watch it.
Persil ProClean Takes Us Deep
Persil and Peter Hermann go to the deep clean level to prove how deep it cleans.
Mint Mobile Wants To Fix Your Cell Phone Bill
Mint Mobile went for the gross factor to get everyone's attention. They remind us that "chunky style milk" is absolutely, 100% wrong–like your too-high cell phone bill.
Norweigan Cruise Line Keeps It Simple
The cruise brand went classic and showcased all that it offers once you climb aboard. Sometimes simple works, especially when simple is a gorgeous vacation.
Toyota Sells Cars
Toyota didn't stray far from the norm with its second ad, for the Toyota Supra.
The Property Brothers Advise You To Stay Safe With ADT
The stars of the HGTV show remind you to protect your home after you buy it.
Karlie Kloss Uses A Computer For Wix.com
Between her "Kode With Klossy" coding boot camp for teen girls and this new Wix spot, the supermodel shows her passion for data processing.
WeatherTech's CupFone Holds The Phone While You Drive
In their second ad, WeatherTech wants to make sure you can FaceTime and drive. That seems safe.