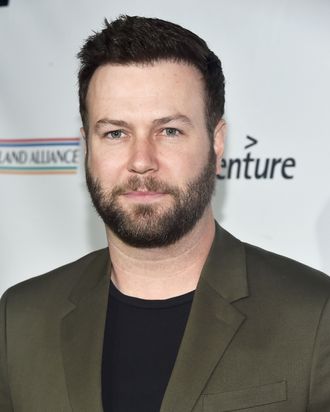 Photo: Alberto E. Rodriguez/Getty Images
It's doubtful Donald Trump will ever host Saturday Night Live again. Still, would you put it past him? SNL alum Taran Killam imagines what it would be like if Trump, who's been the bull's-eye of jokes for the last few years, returned.
"Brutally unfunny. Probably awkward," Killam tells Vulture about the hypothetical scenario at the Oscar Wilde Awards in L.A. "Him hosting and most of the cast facing the corner. Just standing off in the background, ducking behind set pieces." Before leaving SNL in 2016, Killam impersonated Trump in a 2015 episode. Alec Baldwin famously made his debut as Trump in 2016, and has played the president on the show since, sparking a complicated, public feud between the president and the show.
While Baldwin's sketches may, arguably, be growing old, Killam says they're crucial. "You have to address it, you have to tackle it because that's what SNL has been doing for 45 years," he says. "They talk about current politics and about the president. It's show business, and the ratings are higher when Alec's there doing Trump. I think that helps the show; if the show didn't address it, it would be weird."
However, Killam has also called out SNL for being hypocritical. During his 2018 podcast appearance on Matt Gourley's I Was There Too, Killam recalled how creator Lorne Michaels treated jokes about Trump when he was a candidate. "You don't want to vilify him," he recalled Michaels saying. "I know him … He just says whatever it is he's thinking … You have to find a way in that makes him likable." Trump hosted a controversial 2015 episode (and a 2004 episode), which Killam later denounced. "There's definitely something where it normalizes him … Lorne's outlook is [to] play to both sides," he told NPR in 2017. Later that month, Killam took it a little further in an interview with Conan O'Brien, saying, "It's really hard to have played a part in encouraging or, not even encouraging, just offering a platform for and promoting someone who I find I'm constantly disappointed in."
Meanwhile, Trump tweeted on February 17 that Baldwin's latest impression was "[not] funny" and "unfair," while Baldwin fired back wondering if Trump was posing a threat to his safety. There's no denying Trump's return would be compelling television, to say the least.