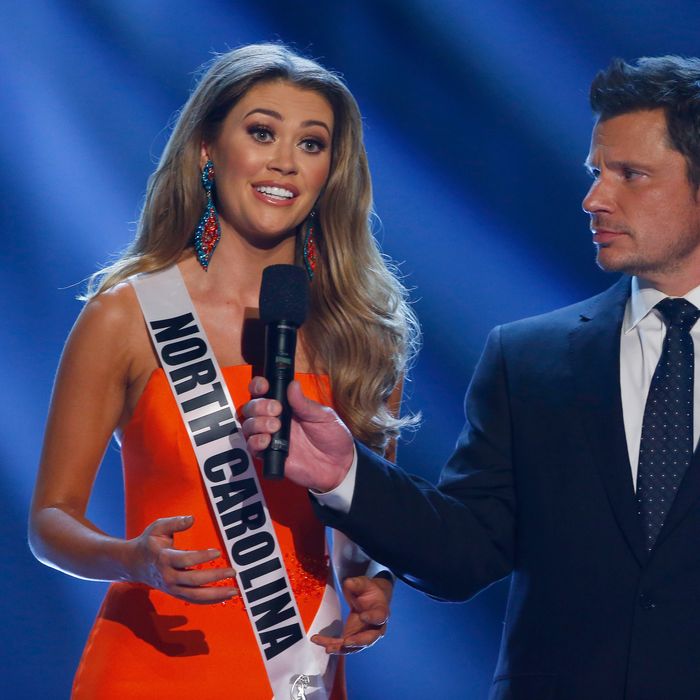 Caelynn Miller-Keyes.
Photo: Matt Sullivan/Getty Images
Hometown visits weren't kind to Bachelor contestant Caelynn Miller-Keyes this week, as she — after being plagued by frequent "wrong reasons" gossip by fellow contestants — was eliminated by Colton Underwood following an uneventful visit to Fredericksburg, Virginia. As Miller-Keyes was allegedly vocal with fellow contestant Cassie Randolph about tanking the show in order to become the next Bachelorette lead, the upcoming Women Tell All episode is sure to be a doozy, especially if Miller-Keyes is ultimately crowned as the franchise's next leading woman. But as we well know by now, before she strutted onto the show to "win" the "heart" of Underwood, she was a longtime contestant on the pageant circuit, ascending from a Virginia teen queen to a Miss USA runner-up.
As her official pageant profile helpfully documents, Miller-Keyes was Miss Virginia Teen USA in 2013; third runner-up for Miss Virginia in 2016; first runner-up for Miss Virginia in 2017; Miss North Carolina USA in 2018; and Miss USA runner-up in 2018. And while evidence of her time in Virginia is scarce before she jumped state lines to North Carolina for a better chance at national success, videos from her various pageant experiences are all over YouTube, which Vulture decided to watch for the sake of learning more about the woman who may or may not have been deceiving Underwood this entire time. Here are six takeaways we learned from her pageant career.
Her biggest inspirations are her grandmother and her grandmother's huge office.
In a pretaped "get to know you" segment for Miss USA, Miller-Keyes explained how her grandmother, the former head of the FBI in Los Angeles, had the biggest influence on her life. "First of all, her office was amazing. It was bigger than their home. She had her own private panic room," Miller-Keyes recalled. "She takes me to this wall of [names of] 50 men before her, and on the bottom of the wall, she was the first woman to become head of the FBI in L.A. … It's a huge accomplishment. I really look up to her and try to break the glass ceiling the same way she has."
Yup, she had to do those runway walks.
In Miss USA, she was repeatedly referred to as "strong" but "not tall" by the judges throughout the competition. "North Carolina has said from the moment she came here that she came to win," one judge added. As pageant customs dictate, she had to parade around in a swimsuit.
And then in a slightly less pneumonia-inducing gown.
Her platform for Miss North Carolina and Miss USA was advocacy for sexual-assault survivors.
As Miller-Keyes revealed on The Bachelor in an unprecedentedly poignant way, she was drugged and raped as a college student by an acquaintance. As a sexual-assault survivor, she vowed to use her newfound pageant exposure to shed light on the issue. "I want to be Miss USA to be the voice for the people who feel like their voices can't be heard or haven't been heard," she explained in a meet-the-contestants video for Miss USA. "What I've been doing throughout this year is going to different schools, going to different universities, going to different events, and sharing my story and experience. Every single time I've told my story, at least one survivor has come forward. This is a huge issue, and I want to be an advocate for those survivors."
She was exemplary at the question-and-answer segment.
She was asked two questions at Miss USA — the standard number for finalists — the first of which was whether she supported the Boy Scouts of America's new initiative to welcome girls into the organization. "I think this is a great change," she responded. "I think we're at a time in America, not in America, we're at a time in the whole world, where gender equality is a huge thing. I believe in 10, 20 years from now, women and men are going to be complete equals, and we're making those steps right now."
The second question, asked during the final round, was what she would write on a blank sign for a march. "'Your body, your rights." As someone who was sexually assaulted, as someone who stood up and fought against my perpetrators, I am all about marching for your body and your rights," she said. "Nobody ever has the opportunity or the right to touch you, drug you, to do anything, to sexually assault you, harass you. That's never acceptable."
A childhood illness almost left her paralyzed.
As read by an emcee during her swimsuit walk at Miss USA, Miller-Keyes contracted a virus as a toddler that lead to inflammation of the brain. "She suffered a complete loss of muscle control and doctors only gave her a 10 percent chance of walking again," the emcee explained.
She has a Starbucks obsession.
In her defense, if you were a teen in 2013, you probably had a Starbucks obsession, too.