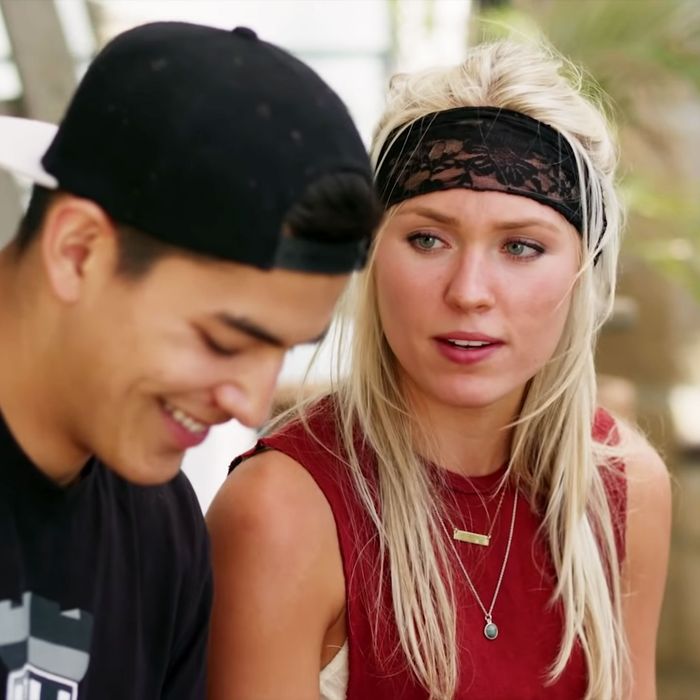 In this week's episode of The Bachelor, Cassie Randolph managed to metamorphose her breezy, SoCal blonde persona into something much more complicated. Despite asserting she's on her journey for "the right reasons" to win the heart of Colton Underwood, a few of the other contestants suddenly voiced a bold allegation: Cassie and fellow contestant Caelynn Miller-Keyes are not only using The Bachelor solely for fame, but they both discussed during filming how they wanted to become the next Bachelorette.
While these revelations may come as a surprise for fans of Cassie — who was, by all indications, given a likable edit by The Bachelor's producers until now — you may not know she previously starred in a reality show that gave a careful look into her life as a religious college student.
Young Once, currently streamable on Castle TV, follows a group of students at California's Biola University, which is so steeped in Evangelical teachings that students are required to sign a contract that bans alcohol, sex, and general tomfoolery throughout their four years of schooling. Cassie — who, despite never mentioning her faith on The Bachelor, is a devoted Christian — was one of the featured cast members: Her main arc was the reconciliation and eventual breakup with her ex-boyfriend Caelin, a relationship that was given closure on the show shortly before The Bachelor began filming. (They're on good terms, there's no tea to spill.) But ex-boyfriends aside, Young Once documents Cassie back when she was living on her own for the first time, a bit sillier, and just trying to figure out her life in the grand scheme of things. Vulture decided to subject ourselves to this holy television experience, and here's what we learned.
Cassie's ex passed on a job offer in the Philippines to stay with her in California.
Caelan, despite having two semesters of school left, was offered his dream job overseas to join the squad of a professional Philippines basketball team. However, after coming to the realization that he didn't want to leave Cassie — who told him up-front that she was staying Stateside so she could finish her undergraduate degree — he decided he was going to defer his offer by a year. "I'm in a relationship that I think can go the distance. So it's something I definitely want to stick around for and see what happens with it," he said. "I think our relationship is more important and if it's something I can put on hold for one more year then you're worth the wait."
God is a nonnegotiable, fundamental part of her romantic relationships.
In the second season, with a decent chunk of time passing after her breakup with Caelan, Cassie was asked what she's now prioritizing in a relationship. "I do want to get married. I could meet the right person tomorrow, I could meet the right person in a year," she responded. "I think God should be the foundation of that relationship, especially because I'm a Christian and that's the most important thing to me in finding someone. God fits into every single area of our lives, especially a relationship as important as finding your life partner."
She wants to open her own speech pathology practice, but doesn't seem super committed.
Throughout the show's second season, Cassie confirmed she was enrolled in an online graduate program to obtain her speech pathology teacher's certificate. She admits, though, that she's actively exploring other paths in life — perhaps even giving a subtle nod to auditioning for The Bachelor. "Along the way, there are so many cool opportunities that become available. I don't want to be close-minded to anything else," she said. "It's hard for me to make really big decisions because I don't know if it's what I want or if it's not. That's why my brain is so scattered. If I want one thing from God, it's to make my path clearer to me. Or make me content in it not being clear."
She was a surfboard model …
In the first episode, Cassie takes an evening off from school to model in an '80s-themed photo shoot for a surfboard company — complete with a Back to the Future DeLorean. She explained she's been doing "modeling things" for a while now and that the shoots are "always fun."
… and a skateboard model!
She and her sister Michelle also travel to a Nevada desert for modeling work. "This is the first photo shoot that I've ever gone to where I actually had to hike to the perfect spot to take the pictures for," she said. "It was so worth it, though, because it was so pretty." For some reason, the shoot had a watermelon theme, and the ladies were instructed to smash a bunch of the fruits to create a gruff aesthetic. "You never really know what's quite going on in the photo shoots until you get there," she mused afterward.
She refuses to model "promiscuously" or in a "super-sexual way" due to her Christian faith.
Despite her ex's belief that her modeling assignments were always immodest, Cassie and her sister would say no to certain shoots if they believed they were too sexy, even if that meant jeopardizing chances for future work. "We've had a lot of conversations about what's too provocative and crossing the line. I think a lot of it is the vibe you're giving off," she explained. "You don't want to come across as something that you're not. As Christians, we're supposed to be different from the rest of the world. I think that should be apparent in the industry as well. We're not going to be the same as every single other model out there because we're not going to model the same way as them. I think as long as you're answering to God for how you choose to show yourself, that's what matters."
Her life motto is simple.
"I hate disagreeing with people. I don't like arguing, I don't like not getting along. I'd rather just have no drama at all."