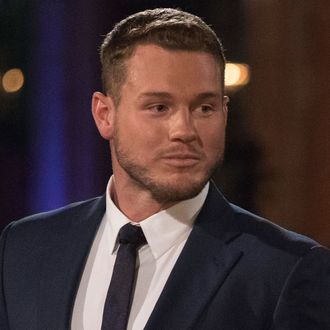 Colton Underwood.
Photo: Rick Rowell/ABC
Despite being faced with a quintessential "wrong reasons" conundrum as he heads into his Bachelor hometown dates, Colton Underwood wants you to forget about the negativity and listen to his groovy tunes instead. That's because our leading man decided to release a pop single called "Hello World" with the early aughts staples O-Town, which is less of a vanity project and more for a good cause. Underwood and the band, who've been buddies for a few years, collaborated on a feel-good fund-raising song for Underwood's cystic fibrosis charity. "It's a fun song to listen to, but most importantly, an anthem for anyone to live your best life," Underwood, who will be jumping a fence very soon, said in a statement.
That said, is Underwood heeding to his own advice?