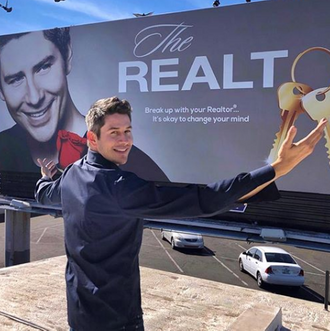 Arie Luyendyk Jr.
Photo: Instagram
Reality television junkie or otherwise, you probably know the ballad of Arie Luyendyk Jr. at this point: During his controversial Bachelor season last year, he decided to dump the woman he proposed to in the finale months later for the runner-up, filming the entire, miserable breakup for good measure. He's now happily married and expecting a child with the runner-up, Lauren Burnham, and the woman he dumped, Becca Kufrin, became engaged after her stint as the next Bachelorette lead, so it all technically worked out in the end.
So we guess that's why Luyendyk Jr., a licensed realtor in the greater Scottsdale, Arizona, area, decided now was the right time to debut this new billboard for his house-hunting services, which features the very apropos "break up with your realtor … it's okay to change your mind" tagline. "No roses just for sale signs and that dad life. Anyone need a realtor?" he wrote on Instagram. "I'm searching for my next million dollar listing." Okay!
In the months following his Bachelor season, Luyendyk Jr. admitted he felt "100 percent" betrayed by his supposed producer "friends," whom he claims manipulated him into filming that big breakup scene for viewers. He also vehemently argued that the 30-minute spectacle, which was being teased as the first "unedited" scene in the franchise's history, was actually very much edited, making it "super unfair to me." He and Burnham married earlier this year in Hawaii, and are expecting their first child together in a few months.