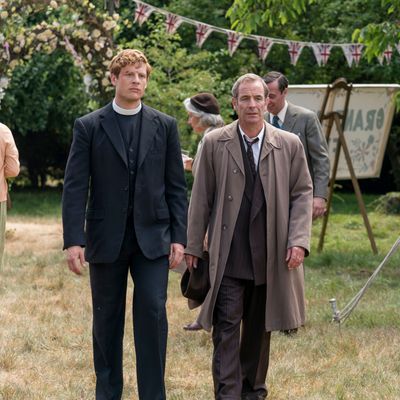 Photo: ITV/REX/Shutterstock
In theory, the picturesque rural regions of England are ripe with historic beauty and tranquil ways of life, a vision that almost makes you want to quit your dumb day job, blow your savings on a pond-facing cottage adorned with ivy, and bang out that book idea you've always had but never had the time to write. But we're not here today to give you a Pride and Prejudice outlook of England, readers — it's Murder, She Wrote time! That's because, over the past two decades, British television has excelled in countryside crime dramas starring a carousel of detective-inspector characters, whose jobs are to exclusively investigate murders and violence juxtaposed next to, uh, sheep farms and craggy hills. Minus all those dead bodies, we swear the gorgeous backdrops could be nominated for honorary Wonders of the World.
As a means of introducing you to some of the best streamable shows of this genre, Vulture compiled a list that's ranked by the dramas with the most alarming murder rates. We went with the bare basics of math for this: The smaller the village or county, the higher the chance is of being murdered. Read along, and maybe don't plan on moving to Cambridgeshire anytime soon.
Grantchester
Location: Grantchester, Cambridgeshire. Estimated population: 540.
A ridiculously good-looking Anglican vicar (James Norton), searching for some additional meaning in life that the cloth can't provide, finds himself teaming up with a detective (Robson Green) to solve their village's disturbingly high crime rate after a murder occurs at his parish. A delightful good-cop/bad-cop team ensues as their partnership quickly flourishes — let's just say people are eager to reveal everything to Handsome Vicar and not Mean Detective — in what would otherwise be a snoozy 1950s setting. Where to stream: Amazon Prime
Father Brown
Location: Kembleford, Cotswolds. Estimated population: 1,500.
Narratively similar to Grantchester — it's also set in the 1950s — a cheeky Roman Catholic priest (Mark Williams) with a knack for sleuthing winds up in a partnership with the village's detective after an unprecedented murder strikes one of his parishioners. While he'd never admit it, this ineffectual detective begins to rely on Father Brown's intellect more and more as crime continues to spiral out of control, Hot Fuzz style. Who knows, maybe they'll even become friends. Where to stream: Netflix
DCI Banks
Location: Eastville, North Yorkshire. Estimated population: 16,700.
Aided by junior female detectives to keep his ego in check, a no-nonsense inspector (Stephen Tompkinson) has to deal with what seems to be a never-ending stream of brutal murders in his jurisdiction, many of which, unfortunately, end up being colleagues and friends. But when he's able to stop being so goddamned introspective and get down to business, he's one of the best inspectors in the game. Where to stream: Amazon Prime, Hulu
Happy Valley
Location: Calder Valley, West Yorkshire. Estimated population: 102,000.
Fueled by an unbearable amount of of personal trauma, a tough-as-nails divorcée sergeant (Sarah Lancashire) patrols through her towns with equal parts iron fist and heavy heart, coming home every night to her recovering addict sister (Downton Abbey's Siobhan Finneran) and grandson, who was born days before her daughter committed suicide. But when the man responsible for raping her daughter — a.k.a. the father of her grandson — gets released from jail, this sergeant becomes obsessed with locating him and making him pay, even if it means getting embroiled in a complex kidnapping case that he's also involved with. Don't let the title fool you. It's anything but happy here. Where to stream: Netflix
Inspector Morse
Location: Oxford, England. Estimated population: 150,000
Defying the stereotypes of a country town inspector, good ole' Morse (John Thaw) is as idiosyncratic as they come: He studied at Oxford, but is a bit of lazy fool. He loves the refined elegance of classical music, but would sometimes prefer to drink himself into a beer stupor to unwind. Still, you wouldn't dare try to hide from him and his detective sidekick, who will inevitably (1) solve the case with their signature dry wit and (2) embarrass and arrest you in front of everybody. Two spinoffs, Lewis and Endeavor, followed in the same location. Where to stream: Amazon Prime, iTunes
Vera
Location: Northumberland. Estimated population: 319,000
Nearing her retirement, the county's chief inspector (Brenda Blethyn) might give off some questionable first-impression vibes with her disheveled appearance and overly crotchety behavior, but you know what? She gets her shit done, loves the nitty-gritty of investigative work, and would do just about anything for her colleagues, who would easily return the favor to her, too. She's often compared to a female Columbo, and after the first episode it's easy to see why. Where to stream: Amazon Prime, iTunes
Inspector George Gently
Location: County Durham. Estimated population: 800,000
Featuring a surprisingly robust criminal underworld in what would otherwise appear to be a inconspicuous county in the 1960s, a methodological inspector (Martin Shaw) — who transfers from the hustle and bustle of London after the murder of his wife — embarks on bringing the crime rate down with the help of his young sergeant sidekick, who quickly warms to him despite his abrasive personality. Together, they might just be the most fearsome duo the north has ever seen. Where to stream: Amazon Prime
Midsomer Murders
Location: Midsomer. Estimated population: 905,000.
The murders — they'll never stop! This long-running series pretty much personifies the "How the hell do people keep getting brutally slain in picturesque villages?" genre, with many iterations of benevolent inspectors and sergeants (John Nettles and Neil Dudgeon have been the leads) tasked with traveling around the fictional county to solve the never-ending crime spree. Just when one case closes, another one opens, which translates to over 100 episodes (and counting) of murders for you to enjoy. Where to stream: Netflix, Amazon Prime