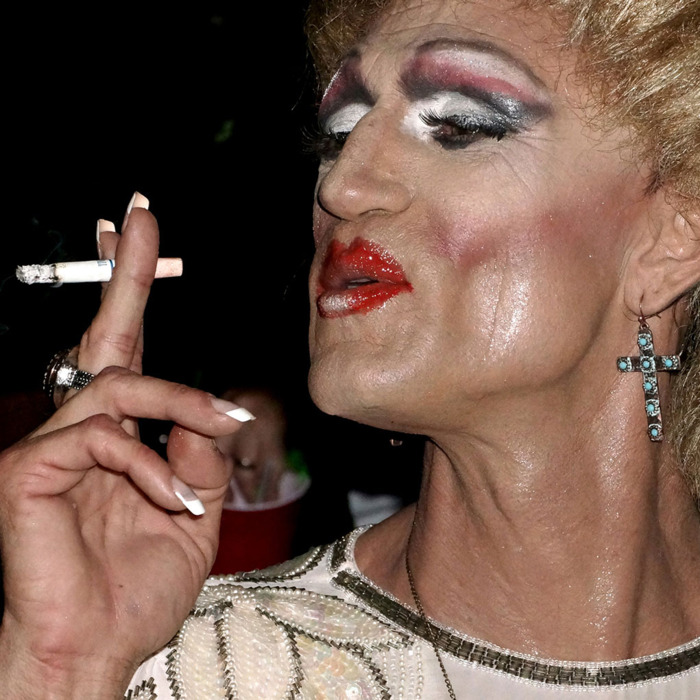 Meditative and fabulous in equal measure, The Gospel of Eureka presents a documentary portrait of the historic Arkansas town of Eureka Springs, a hamlet that is both a Bible Belt destination spot and an oasis of tolerance. It is home to the mid-century garish Christ of the Ozarks, the largest Jesus statue in North America, as well as an annual Passion Play that has reportedly been seen by more than 7 million people over the decades. But Eureka Springs was also the first city in Arkansas to issue same-sex marriage licenses, and has had a thriving and active LGBTQ community for years.
All that might suggest tension and conflict — and there is some in this film, in the form of a vocal campaign against a local civil-rights ordinance — but directors Michael Palmieri and Donal Mosher prefer to lean into the idea that religion and queerness have become intertwined in interesting ways in this town. We meet an openly gay preacher who came out to his family many years ago; his supportive son owns a Christian T-shirt store called Twice Born. A devout trans woman says she considers religion integral to her identity: "God has no problem with me," she observes. "I see faith as a reason for who I am." Although these people have certainly seen their share of suffering — the movie doesn't sugarcoat the struggles they've endured over the years — their tone is matter-of-fact. They're not so much resisting, or persisting, as simply being.
The easygoing tone of The Gospel of Eureka — sometimes contemplative, sometimes cheerful — distinguishes it from many other documentaries about timely social issues. And Palmieri and Mosher's approach is consistently surprising in a way that makes you see this world anew. Their formal juxtapositions become conjunctures: The placid lakes and moonlit skies of this rural landscape, along with the weathered faces of these citizens and the southern fried kitsch of their surroundings, all serve to create a portrait not of contrast but of continuity and community. They're all as much a part of this world as the spinning lights and drag performers of the crowded local nightclub, Eureka Live, owned by a long-married gay couple and dubbed "the hillbilly Studio 54."
The film is structured around the production of the town's earnestly spectacular Passion Play, and Palmieri and Mosher draw clear parallels with its pageantry and makeup and let's-put-on-a-show! sincerity, and the exuberance of the drag queens at Eureka Live. The Passion Play depicts Christ's resurrection, and late in the picture, the directors enact a resurrection of their own, when they cut from the funeral of one of their subjects to an earlier scene of the deceased yelling "cut," as if his own death were simply a bad dream. It's a cheat, obviously, but a moving one; it gets to the core of why the story of the resurrection retains so much power.
None of these comparisons are meant to be glib, or condescending. If anything, they have an earnest power — as if to suggest that camp and reverence are different sides of the same coin, both the products of humans aching to understand the mysteries of existence. When we hear the booming voice of Christ in the Passion Play — a recording to which the actor portraying him lip-syncs — it's hard not to be reminded of karaoke night at the Eureka Live. And when Christ is taken up and away into the night skies by a hydraulic contraption and becomes a flamboyantly smiling beacon among the stars, you realize that sometimes there's little difference between God and all those DJs who saved your life.