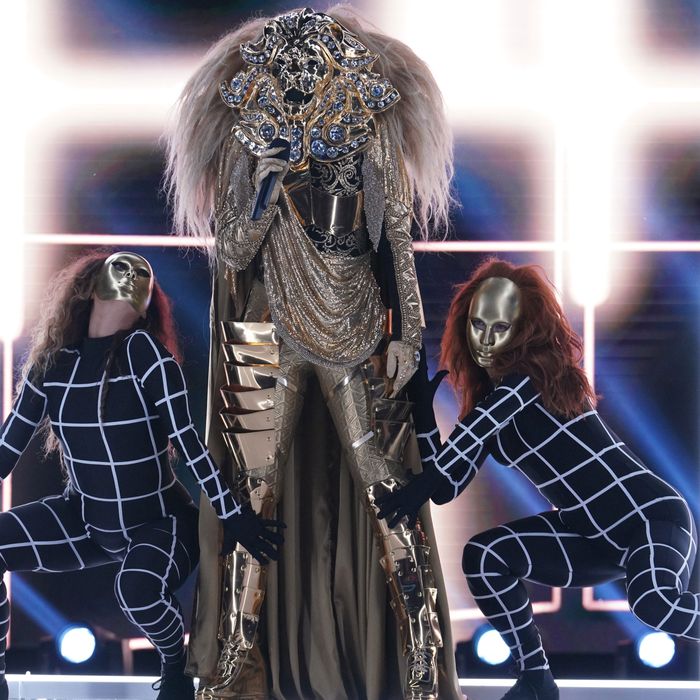 Photo: Michael Becker/Fox
As you might have already heard, America's favorite reality-TV fever dream has been renewed for a second season. Good news for everyone who just can't get enough of the mysteries behind the wacky masks. Maybe next season, The Masked Singer will even get as avant-garde as South Korea's version of the show. (Yes, in case you clicked through, that second link is Masked Singer judge Ken Jeong as "Golden Pig" on King of Mask Singer. It's really a full-circle type of show.) I know I'm personally excited to see what kinds of C- and D-list wannabe singers they find for the second season! It's honestly overwhelming how many Wholebrities out there could turn up behind one of The Masked Singer's signature masks.
And while I'm no casting director, I definitely have a sense of the type of celebrity that Masked Singer audiences would love. Someone recognizable at first or second glance? Check. Someone you've haven't heard of in a while? Check. Someone not known primarily for singing (nor has been in the spotlight for such in a while) and wants to give it (another) go? Check. Someone incredibly free and familiar with the reality-TV show format? Check, check, check. Here's my go at who might be up for a round of Masked Singer — thank you and you're welcome.
Oscar De La Hoya
I'm starting with sports, because it might be the most difficult genre of all. There are so many former athletes who would willingly step up to the plate (ha!) of Masked Singer. The Deer, a.k.a. Terry Bradshaw, was a perfect Masked Singer because he had that hint of a singing past. And so does boxer Oscar De La Hoya! The golden boy Olympic medalist not only has a singing history — a self-titled Grammy-nominated Latin pop album with songs written by Diane Warren — but also apparently wants to run for president in 2020. What better platform than The Masked Singer?
Kirstie Alley
In 2003, Kirstie Alley sang "Santa Baby" in an ad for Pier One Imports. Is this enough to convince me that she'd be interested in a masked singing competition? It is. Alley has already done Dancing With the Stars (TWICE!) and last year's season of Celebrity Big Brother, which certainly should put her on a smart producer's radar. Again, it's really the same rotating cast of reality-TV-ready celebs.
Tatyana Ali
Hear me out: The Fresh Prince of Bel-Air actress had a brief-but-memorable pop career in the '90s and early aughts. You definitely remember "Day Dreaming" or "Boy You Knock Me Out" or the time she sang "Respect" on The Fresh Prince — poor Philip Banks! But you wouldn't necessarily remember the sound of Ali's voice, which makes her a perfect candidate for the show. She also spent part of last year acting in a Hallmark Christmas movie called Jingle Belle (it's about a girl who writes jingles! Get it?!), so this would be a nice transition.
David Hasselhoff
I mean, duh. If you're gonna get Donnie Osmond on the show (trust me, he's the Peacock), you're gonna also have to ask David Hasselhoff. The guy has been on American Idol, America's Got Talent, Dancing With the Stars — where hasn't the Hoff turned up? He's a German pop star and American legend and had a major role in 2015's Sharknado 3: Oh Hell No! He's perfect.
Tara Reid
Speaking of Sharknado, the actress turned tabloid fixture seems like she might be a big get for The Masked Singer. She doesn't sing, but in the same vein as Tori Spelling's run on the show, it feels like singing might be something she's always wanted to do? And this is her opportunity to shoot for the stars? Just a guess! Josie and the Pussycats forever.
Loni Anderson
Loni! Jennifer from WKRP in Cincinnati, Burt Reynolds's ex, and (at one point) a very good singer. Not that it matters, but after I saw Loni in the Amazon pilot for Bridget Everett's Love You More, I haven't been able to stop thinking about how good she was. So perhaps it's my own bias, but Loni would be the perfect type of surprise for the Masked Singer judges. (And audience!) She looks great, sounds great, and could rock the hell out of some insane get-up. Maybe she'll sing as a (Love) boat!
Pauly Shore
Can Pauly Shore sing? Not really. Does it matter? Not really. Shore is the quintessential nostalgia play for '90s kids, immediately recognizable to the type of Gen-X viewership that most certainly makes up a lot of The Masked Singer's audience. Plus, he's funny. "Still funny, Lindsey?" you might hear yourself asking after you read my claim. Yes, he's still funny! Plus, he's on Cameo — a site that lets you pay for messages from your favorite celebs — and he costs just $100 a pop. I've just now decided that being on Cameo is another Masked Singer indicator. Pauly Shore is available.
Aaron Carter
It feels like it's been 100 years since "Aaron's Party (Come and Get It)," and yet it's only been 18 since the now-31-year-old made his pop-star debut. He was the younger brother of the Backstreet Boys' Nick Carter — who could also totally show up on The Masked Singer, if we're being honest — but Aaron's road to and from stardom was a bit more bumpy than his older bro. He suffered the ups and downs of teen stardom, which included plenty of failed singles and ventures, and then, just last year, rehab in Malibu. But he's out now and looking as good as ever. Could it be the right time to take the stage for a redemption narrative? It's never too late.
Jamie-Lynn Sigler
You haven't heard Jamie-Lynn Sigler's single "Cry Baby"? Nothing has ever sounded more 2001, but it does imply that The Sopranos actress might still have some pop-star dreams. Okay, so she told the New York Post that she was "faking it the whole time" and "hated every moment" of making her first full-length album, but I feel like there's a chance she still might be interested in a bit of redemption here. Plus, with The Sopranos' 20-year anniversary happening this year, it would make a perfect through line for The Masked Singer.
Hulk Hogan
There isn't much the Hulk will turn down — reality TV, ad campaigns, a movie called Santa With Muscles — so having him appear from behind a mask would be no surprise. Can he sing? No, but that hasn't stopped the wrestler from finding money-making opportunities at every turn.