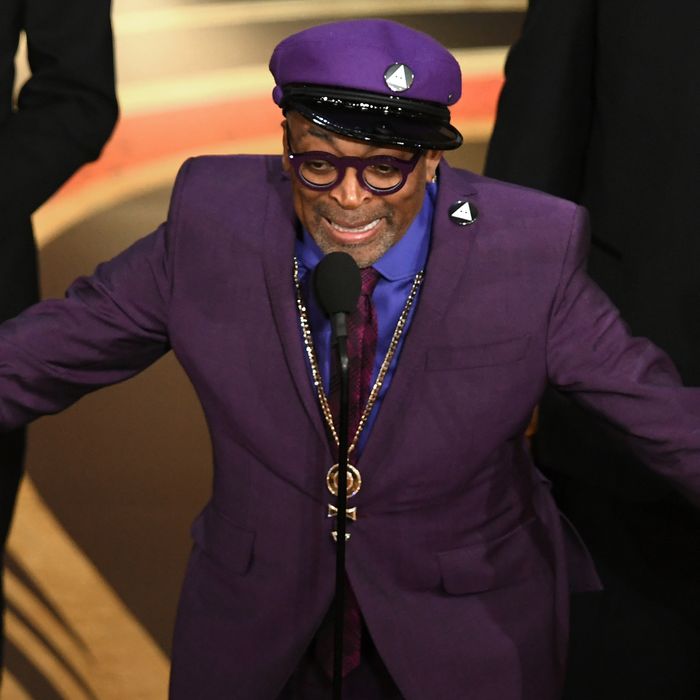 Photo: Kevin Winter/Getty Images
What happened at the Oscars last night: A movie about a gay man that has made $210 million in America won four Academy Awards. A movie about a black man and a white man in the south of the 1960s won three, including Best Picture. A movie about a Mexican maid won three, and so did a movie about an African king. To my eyes, the first two of those films are unworthy choices on which history — which starts getting written the minute the Oscars are over — will not look kindly. And the other two are fantastic films that deserved everything they got and a great deal more. But voters disagreed, and Oscar-watchers like me should be wary of drawing any what-it-all-means conclusions about the Academy that are so cast in stone they can't be completely revised at this time next year.
This year's Best Picture winner is, I believe, an unimpressive and retrograde selection, especially given the high quality of much of the competition. The night's most schizophrenic moment surely came when the two screenwriting prizes were handed out — one to Green Book (yes, Nick "There were Muslims on those rooftops" Vallelonga is now an Academy Award winner) and one to BlacKkKlansman, another movie about a black man and a white man confronting bigotry together that seems crafted with a bone-deep awareness of everything that makes Green Book specious. What would these movies make of each other? Have these two groups of voters even met?
When the nominations were announced last month, I called the Academy a house divided — I found the eight Best Picture nominees to be fascinatingly reflective of an Academy that is half in paroxysm, half in transition. That played out in the wins: All eight movies in the top race went home with at least one Oscar, and none with more than four.
For several years through last spring, when most of the news about the Oscars started to be about AMPAS and ABC's many strenuous efforts to screw up the show, the dominant story of the Academy was about the effects of its sustained push to make its membership more diverse — less male, less old, less white, less American. In other words, more like the world. That drive has been measurably successful — the Academy, 94 percent white in 2014, is 84 percent white now. Five years ago the membership was 77 percent male; that has dropped to 69 percent. And in several branches — most notably the directors' branch — the voting body is becoming truly global.
It's impossible to translate those demographics to wins neatly, but it is worth noting that many of last night's results can be viewed as a vindication of the effort to change the Academy's hidebound ways. Women triumphed in an exceptionally large number of categories, winning or co-winning for Best Production Design, Best Costume Design, Best Makeup and Hairstyling, Best Sound Mixing, Best Documentary, Best Animated Short, Best Documentary Short, and Best Original Song. Marvel movies took four Oscars, making it clear that any perceived antipathy toward the superhero genre is at an end. For the second time in three years, African-American performers won two of the four acting prizes. Rami Malek, who self-identified as a child of immigrants and a first-generation American in his acceptance speech, won Best Actor. And although Roma did not go all the way, as many hoped and/or predicted it would, Alfonso Cuarón took the stage as a winner no less than three times, including for Best Director — the fifth time in six years a Mexican filmmaker has won that prize. And, of course, there was Spike Lee, winner of a competitive Academy Award at long, long, long last, and recipient of one of the night's many standing ovations. These are all suggestions of an Academy that, while it often finds itself racing to catch up, is at least capable of change.
And yet: Green Book. I think there's a danger of overanalyzing choices you don't like; it's conceivable that an anti-Netflix faction hurt Roma (though I doubt it) and it's also conceivable that some voters felt shamed for being told that they were out of touch for thinking Peter Farrelly's movie was the best of the year (Narrator's voice: "They were; it wasn't") and dug in. But the truth may be simpler: The Academy, though less old, male, and white than it used to be, is still more old, male, and white than it needs to be — and for voters to whom all the other choices felt too foreign or too black or too angry or too indie or too sha-hah-hah-hah-low (kidding, I loved A Star is Born), Green Book was a safe and familiar horse to back. This year, and I suspect for many years of come, fresh thinking showed in some results more than in others. You will pry the right of an Oscar voter to support a 1986-style quasi-liberal brotherhood-of-man movie out of their cold dead fingers. (Eventually, I mean. No rush. Call me when it's time. I'll be happy to help.)
Last thing: The show was pretty good! The lack of a host never felt acute or troubling (thank you, Tina Fey, Amy Poehler, and Maya Rudolph, for taking care of our needs early and swiftly). The telecast ran about three-and-a-quarter hours and never dragged; half of the prizes had been given by the ninety-minute mark, which hasn't happened in ages. We got one wild surprise — Olivia Colman, looking genuinely shocked to beat Glenn Close in a moment that was both exciting and bittersweet and thus exactly what we want from the Oscars. We got a hot-to-death duet between Lady Gaga and Bradley Cooper that was staged and shot with unusual thought and dramatic flair for an awards show. We got a fair number of spirited political speeches about immigrants that were on point and heartfelt without being glibly performative. We got Spike Lee bowing to Barbra Streisand. And — it cannot be said enough — we got Spike Lee, Oscar in hand, period. If I sound glass-half-full, it's not just because the empty half of the glass is a complete abyss, but because half-steps are the only steps the Academy Awards can ever really take in a given year. And at least last night, some of those were half-steps forward.