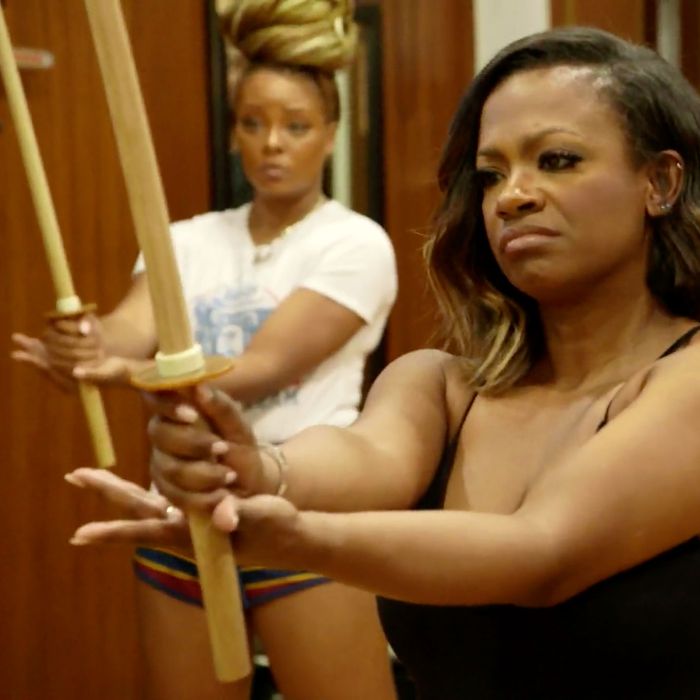 This episode WAS THAT GIRL. Multiple giant bouquet deliveries. Samurai training. Pickle sex positions. If you were not giggling your wig off during multiple moments during this episode, there is a deep emptiness inside you. How could you want anything more? This Japan trip has really delivered so many moments and outfit choices and I feel like it's been 19 episodes. When "Tokyo Trip Day 3" popped onscreen, I lost my mind. Bless Bravo for squeezing 19 episodes out of four full days. Let's get to it.
The first gigantic bouquet arrival is for Porsha. Dennis sends her flowers and Porsha calls him and takes her jacket off to properly show off them pregnancy titties. They're both missing each other's bodies and Porsha is making the conscious decision to ignore everything about Dennis' past. And I have no comment on that.
I feel that this trip really showed us exactly why Tanya is not the right fit for this group of girls. Tanya running around with her dollar store "tasteful" bachelorette party stuff while the rest of the ladies have more fun pretending to bang each other with pickle dicks. Tanya needs to settle down, let her hair down, and get messy. Being prim and proper is not the right mood for these women.
CAN WE TALK ABOUT THIS BACHELORETTE PARTY? Everyone shows up in their pajama/lingerie looks and Kandi shows up looking like a 1940s banker going to sleep. Eva is wearing another white tunic worn as a dress. Cynthia has a giant afro on and Marlo is still wearing that damn geisha wig. Porsha starts the night by telling everyone about how she has already looked at rings with Dennis and Tanya says that because Dennis told another man about it, he's serious. Kandi is finally putting her trouble with Porsha aside since she's been so happy.
Nene arrives and she is not pleased. Nene is still going through it with Gregg and she's also still not over her fight with Tanya. Tanya doesn't notice because she's playing the part of overly enthusiastic host for a party with childish games no one is excited for. She's brought some sort of wig accessorizing activity and she can't pronounce "Harajuku" correctly. Tanya, can we not? Nene decides she doesn't want any part of Tanya's cheerleading routine and she grabs the bottle of vodka and runs out.
The first activity is a Japanese stripper. This is… a lot. I just wrote down a few things the ladies said during this routine:
"Take your socks off!"
"I've never seen a stripper sit on the couch."
"I like your dream catcher."
"It's like it's saying hello" (Referring to a g-string)
When the stripper leaves after one dance and no full frontal nudity, Eva just asks "Did you Yelp that stripper?" MA'AM. Kandi decides that they need to have some dirtier fun and Porsha suggests a game where they try to drop pickles in each other's mouths. My first thought was what if someone chocked and died, can you imagine the headlines if that was how any of the Real Housewives shuffled off this mortal coil? Kandi's game suggestion isn't so much a game as an elaborate and organic strap-on situation. The alleged game is one person holds the pickle and the other person poses in their favorite sexual position. If the footage is to be believed, Kandi slipped a little pickle into Eva's bootyhole. Cynthia has a little trouble getting into position and Tanya shoves her head down into the seat of a chair. What am I watching? Porsha says "Somebody get Cynthia her damn Life Alert." Shamari chases after Cynthia and jumps on her on the couch with her pickle penis. This is some of the best physical comedy on television. Eva grabs the bottle of Ciroc and it's time to head to the club.
After some cell phone footage of Marlo on the floor of the hotel at 4 a.m., it's time for day 45 in Japan. Nene wakes up the next morning and manages to get Gregg on the phone. It is not great. Obviously, both are trying to do their best and not show the other their struggle but man oh man, is this a situation that definitely needs some therapy. Nene doesn't feel like she has anyone to lift her up and Cynthia comes in to try to comfort her. I have been the "strong" friend who everyone cries to and when you cry, no one knows what the do or how to handle it. That was Cynthia in this moment. She thought the best thing was to remind Nene of how strong she is and Nene says "I still have feelings!" The best Cynthia can do is "I'm here for you" and quite frankly, that's a good first step.
Aya the tour guide shades everyone when she says "Is everyone on time today? You did it!" Not now, Aya. The Japanese cultural adventure for the day is a samurai sword lesson. I would pay $5,000 to get the unedited footage of Cynthia trying to figure out if it's "sword" or "suh-ward." They all have to face off against each other and one of them has to decide to be the one to die. Nene and Tanya refuse to die when it's time for their battles and Kandi decides to take a full minute to die as an homage to Joan Crawford. Who's in a wheelchair now, Blanche? The editors have some fun with Shamari's confessional and edit her karate hands into some trippy visuals.
Later that afternoon, Eva goes to see Nene to offer her kimono styling when the second giant bouquet of the episode arrives. Gregg sends Nene a card that's so beautiful Nene bursts into tears while reading and Eva asks if she can read it and also bursts into tears. It's a fucking beautiful card. Nene just needs some time alone. Then we get a montage of Nene and Gregg, including the perfect moment where Gregg proposed (again) and Nene nearly choked on her cocktail.
Once all the ladies are ready and in their kimonos, they head out for their final dinner of the trip. While walking to the van, Nene says "Flowy is everything. I feel like a bird." Same, Nene. Same.
At the final dinner, Eva suggests that everyone go around and say their highs and lows for the year. All of these women seem to care about each other on some deep level and it's really nice to see them being so vulnerable with each other. It's Porsha's turn to share and she starts to tear up talking about how Dennis has helped support her in fulfilling her dream and giving her the life she always wanted. You can see the emotional wheels turning in Kandi's brain. Kandi starts to tear up and genuinely apologizes to Porsha for saying shitty things because she knows what it's like to have a man who needed a little time to blossom. She knows how important Todd has been in her life and if Porsha feels that way about Dennis, that's all she needs to know. Then we get a little montage of the happy moments between Porsha and Kandi. Is this a season finale? Just a midseason break? Oh, okay. That explains it.