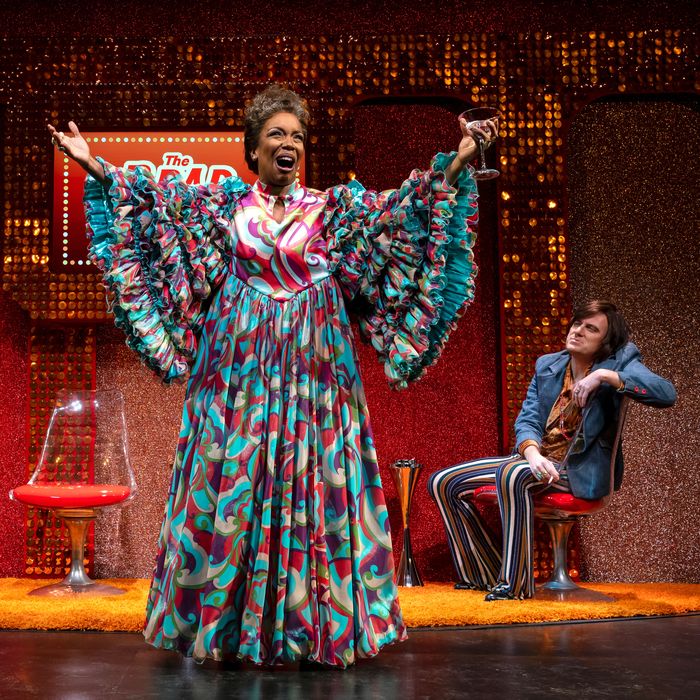 From Lynn Nottage's
By the Way, Meet Vera Stark,
at the Signature Theatre Company.
Photo: Joan Marcus
Lynn Nottage remains the only woman to have won the Pulitzer for Drama twice, first in 2009 for Ruined and again in 2017 for Sweat. In between, she wrote a comedy, a play that hasn't quite received the attention that the award-winners have — which feels sadly in keeping with its subject: the complicated career of a fictional African-American actress named Vera Stark (whose depth of talent is never fully recognized, despite her ostensible success) and the legacy of marginalization faced by black actresses in Hollywood. The play is a satire, a eulogy, and, in some ways, an homage. Nottage clearly has great affection for the 1930s films she's skewering, along with a real understanding and sympathy for the American love affair with the movies. But she's also writing about the racism under the romance, the culture that consigned real-life great performers — Hattie McDaniel, say, or Theresa Harris, upon whom Vera is partly based — to a lifetime of maid and mammy roles. Between 1929 and 1958, Harris appeared in almost 80 films but, as she said, "My color was against me anyway you looked at it. [They] stamped me either as uppity or relegated me to the eternal role of stooge or servant … Hollywood had no parts for me." Even the offhandedness of Nottage's title — By the Way, Meet Vera Stark — slyly places its protagonist as an afterthought in a whitewashed narrative.
The Signature Theatre revival of Nottage's 2011 play, directed with zingy energy by Kamilah Forbes, can at times feel like a revue by an aging vaudeville star — a bit broad, a bit padded — but it's anchored by a crackling central performance by Jessica Frances Dukes. And it's a compelling reminder of Nottage's playful inventiveness: Before plays like An Octoroon, Fairview, and Slave Play split themselves down the middle to explore race by exploring performance, Vera Stark did. The comedy pivots sharply at intermission, and what was in the first act a shrewd, bubbly send-up of 1930s screwball comedies jumps ahead 70 years. Vera Stark (Dukes) — whom we meet in Act One as a young would-be actress, bursting with life and ambition and working as a maid for an anxious aging starlet called Gloria Mitchell (Jenni Barber) — is now a memory, a talking point for cultural critics and academics in the year 2003. Clint Ramos's lush rotating boudoir of a set evaporates to make way for a film screen where we see projected clips of Vera's big break, a Gone With the Wind–ish romantic tragedy called The Belle of New Orleans. Three panelists pick at the movie, Vera's legacy, and her mysterious disappearance — along with her last public appearance, an interview on a smarmy '70s TV show that we get to see embodied in the flesh. Did she die of an overdose in a seedy Vegas hotel in 1973? Did she end up a bag lady in Santa Monica? "What happened to Vera Stark?" the panel's host, Herb Forrester (Warner Miller) asks us with more than a touch of sensationalism. The play's first act has given us a partial answer, and its second becomes a window into just how much of any life — and especially a life in the public eye — remains a complex, painful secret.
Nottage repeatedly calls for an attention to heightened performance style in her script. "In the tradition of the screwball comedies of the 1930s," she writes, "Act One should be very fast-paced, whimsical, and always buoyant. Breathless." Likewise, the film of The Belle of New Orleans (a fun side-project for every production to create anew with its actors) should reflect "a true attempt to capture the cinematic style of that period." While "faces are expressive" and "movements are sharp and theatrical … it shouldn't be a parody." There's the rub. Nottage is throwing a dart at a very fine point — the bull's eye of really good satire, something that feels sharp and true enough that it absorbs and transcends caricature. It's a hard shot to make, and both as a play and in this production, Vera Stark doesn't always succeed at avoiding parodic broadness.
The play begins in Gloria Mitchell's lavish Hollywood digs (she's got a giant polar-bear rug and a huge de Lempicka–style self-portrait above the mantel), where "America's little sweetie pie" is running lines. "Miss," Vera announces tremulously to her employer in a heavy southern accent, "Mr. Lafayette here to see ya." Gloria swoons dramatically on a daybed: "Tell him I'm not here. I can't bear to face him, not like this, not now, not after all that has happened!" It's fun to watch Dukes and Barber play at this kind of grandiose fluttering, and it's clear that a break is coming: At some point, Gloria's bound to drop a line, and we'll move from The Belle of New Orleans into real life, where Vera will lose her bayou drawl and the fretful, needy, gin-swilling Gloria will reveal just how "sweet" she really is. The difficulty is that the break lacks definition. Forbes is leaning so heavily on Nottage's directions ("fast-paced, buoyant, breathless") that the reality of Act One is almost as high-flown as its fantasy. There's a kind of logic at work here: The only scenes that calm down a bit (though not that much) are the scenes without any white folks. When Vera meets the suave, ambitious young musician Leroy Barksdale (also Miller) or when she comes home after work and chats with her roommates — Heather Alicia Simms as Lottie McBride, a gifted actress whose size has made her life doubly difficult in Hollywood, and Carra Patterson as Anna Mae Simpkins, a "high yella mellow" vamp who's gunning for parts by passing as Brazilian — the relentless pursuit of genre lets up. There's not the same necessity for constant playacting. Because as Vera and Lottie well know, they're expected to perform their race — and all the mystery and suffering salacious white people assume come with it — if they ever want to work.
Simms is wonderful as Lottie, who puts on a jaded front but still remembers playing Juliet, and Patterson has a bright comic touch as the on-the-make Anna Mae. The scene in which she shows up at Gloria's house — where Vera and Lottie are both on the job as maids — on the arm of a big-shot European director (Manoel Felciano) and producer (David Turner) is a well-engineered farcical machine with an unnerving underbelly. The director, Maximillian Von Oster, is the "genius" behind The Belle of New Orleans, and when he announces that he wants "authentic … Negroes," "Negroes of the earth" for his picture, Vera, backed up by Lottie, launches into an aria of suffering. She rolls up her sleeves and puts on a show — one that's equal parts funny and disturbing. This is the kind of willingness to go there that, 30 years after her death, will have self-righteous commentators debating over whether Vera Stark was "just another shucking, jiving, fumbling, mumbling, laughing, shuffling, pancake-making Mammy in the kitchen." Or whether she bravely made the best of her unjustly finite options, somehow weaving gold out of the demeaning dross she was repeatedly offered.
Dukes's performance tells us all we need to know on that score. Nottage reserves some of her sharpest barbs for the modern academics (also played by Simms and Patterson, along with Miller) — the complacent progressives shoring up their own intellectual reputations by looking askance at Vera's legacy — but in Vera she creates a character that, in the body of the right performer, maintains a kind of integrity despite everything. And Dukes is that actor. She's wily and fierce and, between the play's acts, undergoes a striking total transformation. Steely, quick on the draw, and full of sly humor as a young woman, Dukes's Vera has become a hard-edged, "Ladies Who Lunch"–style grande dame when we see her take the stage on "The Brad Donovan Show" in 1973. She's resplendent in a massive, multicolored dress — whose young black designer she enthusiastically praises, though her terminology is slipping out of date (she still calls him a Negro) — but she's gotten stiffer, her eyes have narrowed, and her face has hardened, and she clearly likes a drink and a smoke. Is she, like any real performer, a creature of ego? Has she made compromises in her lifelong pursuit of applause? Has she lost a piece of her soul? The answer is probably yes, and yet Dukes and Nottage make it clear that this woman has been braver and worked harder than anyone who sits in judgment of her.
Dukes keeps the center of By the Way, Meet Vera Stark sharp and shining, and of her fellow performers, Simms is there with her, dexterously walking the line between the satirical, the farcical, and the humane. Beyond them, there's a lot of slipping and sliding into schtick, especially by the play's men. Turner and Felciano have the thinnest parts — the movie men in Act One and, in Act Two, the obsequious host of The Brad Donovan Show and a groovy, strung-out fellow guest who's dramatically underused — and they stay firmly in the realm of cartoon. Miller, meanwhile, makes a charming, edgy Barksdale in Act One, but strenuously overplays the pompous panel host, Herb Forrester, in Act Two. Comedy is hard, and satire is harder. But if Vera Stark sometimes shoots wide of the mark, it's still taking aim at something profound — and, like Vera herself, it's part of an audacious ongoing dramatic legacy.
By the Way, Meet Vera Stark is at the Signature Theatre Company.