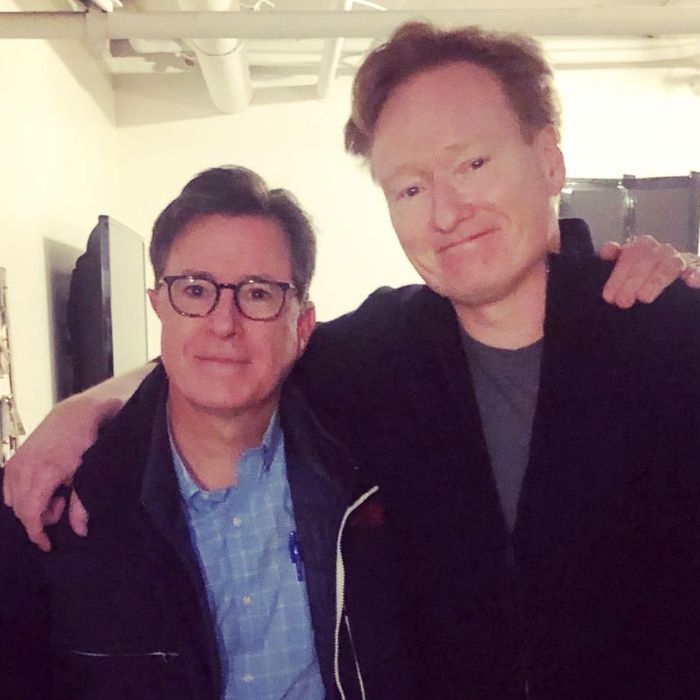 Stephen Colbert and Conan O'Brien.
Photo: Conan O'Brien Needs A Friend
The comedy podcast universe is ever-expanding, not unlike the universe universe. We're here to make it a bit smaller, a bit more manageable. There are a lot of great shows and each one has a lot of great episodes, so we want to highlight the exceptional, the noteworthy. Each week, our crack team of podcast enthusiasts and specialists and especially enthusiastic people will pick their favorites. We hope to have your ears permanently plugged with the best in aural comedy.
Conan O'Brien Needs a Friend — Stephen Colbert
More than any other late-night host in the post-Carson era, no pair operates on such a highly specific wavelength like Conan O'Brien and Stephen Colbert. Despite decades of tight proximity in NYC, Conan and Colbert never really got to know each other until the 2007–2008 WGA strike. It was during their airtime-filling fake feud that O'Brien got the strange sense that he and Colbert were "brothers separated by birth." That quote is so close to truth that I wish Conan wasn't the only one who took a DNA test on The Late Show last week. As they tell it, both men were concurrently liberated from their personal demons and the weight of being raised in massive Irish Catholic families through their specific strains of silliness. Conan even goes so far to say silliness is now his religion. But for Colbert, a Sunday school teacher, Catholic dogma and philosophy still greatly inform his life. When Colbert suffered the tragedy of losing two brothers and his father in a plane crash, he gripped tightly to his belief that causing himself to suffer — in one case, by locking himself in a sweltering South Carolina closet with no AC — would somehow reverse his pain. "Does this make any nonsense?" he asks Conan, who responds by describing himself as a "magical thinker" who hates when his suffering actually results in the magic he so desperately wants to happen. What follows is an exceptionally in-depth and cathartic conversation that tears both comedians out of the ground and shows you the roots of who they really are. By the end, Conan is left shouting "There are so few people I can talk to this about!" followed by the anxious laughter us viewers have grown accustomed to hearing when Conan is kidding. Here, he is most definitely not joking. —Pablo Goldstein
Listen: Spotify | Apple | Website
Las Culturistas — After After Party After Party (with Sonia Denis and Rebecca O'Neal)
It turns out three is a magic number, especially when it refers to an after-after-after-party as intimate and high-energy as the latest episode of La Culturistas. Joined by comedians Sonia Denis (host of Refinery29's Facebook Watch show After After Party — RIP) and Rebecca O'Neal, hosts Matt Rogers and Bowen Yang set the stage for a candid conversation about the women's respective comedy careers. Flashback to Chicago, where Denis and O'Neal met making the stand-up rounds before inheriting Cameron Esposito's open mic at Cole's Bar — the scene of a racist incident that revealed their mutual respect for one another. "It was so surreal … in that moment she had my back fully," says Denis before O'Neal adds, "You know who your riders are." Told with a humorous bent and a heartwarming conclusion, it's still a reminder of the harsh realities of comedy. The inside look at the foursome's world continues with tips to surviving those sorts of lows while riding the highs in both your professional and personal life because it's all about finding balance. It benefits the work, they all affirm, just as this episode will benefit aspiring comedians and comedy enthusiasts alike. —Becca James
Listen: Spotify | Apple | Website
The Ron Burgundy Podcast — True Crime
Ron Burgundy's back and podcasting's got him. And it seems to be a good thing. Will Ferrell's rambling, off-kilter, and chronically misinformed news-anchor character from the Anchorman movies kicked off his new show with an episode titled "True Crime." Most of Burgundy's cluelessness in the premiere episode is focused on figuring out the answer to the question, "What is a podcast?" He even reads a definition of the word podcast but still goes on to treat it like he's on the radio. He's joined on this adventure by his producer and sort-of co-host Carolina Barlow, who serves as his foil for a lot of his scattershot comments and ideas. He does know that true crime is the most popular podcast genre, which is why he has gathered some stories to share, but they turn out to be a short stack of open-and-shut murder cases, starting with a woman who stabbed her husband to death — a case that was solved in 20 minutes. Another case involves a serial killer who was a bartender that Burgundy swears was a buddy he knew really well who couldn't have committed the ghastly crimes of which he was convicted. He also runs with the meme-as-fact that Senator Ted Cruz was identified as the Zodiac Killer. Burgundy also welcomes a guest, forensic psychologist Dr. Scott Musgrove, to talk about the criminal mind-set, but he can't get around the fact that, if Musgrove is a doctor, why can't he operate on Burgundy's bunions? Musgrove gamely suggests what he needs is a podiatrist, but that just sends the confidently befuddled host down more wrong paths of non-discovery. Ferrell plays the character to the hilt, and it's great fun to have him exploring more depths to the Burgundy character … even if they turn out to be a series of shallow wading pools. Stay classy, podcasting! —Marc Hershon
You Can Tell Me Anything — Marcella Arguello
On You Can Tell Me Anything, guests attempt to confess a dark secret to host Teresa Lee — something they've never told anyone before. The guests are comedians, and many comedians actually mine their darkest and weirdest stuff in their material onstage, but even so, you'll probably tell your audience and your therapist the same story in a different way. On this episode, Marcella Arguello confesses that she didn't lose her virginity until she was 25, but the "secret" confession is actually less interesting than Lee and Arguello's in-depth discussion as women of color who are experienced stand-ups. They talk the West Coast comedy scene, the specific weird power plays male bookers try to get away with, and how limiting it can be when white liberal audiences automatically get offended on behalf of others. NB: Arguello's album Woke Bully is out now, and You Can Tell Me Anything has a one-year anniversary live show coming up in L.A. —Kathryn Doyle
Are We Still Talking About This? — Byron Bowers
Coming off two engaging and vastly different conversations with Artie Lange and Gary Gulman, podcast newcomer Are We Still Talking About This? has kept the momentum rolling. In this week's sit-down with Byron Bowers, hosts Adam Kaplan and Jessica Pilot (The Late Show With Stephen Colbert) open the floor for the comic to waltz through the checkered past that led to his recent success as the first comic to make an AIDS joke on CBS. First, he recounts a trip to Afghanistan to entertain the troops, where he completely dropped his prepared material to win over the crowd. He learned to trust his instincts and how it feels to get yelled at by military hotshots. His father, who dealt with schizophrenia his whole life, inspired a lot of Bowers's stand-up material. But here Bowers explores the flip side of his father's struggle, the part that inspired a lot of suffering. Like an uncomfortable trip down memory lane between Bowers, his sister, and his father. Now in a long-term relationship, Bowers has no model for happiness. "I'm not used to being loved like this … happiness made me feel a negative way. Maybe it was me not understanding what it is, or it was something I didn't believe in …" This head-on approach toward mental illness is what makes Bowers one of today's most exciting voices. —Mark Kramer
Listen: Spotify | Apple | Website
Other Podcasts We're Listening To:
Gilbert Gottfried's Amazing Colossal Podcast — Larry Charles
Listen: Spotify | Apple | Website
Late Night With Seth Meyers Podcast — Seth Off-Air: Chris Kelly & Sarah Schneider
Listen: Spotify | Apple | Website
Blank Check — Mars Attacks! With Paul F. Tompkins
Listen: Spotify | Apple | Website
Hella in Your Thirties — Time to KonMari Our Apartment
Listen: Spotify | Apple | Website
Got a comedy podcast recommendation? Drop us a line at comedypodcasts@vulture.com.