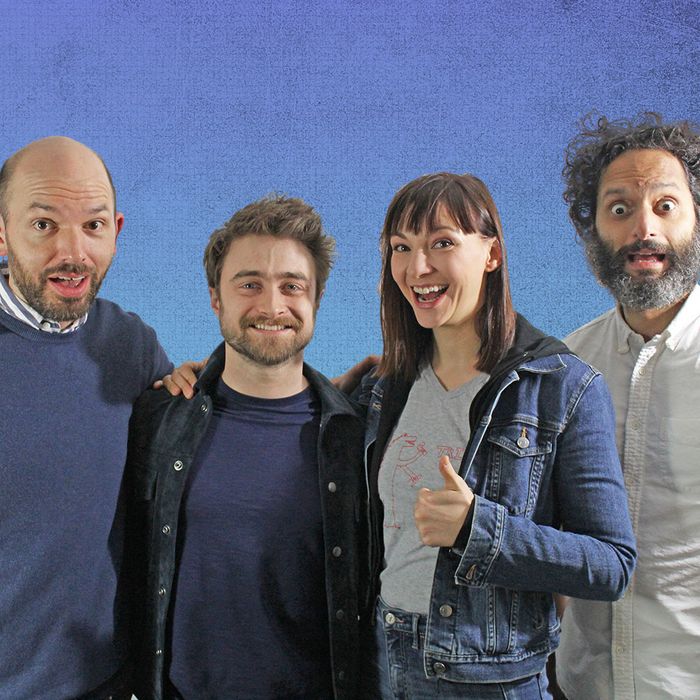 How Did This Get Made?
Photo: HDTGM
The comedy podcast universe is ever-expanding, not unlike the universe universe. We're here to make it a bit smaller, a bit more manageable. There are a lot of great shows and each one has a lot of great episodes, so we want to highlight the exceptional, the noteworthy. Each week, our crack team of podcast enthusiasts and specialists and especially enthusiastic people will pick their favorites. We hope to have your ears permanently plugged with the best in aural comedy.
How Did This Get Made? — Dragon Blade (With Daniel Radcliffe, Erin Darke)
Paul Scheer describes the 2015 Chinese government-funded film Dragon Blade "like someone watched the last episode of Game of Thrones and tried to describe it to you," which is all you need to know before listening to this week's standout episode of How Did This Get Made? To help break down this $65 million mess, Scheer and Jason Mantzoukas are joined by power couple Erin Darke (Dietland) and the Boy Who Lived to Watch Dragon Blade Not Once But Twice, Daniel Radcliffe. Thanks to the efforts of international treasure Jackie Chan, alongside a scene-chewing Adrien Brody and a slowly-turning-into–Nicolas Cage John Cusack, Dragon Blade has all the hallmarks of an HDTGM classic. There are anachronistic, well, everything, like characters with names like "Lucius," "Tiberius," and "Eugene" and facial hair best described as "thong chin." Radcliffe and Darke prove themselves to be two of HDTGM's most prepared guests, having watched the film twice (on date night) as well as the pressers Brody and Cusack had to endure for their paychecks. Darke even shares a very funny movie-set experience involving Cusack and vaping. Before listening to this episode I had never heard of Dragon Blade; now I can't wait to give the Chinese government money to see it. —Mark Kramer
Listen: Spotify | Apple | Website
Couples Therapy — One Thicc Bagel
Keep riding the February train of love! That doesn't have to mean romantic love — in fact, the beauty of friendship love is regularly featured on Couples Therapy, where comics who are close perform together. This week, you're in for a real therapeutic treat with a delightfully honest set from musical duo Garfunkel and Oates (Kate Micucci and Riki Lindhome). They gift us with an "honest dating profile" song, "50/50," a.k.a. the new uke anthem. ("Close your eyes, make a wish, picture your perfect woman. Now open your eyes and forget about her, because I'm here and I'm not it.") They also perform a song inspired by notes from a Republican cryptocurrency guy who told them to write something at which "Both Sides Can Laugh." Your hosts, real couple Naomi Ekperigin (Broad City, Comedy Central) and Andy Beckerman (UCB), share a roller-coaster foster-dog journey featuring all the dog content you could want. Top it off with friends Kevin Avery and Heather Thomson, one of whom was in a boy band. Thomson chuckles so much at Avery it will tickle your heart. Sometimes it's nice to hear two people who enjoy each other make each other laugh and share it with the world, you know? —Anna Marr
Listen: Spotify | Apple | Website
Mega — Ice Tooth With Eliza Coupe
Meet the staff of Twin Hills Community Church, a fictional house of worship in the "equally fictionalized" town of Broad Ripple, Indiana. Mega, hosted by comedians and improvisers Greg Hess and Holly Laurent (or Gray and Halle as they're known here), skillfully satirizes the cultural phenomenon of megachurches. Known to have an unusually large congregation focused on an evangelical form of Christianity, these places spark a lot of curiosity in the uninitiated, and who better than support staffers — the eyes and ears of any institution — to take listeners behind the scenes? Back in the real world, Laurent, who grew up as a preacher's kid, is also the perfect spiritual guide, armed with the knowledge necessary to seamlessly improvise lines like, "Well, just like it wasn't David and Delilah it was David and Goliath, I've got a Goliath of a fellow over here." This week they're joined by Elisha Cupe (Eliza Coupe of Happy Endings), the woman who "paved paradise and snowplowed a parking lot," or as Halle further explains, the woman in charge of the "Lots of Love Ministry" where she runs everything parking-lot-related. Through a thick New Hampshire accent, Cupe talks about her relationship with Jesus and nonchalantly explains losing her tooth in a hockey tournament as getting "pucked hard." If the spirit moves you, join this congregation of characters for a divine improvisation. —Becca James
Listen: Spotify | Apple | Website
Inside of You — Chris Sullivan
Fans of actor Chris Sullivan from his turn as Toby on NBC hit This Is Us are often surprised to learn that he's also lowbrow baddie Taserface who meets an explosive end in Guardians of The Galaxy Vol. 2. That desire for variety comes through as a driving force when Sullivan visits with pal Michael Rosenbaum in the latest installment of Inside of You. The two became friends during Galaxy (which Rosenbaum also appears in), and their camaraderie is what allows Sullivan to hang with some of his host's more outrageous conversational tacks — such as his inquiry about the size of his guest's testicles (each guesstimated to be "about the size of a free-range chicken egg) or his comfort level at having to do his business in a public restroom. The conversation finds higher ground as the hour moves along, getting into religion and spirituality, as well as the experience of working on his first TV show (The Knick) and his awe of series director Steven Soderbergh: "There were some great actors in the cast, but his directing was the real star of that show." At one point, Rosenbaum uses his guest as a barometer for his own level of "being boring," just before abruptly pointing out the fact that Sullivan is also the voice of the Geico camel in the popular "Hump Day!" TV commercials. One of the refreshing things about Sullivan is that he doesn't miss a beat regardless of whatever curveball Rosenbaum chucks at him, taking the ball and running as far as he can every time. —Marc Hershon
Listen: Spotify | Apple | Website
The Sporkful — Actor Ron Funches Lost 140 Pounds and Became a Leading Man
Good news, everyone! Comedian Ron Funches is back on The Sporkful after a brief four-year hiatus since his last appearance. For a show that uses food as the main catalyst for conversation, Funches proves to be an exceptional guest. Since first being on the show, Funches has gone through a bit of a metamorphosis. During that time, we've seen him climb the ranks of Hollywood, start a wonderful podcast, and, oh, lose 140 pounds! As the focal point of their conversation, host Dan Pashman (You're Eating It Wrong) talks to Funches about how his relationship with food has changed over the years and where he sees his dieting going in the future. Funches is quick to point out that moderation is key. As someone who has struggled with moderation, Funches says this lack of control is what led to his shortcomings with food, but ultimately led to his early successes within comedy. Now that he's in control of his moderation, the sky's the limit. Funches puts it best when he says, "I'm not gang member No. 7 on the call sheet. I'm a leading man." —Tom Rainey
Listen: Spotify | Apple | Website
Other Podcasts We're Listening To:
Buckets — Zion Ferrara (with Jerry Ferrara)
Listen: Spotify | Apple | Website
Unqualified — Kobe Bryant
Listen: Spotify | Apple | Website
Hollywood Babble-On — A Babble Home Show
Listen: Spotify | Apple | Website
My Favorite Murder — MFM Minisode 110
Listen: Spotify | Apple | Website
Got a comedy podcast recommendation? Drop us a line at comedypodcasts@vulture.com.