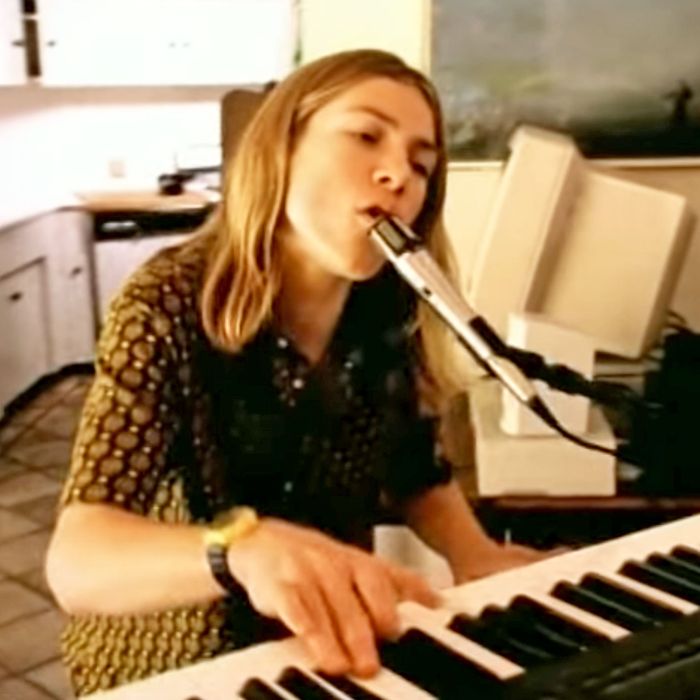 "MMMBop."
Photo: The Island Def Jam Music Group
The comedy podcast universe is ever-expanding, not unlike the universe universe. We're here to make it a bit smaller, a bit more manageable. There are a lot of great shows and each one has a lot of great episodes, so we want to highlight the exceptional, the noteworthy. Each week, our crack team of podcast enthusiasts and specialists and especially enthusiastic people will pick their favorites. We hope to have your ears permanently plugged with the best in aural comedy.
Punch Up the Jam - MMMBop (w/ Broti Gupta)
I want to share everything I learned about the eldest three brothers of seven homeschooled children in an Oklahoman Evangelical Christian home who had an existential crisis and got three Grammy nominations, but you'll want these folks to do it — trust me. Hosts Miel Bredouw and Demi Adejuyigbe and guest Broti Gupta (Friends From College, Speechless) running-man their way through 1998's Album of the Year nominee before totally rewriting it (a.k.a. the Punch Up). Our astounded crew gets backstory on the multi-instrumentalist Hansons — 10, 12, and 15 years old at the time that they WROTE THIS SONG. Get lost with them in the dark tunnel of lyrics of a children's song meant to address "the futility of life." Our trio (not the Hansons) also unearths the phenomenon that it's physically impossible to read the chorus for "MMMBop." Beyond their commentary's utter surprise, horror, and delight, they offer so much: Gupta's respectable reference to Tarzan's "Trash in the Camp," Bredouw's major beef with Isaac, and of course Adejuyigbe's Punch Up, an exploration of this lyrically extreme, vengeful kids tune that's sure to spark the next internet debate (Todd or Doug?). Absolutely best of luck not having this song stuck in your head for … ever? —Anna Marr
Listen: Spotify | Apple | Website
Fitzdog Radio - Neal Brennan
Neal Brennan tells it like it is — he doesn't split hairs, and he doesn't suffer fools gladly. That comes across clearly in his recent visit with Greg Fitzsimmons on Fitzdog Radio, who is a host who also speaks as frankly as his guest. They spend a fair amount of their hour together diving deeply into comedy — both the art of performance and the business of show. Brennan is a performer who likes the rooms he likes and seems loathe to venture into places he's not been before, unlike Fitzsimmons, who's a road warrior from way back, although he's gotten particular through experience and will avoid those gigs that he just knows are going to be a nightmare. Brennan literally is having nightmares: "All my dreams are low-grade terror. Literally, every night, someone in comedy is mad at me." The guys take some time to veer into talking about being married — Fitzsimmons is, Brennan isn't, and the way he's talking about it, it's not likely to happen anytime soon. There is also time spent sharing Conan O'Brien stories and, maybe it's the starting point for his bad dreams, but Brennan is convinced that the late-night host, even though he's had him on his show, just doesn't like him. —Marc Hershon
The Supergroup - Furniture Store (With Open Mike Eagle, Eric Slick, and Kristian Bruun)
The term "supergroup" may bring to mind ensembles of yesteryear like Crosby, Stills, Nash & Young, or newer acts like boygenius (Baker, Bridgers & Dacus), both of which combine already famous and talented musicians into one banger of a band. So how does this concept translate into a podcast? Enter Tawny Newsome (Yo, Is This Racist?) and Alex Kliner (Cards Against Humanity) with the answer — The Supergroup, which invites a comedian and a musician to write and record an original song with the hosts in a week. New from Earwolf, the show is off to an impressive start, ushering in supergroups like Paul F. Tompkins and Katelyn Tarver's pop playlist–ready P-KAT and Sasheer Zamata and Marc Evan Jackson's Future Chill, which sounds reminiscent of early Pet Shop Boys on the band's "Benefits of Crime" single. This week sees Open Mike Eagle, Eric Slick, and Kristian Bruun join forces to write "a soulful song about feeling like an outsider." Just like with previous episodes, listeners are treated to "every step of the process, from writing and rewriting to recording and mixing," illuminating the lives of the participants as much as the production of the track. The result is Furniture Store's psychedelic and mandolin-friendly "Pardon My Junkyard Approach." The song is as strong as the concept of the show and further confirms The Supergroup's succinct declaration that, "the podcast is funny, but the songs are legit." —Becca James
Listen: Spotify | Apple | Website
Mall Talk - Rags w/ Frankie Quinones
We might hear the death rattle of malls in our lifetime, but that isn't going to stop comedians Paige Weldon and Emily Faye from celebrating the retail behemoths in their podcast Mall Talk. On this week's episode, the hilarious Frankie Quinones (Cholofit) joins the hosts to discuss his time shopping at and working in malls in Southern California. But he isn't talking about the iconic San Fernando Valley malls sanctified in '80s movies or the newer Disney-fied outdoor malls like The Americana. Instead, Quinones was a regular at malls in Ventura County, the just-north-of-L.A. county that includes the industrial farming town of Oxnard and beach city of Ventura. It was there that Quinones donned a referee's outfit to work at Foot Locker and later manned a kiosk selling bonsai trees. It's a time he looks back on fondly, a simpler time of airbrushed Looney Toons T-shirts and free ear piercings from newbie Claire's employees … a favor he did to earn an extra 30 minutes of break time from his boss. —Pablo Goldstein
Listen: Spotify | Apple | Website
Other Podcasts We're Listening To:
Chapo Trap House - Hats Off to Larry feat. Larry Charles
Listen: Spotify | Apple | Website
Yeah, But Still - I'm Quagmire, I Fuck Hoes feat. Jak Knight
Listen: Spotify | Apple | Website
Daydrinking with Gary & Eliot - Andrea Savage
Listen: Spotify | Apple | Website
The Ron Burgundy Podcast - Top 10 Women with RuPaul
Listen: Spotify | Apple | Website
Got a comedy podcast recommendation? Drop us a line at comedypodcasts@vulture.com.