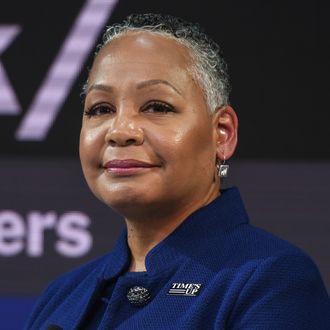 Lisa Borders.
Photo: Stephanie Keith/Getty Images
After being appointed to the position late last year, Time's Up president and CEO Lisa Borders has announced her decision to resign due to personal family issues. "As Time's Up continues to grow, I am proud of the work I have done to shepherd its continued development," Borders explained in a statement tweeted Monday. "Unfortunately, it is with deep regret that I must resign from Time's Up to address family concerns that require my singular focus. I appreciate the opportunity to support this mission and I hope my efforts will continue to resonate."
Time's Up, officially launched in January of last year, was established in an attempt to end systemic workplace inequality and sexual harassment in Hollywood and beyond, through measures like a legal defense fund designed to aid women suffering the fallout from reporting misconduct, among several others.
Assuming the role on November 1, 2018, Borders was the first president of Time's Up. According to a statement from the organization, COO Rebecca Goldman will step in as interim CEO of Time's Up until a permanent replacement can be found.