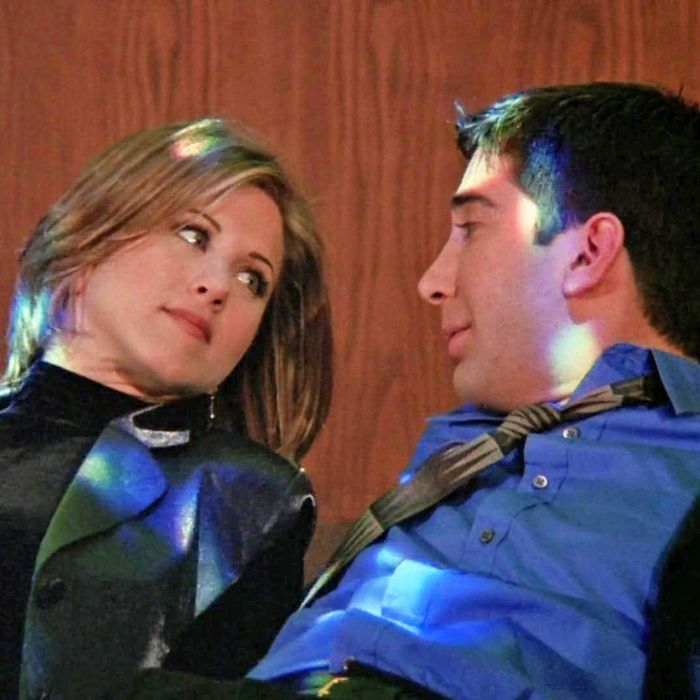 Are you new to comedy podcasts, overwhelmed by the array of options, and wondering where to begin? Then welcome to Start Here, a recurring guide to the best comedy podcasts available — and our recommendations for which episodes are the best entry points to your next auditory obsession.
Tom Scharpling — the mastermind behind The Best Show and veteran writer for comedy series like Divorce and Monk — has never been one to go toward the joke; he usually lets the jokes come to him. But in Meet My Friends the Friends, his savage long-form parody podcast masquerading as a Friends recap show, Scharpling finally goes hunting for scalps.
Meet My Friends started as a tasty little incentive from Best Show's Patreon in early 2018, posted exclusively for subscribers before releasing on other platforms days later (seasons one and two are currently available for free online; season three picked back up last week). The episodes are short (about 15 minutes apiece), and the premise is deceptively simple: Each episode of the podcast, hosted by Scharpling (playing a Job-like version of himself) and produced by engineer Jason "Dudio" Gore, revisits an episode of the hit '90s sitcom Friends. After explaining the plot of the episode, Scharpling then dives into a series of segments, including "Friends Firsts," "Fun Friends Fact," and "Line of the Episode" before assigning the episode its own ranking between zero and ten friends.
If this sounds like a limp, vanilla outreach to Friends fanatics or — despite its harried host's constant assurances to the contrary — a half-hearted attempt to cash in on the popularity of other recap shows like The Rewatchables or Gilmore Guys, that's entirely by design. Simmering below its bubblegum surface is a brutally funny critique of the vapidity and shallowness that pervade pop-culture fandom and podcasting specifically. Fans of The Best Show or Scharpling's team-ups with Superchunk drummer Jon Wurster will recognize the unflinching deadpan delivery at work here, whether during engineer Jason's increasingly nasty comments or fake ads for neck scarves designed by Little Steven. Nobody ever laughs because these moments are as deeply uncomfortable as they are funny.
In fact, of the 67 episodes so far, only 1 culminates in an explicitly comic explosion: "Season 2 Episode 15 — 'The One Where Ross and Rachel … You Know.'" This 18-minute master class in cringe humor opens with an advertisement for Taxi Driver: The Series, an HBO comedy show ("They Know Comedy") starring French Stewart in the Travis Bickle role. The theme music (by Best Show composer Josh Kantor), a canned riff on the Rembrandts's "I'll Be There for You" caught somewhere between unauthorized cover and tacky remix, plays. Tom normally complains that the intro is "ten seconds too long," but in this episode, he instead asks the audience to join him as he "meets my friends, and your friends too, The Friends."
Tom then introduces engineer Pat (comedian and Best Show stalwart Pat Byrne), his overenthusiastic replacement for the devilish Jason, who "left" the show at the end of season one. It's immediately clear that Pat is drunk on-air, a fact that Scharpling pretends to ignore by diving into the events of the Friends episode (Chandler and Joey watch Beavis and Butt-Head; Ross and Rachel finally have sex). Byrne, though, is undeterred as he prepares to unleash the musical bumper he wrote for the segment "Rank the Friends." When Pat enthusiastically attempts to chime in that the episode was "a great '90s moment" in television, Tom claps back with a shiv-sharp "Great."
Within three minutes, Scharpling and Byrne have established the arc that secretly undergirds the series: Tom as the increasingly put-upon mentor to his incompetent, chronically disruptive engineers. Midway through the first season, it emerged that Jason was shit-talking Scharpling and the show to his friends at UCB, opening the door for his Friends-obsessed replacement, professional brownnoser Pat. These are fun-house-mirror versions of typical host-engineer relationships, which in most podcasts play out as good buddies trading comic banter.
Now settled in their warped roles, Byrne begins increasingly interrupting Scharpling, burping into the microphone and clinking wine glasses together while the host is trying to describe "The One Where Ross and Rachel … You Know." Scharpling's summation of the episode is hilariously shallow, and his criticisms — "I think this is when Friends got a little racier!" — are just as insipid. Whereas other recap podcasts conduct deep dives into the comings and goings of each episode, one of the running questions throughout Meet My Friends is whether or not the real Tom Scharpling is actually watching respective episodes of Friends before recording or if he's just reading something off the Friends Wiki.
This crappy recapping quickly gives way to the dual climaxes of the episode: Tom's infuriated response to a (fake) review of Meet My Friends by (fake) A.V. Club author Alex Dunleavy and the debut of Pat's long-in-the-making musical bumper. To cool himself down, Tom attempts to play his old engineer's bumpers before turning Pat's mic off to no avail. Finally, they reach the moment of truth, and Byrne scurries off to get a celebratory bottle of Martinelli's. No sooner have they played his bumper — a tasteless parody of the Spin Doctors' "Two Princes" with the lyrics "Well if you want to rank the friends now, just go ahead now" — than Byrne yelps at the top of his lungs, pops the cork, and spills cider directly onto the mixing board. The last sound the listener hears is the crackling of fried electronics.
Meet My Friends the Friends is normally bone-dry, so this bombastic, (literally) electrifying conclusion goes down like a glass of delicious fresh comedy water. It remains among the most broadly accessible episodes of the podcast, and a bridge to Scharpling's 20-plus-year legacy as a broadcaster. Whether or not the show will kick back into comedy overdrive as it touches on seasons four through ten (Tom vows to get through all 236 episodes, come hell or high water) is still to be seen. All that is certain is that with Scharpling at the helm, Meet My Friends will continue to operate on a higher plane of comedy than any of those other recap podcasts.