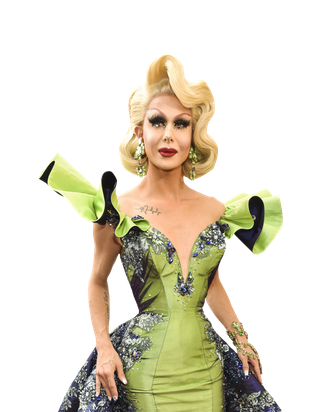 Photo: Rodin Eckenroth/Getty Images
This weekend, RuPaul's Drag Race fans were sent completely for a loop when it was announced that there would be two winners on this season of All Stars: Trinity The Tuck and Monét X Change. While it seemed the latter may have pulled ahead in the finale episode, it's undeniable that the star of the season was The Tuck, who was memorable not only on the runway, but in many performance challenges (her Caitlyn Jenner is one for the history books). We talked with The Tuck about what it feels like to win, who she expected to be lip syncing against for the crown, and what it is that makes RuPaul gravitate toward her.
Two winners! What does this feel like, and what were your expectations going into the competition?
It feels amazing! When you set your mind at a goal and you achieve it, you feel on top of the world. I'm super, super grateful for the fans who have supported me. I'm super grateful for RuPaul, World of Wonder, VH1 and my boyfriend who's supported me as well. Amazing. This is by far the biggest accomplishment I've ever had in my career and I don't even have full words to describe how I feel. I'm just so excited. Did I expect to win? Absolutely. Absolutely. I would never come into any competition of any kind not thinking I was going to win or do my best. I had unresolved things I wanted to accomplish with Drag Race. And that was to win! I didn't win season nine. And so coming back for All Stars? It was time, honey!
Everyone expected to see you in the top two. How did it feel in the room? Did it feel like Monét would be the one who was up there with you?
Well, when I first walked into the room I was hoping the top two was going to be Valentina. But as the season progressed, you start to see who the stronger competitors are. And, to be a fair, I started to see me and Manila in the top. When she was eliminated… then it would have been Naomi. Naomi has the following, she's gorgeous, she has the looks, she has the career and I just think she has the full package that I think would be a great representative for All Stars, the brand. But, out of everybody in the cast, I thought Manila was gonna go all the way with me.
Monét was up and down in the competition, but she's a fierce lip-syncer. How did it feel when it was announced it was the two of you that would be lip syncing for the win?
Every single time I do a lip sync, I black out. I don't even focus on the other person. Lip syncing is my element and what I've done for 16 years. Lip syncing is what I do. [Christina Aguilera's] "Fighter" is one of my all time favorite songs. I used to perform that when it first came out, when I first started drag. And let me tell you: the finale episode was exhausting. We were exhausted. The rehearsals for that, the challenge, emotionally… I don't think I could have done another episode after that. I poured every ounce of energy into that performance. I don't remember what Monét did but I know that I felt amazing after the lip sync was over.
I think it's pretty clear that you are a favorite of RuPaul's. What do you think it is that makes you one of the apples of her eye?
I don't know. I don't think I've ever seen Ru favor me or give me a look that she doesn't give the other girls. The only thing I can think of is that I come from humble beginnings and I've worked really, really hard on my own merit to get where I am today. And that's true for Ru as well. Ru has built herself. She didn't have help from a team. She didn't have social media to build her brand. She did this on her own. And maybe she sees that same fight in me, that same determination that she had years ago that I have. And that is a big thing that makes an All Star. You have to have that drive and that hunger for your career. I hope that's what she sees in me and I hope she sees that I'm talented and I deserve it.
In the finale, Ru says that you remind her of the queens she used to watch growing up in Atlanta. I think, as fans, we see in you the past, present and future of drag. Is it important to you not only to grow but to honor where drag came from and your pageant background?
Extremely important. Integrity, no matter what career you have in life, is important. Being proud and respectful of where you come from and where it is you're going and who is along the journey with you no matter if you're competing with them or not. Stay true to yourself. Stay fair, as much as possible. I come from a pageant background where everything was in a box. Once I got on the show, I realized, "girl, that's not all drag is. Drag is all kinds of things." And since then I've never looked back. I've tried everything I can to stay outside the box and try new things. A wise queen once told me, "once you stop feeling like you are learning, you need to quit drag." If you feel like you've stopped learning and growing, this is not the career for you.
Who are you looking forward to seeing slay All Stars 5?
Oh, God. There's so many! Ongina is one of my all time favorite Ru girls. I think she would be amazing. Shea Couleé is a very deserving entertainer. She slayed season nine and definitely deserves her chance at All Stars. I would love to see Kim Chi because she's got so many great looks. Miz Cracker. Asia O'Hara. There's just so many girls that are deserving.