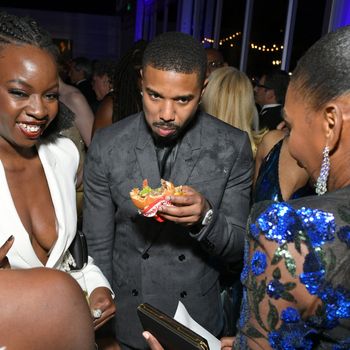 Photo: Emma McIntyre/VF19/WireImage
Every step you take in the Vanity Fair Oscar Party, you're bound to bump into an A-list celebrity. If you're not bumping into one, you're grabbing an In-N-Out burger at the same time as one. Or ordering a drink like "The Queen's Favorite" at the bar next to one. Or getting photobombed by one.
Unlike the often controlled, stiff environments we see celebrities in, the Vanity Fair Party is somewhat of a jungle in comparison — a place where they can just freely be. And take shots. Here's what goes down when a massive group of high-profile celebrities finally let their hair down after months of nerves and acceptance speeches at the most extravagant awards-season event of year.
1. Lady Gaga kicking back with Champagne and a cigarette.
The winner had her Oscar placed on the table in front of her (next to her lighter and glass of bubbly) as guests swarmed around to give her their praises. One man even kissed her Oscar. David Harbour watched from afar.
2. Michael B. Jordan taking a massive bite of an In-N-Out burger mid-conversation.
While talking with Idris Elba, MBJ goes in on the infamous In-N-Out Double-Double. (With cheese, of course.) Just after, he talks with Serena Williams and Danai Gurira, as Serena busts out dancing to Cardi B's "I Like It."
3. Tiffany Haddish and Chaka Khan getting down to the Eurythmics's "Sweet Dreams."
They're in the center of the main room while Tiffany's yelling, "Ayyyy!"
4. Sophie Turner and Joe Jonas taking shots.
While waiting for drinks, Turner dropped it low to "Havana," then passed out the shots and got two Peroni beers for her and Joe Jonas. Nick Jonas and Priyanka Chopra are at the end of the bar occasionally looking over while whispering in each others' ear, as Nick helps adjust the back of her dress.
5. The Riverdale dance party.
Cole Sprouse, Madelaine Petsch, Camila Mendes, and Charles Melton get down on the dance floor in a circle until about 1 a.m. to songs like Lauryn Hill's "Doo-Wop (That Thing)" and Prince's "Kiss." Hailee Steinfeld approaches the group and introduces herself to Charles Melton, saying, "Hi, I'm Hailee!" (Cole Sprouse and his brother Dylan end up being one of the last ones out, catching their ride from valet at 2 a.m.)
6. Lisa Bonet being a mama bird.
She was having a deep conversation with Amandla Stenberg on the dance floor with Rowan Blanchard nearby. Jason Momoa is just behind her, talking to a male guest and holding a drink. Meanwhile, across the way is Melissa McCarthy, in a group of people, including husband Ben Falcone, wearing a matching black Adidas tracksuit and sneakers.
7. Linda Cardellini living her best life.
The Green Book star nonchalantly passed her clutch to her husband (who proceeded to take photos of her on his own iPhone) when arriving on the red carpet. Later, she's whipping out dance moves to Bruno Mars's "Uptown Funk" on the dance floor with another woman.
8. Regina King taking well-deserved lounge time.
The Oscar winner hangs out around 1 a.m. with a group of men sitting beside her on a lavish white couch. She gets a burst of energy and jolts up, only to return to lounging a few seconds later. (Meanwhile, Vulture correspondent Quincy Jones is sitting on the white couch next to hers.)