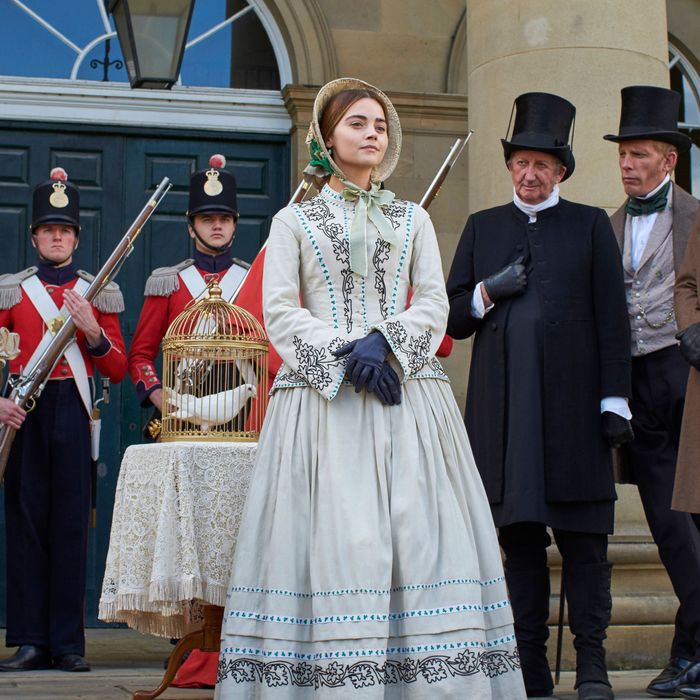 Photo: Justin Slee/ITV Plc for Masterpiece
After a thwarted assassination attempt by someone shouting, "Freedom for Ireland!" Victoria decides to squire Albert off to that long-neglected country. Ireland is very much a part of her kingdom and only about 300 miles away, i.e. the distance from Cleveland to Indianapolis, but it's almost 15 years into her reign and she's never set foot in it.
Victoria and Albert have decided to callously toy with all our hearts by beginning the episode with some Xtreme Snuggling and ending it with more strife and turmoil in the royal relationship. I can't take it. Remember when they first met and hated each other for five seconds, but then were all into feeling up each other's legs? Well, the passionate leg fondling is over, and instead Albert's rolling his eyes and saying her sister is right about her.
But before all that, we get Manor House Shenanigans, i.e. the best kind of shenanigans. Whenever you have a bunch of aristocrats staying in a large country house, you get Whispery Candlelight Conversations, Inappropriate Hallway Interactions, and Inevitable Hookup Scenarios. The latter revolves around Joseph the Footman and Neglected Duchess, i.e. Sophie. It was only a matter of time and that time is now. The show almost bashes us on the head with foreshadowing by placing Sophie on a beach with a half-overturned boat (for romantic concealment). A shirtless Joseph pops up from behind it.
The two have an extremely brief foot race and then collapse on the sand like you do when you want your foot race to end with making out. Just as I'm reflecting on Victoria's tendency to build a relationship on furtive glances and little dialogue, Joseph and Sophie kiss. I am way more into it than I thought I would be. This is some excellent kissing chemistry. Up with beach kissing, down with Albert and his disapproving mustache. Palmerston spies them returning to the house and counsels Sophie to put an immediate end to the beach kissing before her husband finds out.
Everyone is staying at Lord Palmerston's house, where we finally meet Lady Emily Palmerston. She's wearing a beekeeper outfit, which is instantly endearing, and she seems surprisingly grown-up and sensible for someone married to Philandering Palmerston. They quickly establish themselves as one of those cosmopolitan couples who know the ways of the world and don't look askance at their loved one wandering off the path of marital monogamy. Before the visit is over, Emily Palmerston scandalizes Victoria with this information. Victoria does however also find it rather intriguing, while Albert is virtuously and priggishly disgusted by Lord Palmerston's behavior. This is why no one likes you, Albert.
The Palmerstons' home is the site of my favorite dining scene on the show yet. Lady Portman is chatting with the heavily drinking Evil Duke and says, so you agree with Schopenhauer. Remember when she cockblocked Palmerston and then later was like, this girl is off limits? Lady Portman continues to hold the keys to my heart with her knowledge of grumpy German philosophers. Here she's referring to Schopenhauer's idea that women lack intelligence by design, and Evil Duke essentially calls the duchess an idiot so Lady Portman is clearly correct.
Grammar and Word Nerds, stand up, because this is your moment. Palmerston calls the duke a bore/boor/boar, which I get to specify because they have a discussion about which homonym it is. Palmerston says all of them. On this very same evening, Victoria asks Palmerston if the Irish in Dublin will hate her; he replies, "I should think not, ma'am," and she says "How very subjunctive of you." These are the sorts of jokes one hopes to slip by the showrunner, but which are inevitably axed. They prompted a "WHO WROTE THIS EPISODE" in my notes (the answer is Guy Andrews).
But as we can't dwell on delightful things all day, let's check in on Feodora. Early in the episode before they leave for Ireland, Feodora pounces on Albert from the shadows and questions Victoria's judgment. She insinuates that childbirth has left Victoria with a cloudy brain. I still can't tell if Feodora just wants to estrange Albert and Victoria, have Victoria committed, and then rule in her stead; or do all the above but also seduce Albert. Time will tell. Until then, Feodora's left in England to look after the royal children. With her is Bertie's new tutor, a Mr. Cane, chosen by Albert. Ha-ha, Mr. Cane laughs! Don't worry! I don't hit people with a cane like my name might imply! Albert goes, that's good enough for me, and leaves his oldest and arguably most fragile child in the hands of this strange man and his increasingly sneaky sister-in-law.
Part of Feodora's long game is finally revealed when a gentleman comes to ask her for the deanship of Ely. He heavily insinuates he will bribe her. She does not refuse. By the end of the episode, she has some fancy new PEARLS OF DECEIT, and that gentleman has a deanship in a city named after eel fishing.
Back at the manor house, Victoria's confused as to why Scotland was so fun and this trip away to Ireland sucks. Herein lies a terrible conversation where Albert tells Victoria about his conversation with Feodora regarding her questionable judgment after the birth of Princess Louise ("Albert, I don't shed a part of my brain every time I have a baby"). When Victoria says she saw him roll his eyes at something she said at dinner, Albert responds that she wasn't meant to see that. Albert is the Theoden slowly poisoned by the words of Wormtongue in this Victoria/Lord of the Rings mashup I've just envisioned. I can't wait until Gandalf shows up to end all this.
Albert is frustrated by the obviously staged crowd of cheering people they encounter in Ireland. The potato famine literally just happened. Ireland has never clapped eyes on Victoria before. How are they cheering for her? He rides into the local village and it's abandoned. He questions Palmerston about it, and he says they almost all went to America during the famine and are very happy in New York. The Tenement Museum says otherwise, but Palmerston keeps seeming better than he first appeared, so I'm willing to go with him on this.
On to Dublin, where Victoria gives an inspiring speech about helping Ireland return to its former greatness. A dove is involved. She deems the trip a success, and they return to England just in time to find out Bertie is being abused by his new tutor. Albert is a wreck about this and says thank God they have no more children for him to damage. Victoria pauses, because this is now awkward. Yes, correct, it's time for child number seven. (Two to go!)
We close with the bleakest ending as Victoria asks if they will survive this and Albert responds, "I love you. We shall try." What if we cut Albert from episodes until he improves his attitude? Lady Portman can help run the government in the meantime.
Questions for next time:
• Will we get more excellent makeout scenes between Joseph and Sophie before they're inevitably caught by her furious and idiotic husband?
• Will we hear of even more grumpy German philosophers as the season progresses?
• Can pearls buy happiness? Early evidence suggests that Feodora thinks yes.