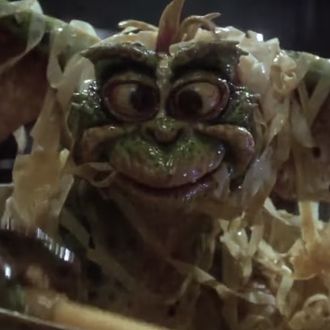 A gremlin.
Photo: Amblin Entertainment/Warner Bros.
As Key & Peele's sequel guru Star Magic Jackson Jr. once taught us, the sky's the limit when it comes to gremlins and gremlin subspecies. According to Variety, WarnerMedia is reportedly working on an animated Gremlins show for its upcoming streaming service in conjunction with Warner Bros. and Amblin, which produced both the 1984 film and its 1990 sequel. Writer and director Tze Chun, most recently of Gotham and Once Upon a Time, will write and executive produce.
Per Variety, the show currently in the works is allegedly a "period piece" prequel following "Mr. Wing, the Chinese grandfather played in the films by Keye Luke, as a young man as he goes on adventures with the friendly Mogwai Gizmo." Unfettered by the bounds of corporeal reality, a cartoon Gremlins series could potentially bring you gremlin types even Gremlins 2: The New Batch dare not dream of. Like, let's say, an Electricity Grem— no, wait, they had that one. How about an Overly Sexy Male Gremlin? See, we're headed in the right direction.