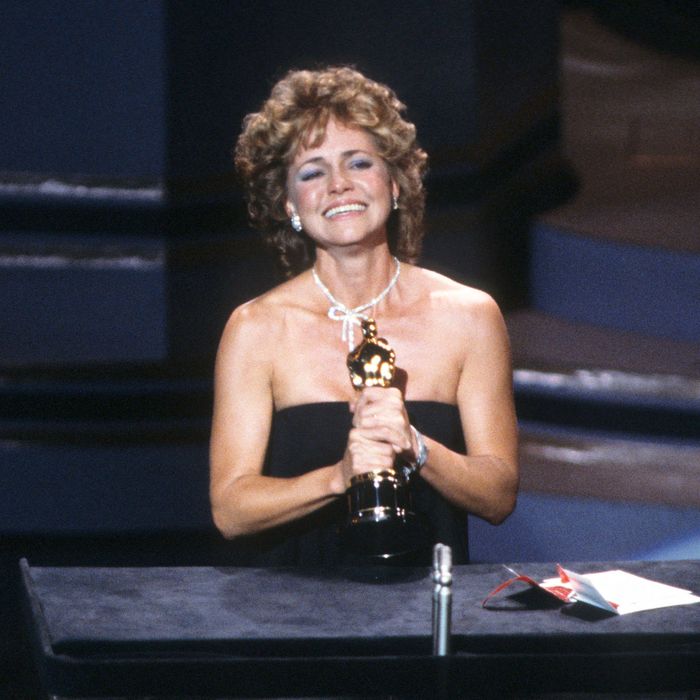 Sally Field accepting her Best Actress Oscar.
Photo: ABC Photo Archives/ABC Photo Archives/Getty Images
There's a formula to an Oscars acceptance speech: flustered surprise (real or feigned), a little joke, a few words of inspiration — all followed by an often endless list of thanks. Most are pleasant, even lovely. Few are particularly memorable. But the ones that stand out have a way of lingering. Below, the writers and editors of Vulture pick a few of the speeches they've never been able to forget.
Joe Pesci, Best Supporting Actor, 63rd Academy Awards, March 25, 1991
In Goodfellas, Joe Pesci was a gleeful chatterbox. More than anyone else in the coterie of mobsters and hit men, his character delighted in breaking other people's rules, having fun with other people's limits. But when Pesci himself walked onstage to accept his Best Supporting Actor trophy in 1991, his speech was the opposite of that frenzy. He hangs his head, takes a big exhale. He shakes his head in a way that seems cutely boyish. His big speech is only six words: "It was my privilege, thank you."
A lot of Oscar speeches are, frankly, super-boring. There's a lot of "I'd like to thank this producer and that director, my parents, my agent, my publicist …" or a vaguely poetic rambling on the nature of art or the entertainment business. Sometimes there's some self-effacing gloating, which is insufferable, or an extremely studied surprise, which is worse. The Pesci speech has a different intimacy. It's so … regular. It's not that he couldn't find the right words. Maybe it's that there are no right words — what can you say, genuinely, when you win an Oscar? What can you say when you've done work you're really proud of? "It was my privilege, thank you." I usually go for the Oscar-y stuff that is dramatic and glamorous, but the Joe Pesci speech is just wholesome. This is hugely embarrassing but: it sends me into my feelings every time I watch it. —Hunter Harris
Adrien Brody, Best Actor, 75th Academy Awards, March 23, 2003
There are all kinds of good Academy Award acceptance speeches. But only one contains all the qualities we hope for from great Oscar ceremony remarks, while also conveying what's both beautiful and frustrating about Hollywood, all within roughly five minutes. That's the speech Adrien Brody gave at the 75th Academy Awards when he won the award for Best Actor for his work in The Pianist.
I'm not sure if anyone inside the Kodak Theatre that year was more shocked that Adrien Brody won than Adrien Brody himself. That was apparent as soon as his name was announced. Rewatching the moment more than 15 years later, it's still clear how stunned and overwhelmed with joy he is. Yet somehow he manages to compose himself and deliver an articulate, multifaceted speech. That speech is funny. ("There comes a time in life when everything seems to make sense," Brody says. "This is not one of those times.") It's filled with a sense of gratitude and emotion. It acknowledges the political moment — the American-led invasion of Iraq had launched a few days earlier, causing the red carpet that year to be dialed down — while keeping it inclusive and relevant to his work. "My experience of making this film made me very aware of the sadness and the dehumanization of people at times of war," Brody said back then. "Whoever you believe in, whether's it's God or Allah, may he watch over you and let's pray for a peaceful and swift resolution." It remains remarkable that Brody hit all these marks while seemingly speaking entirely off the cuff
Of course, the first thing most people remember about the Adrien Brody speech is that he began it by laying an unexpected kiss on presenter and 2002's best actress winner Halle Berry, a kiss that was a spontaneous expression of his elation but was also planted on her with no consent or warning. (Berry has since suggested she didn't necessarily appreciate it so much.) The presumptuous nature of the kiss was acknowledged at the time, but no doubt would have sparked a more vocal reaction if it had happened in the #MeToo and social-media era. So would Brody's thank you to Roman Polanski, who directed him in The Pianist and also was a surprise winner that year for best director, despite his status as a fugitive from U.S. justice in a famous case of statutory rape. Brody is in no way responsible for Polanski's behavior. But the understandable mention of the filmmaker's name in Brody's speech served as a reminder, along with Polanski's own victory, of the industry's tendency to grant second and third chances to men who engage in reprehensible behavior.
Adrien Brody's speech contained problematic moments, and a great deal of pure, unfiltered loveliness and grace. In other words, it was a lot like the business the Oscars are designed to celebrate. —Jen Chaney
Roberto Benigni, Best Actor, 71st Academy Awards, March 21, 1999
When people think of Roberto Benigni at the 1999 Oscars, they probably first remember his wobbly walk toward the dais across the tops of chairs. Sophia Loren had called out his name to receive the award for Best Foreign Language Film by just shouting "Roberto!!" and it was the most Italian thing that has ever happened at the Academy Awards. But Benigni's speech highlight of the night was when he won his second award for Best Actor, making his movie, Life Is Beautiful, the first foreign-language film to garner a performance-based Oscar since Loren won hers in 1962. It was momentous, and Benigni reacted like a giant bubble made of pure joy and ecstasy gas had just swallowed his body. First, he ran backwards. Then he finally went forward, and he started his speech by saying, "This is a terrible mistake!" He had used up all his English already on his first Oscar, which meant he just had to paint pictures of his euphoria for the crowd. Through a smile and a continuous shout-laugh, Benigni said, "My body is in tumult, because it's a colossal moment of joy!" Then he gave one of the most famous lines in acceptance speech history when he told a room, "I would like to be Jupiter and kidnap everybody and lie down in the firmament making love to everybody!" He might as well have been yelling it in Meryl Streep's face while sitting in her lap. He then thanked his beloved Italia, but also America, because "There are a lot of things here." True! His whole beautiful night was "a mountain of snow so delicate!" and in these dark times it's even more moving to look back on a moment of wonder and happiness so pure that even a verbose Italian was left speechless. Long live Benigni-esque sincerity! —Jordan Crucchiola
Sally Field, Best Actress, 57th Academy Awards, March 25, 1984
First of all, Sally Field never said "you really like me," despite the Mandela effect–like persistence of the phrase in of many people's memories of the outburst at the end of her second Oscar-winning speech. What Field, flustered and glowing, said to the assembled members of the academy was, "I haven't had an orthodox career, and I've wanted more than anything to have your respect. The first time I didn't feel it, but this time I feel it. And I can't deny the fact that you like me, right now. You like me." Because of that misquotation, Field's speech is often treated as an example Hollywood narcissism, that all these actors really want is for people to really like them. But what she actual says is more poignant. Field's happy to be liked, but she knows she can only speak for right now. Even if she was going to become a meme, Field had a dark sense of humor about it in the first place. Apparently, she still does. As Field told New York in a 2017 profile, "First of all, I was winning my second Oscar, so I'm allowed to say anything I fucking want." —Jackson McHenry
Billy Wilder, The Irving Thalberg Memorial Award, 60th Academy Awards, April 11, 1988
Billy Wilder (The Apartment, Sunset Boulevard, Some Like It Hot) had already won six Oscars by the time he received the Irving G. Thalberg Memorial award at the 1988 ceremony, so maybe that's why he didn't spend his speech thanking a litany of colleagues and agents and family members. Instead, he dedicated his award to "one specific gentleman without whose help I would not be standing here tonight" — an anonymous American consul in Mexicali, Mexico, who, in 1934, had to give Wilder a visa to allow him to work in the U.S. Wilder wasn't a particularly earnest speaker, but he seems quite sincere when he says, "I have forgotten his name but never his compassion."
An Austrian Jew, the director had fled Europe and already started living in Hollywood by 1934, working as a writer on a six-month visitor's visa. (Much of his family, including his mother, would perish in the Holocaust.) But in order to get an immigration visa, which would allow him to stay and work, he had to temporarily leave the U.S., "get the visa, and come back with the proper papers." The closest consulate was in Baja California, in Mexico, right across the border, so Wilder headed there.
Unfortunately, in his case, he didn't really have the proper documentation — affidavits and official statements proving that he had a clean record — as those had all been left behind in Nazi Germany. The consul, who Wilder says looked "a bit like Will Rogers," was perplexed, and didn't know what to do, given that the man standing before him didn't really have any of the things required for legal entry.
The climax of Wilder's anecdote comes when the consul asks him, "What do you do, I mean professionally?" Wilder responds, "I write movies." Then, after another round of nervous, agitated pacing, the man finally stamps Wilder's papers, saying, "Write some good ones."
I was 14 at the time, and had already been in the U.S. for seven years. I'd just gotten my green card a couple of years earlier. While my circumstances weren't anything like Wilder's, his anecdote at the time resonated with me. The U.S. had never been a particularly easy country to enter — even in his speech, Wilder noted that he had heard of "whole families who spent years there waiting for the visa, and other guys who never got in" — but the figure he drew of the consul was one I immediately recognized: the by-the-book American who is nevertheless compassionate and, ultimately, welcoming.
Elsewhere, Wilder spoke often of this hospitable, inclusive attitude among Americans. And while recent events here and elsewhere have complicated and even undone that image, it's worth remembering that for many, many years, the U.S. was known as a place that greeted the outsider, the foreigner, the émigré, and the refugee — one of the few countries in the world that did not rely on any ethnic ties to determine whether you could live here and call yourself an American. Was it all an illusion, a dream? I'd like to think not. —Bilge Ebiri
Angelina Jolie, Best Supporting Actress, 72nd Academy Awards, March 26, 2000
Angelina Jolie's speech after she won Best Supporting Actress for her role in Girl, Interrupted is forever infamous for its wildly incestuous overtones. Not only did Angelina spend the duration of the evening locking lips with her own brother, she also spent the duration of her (rather short) speech talking about how she was "so in love with my brother right now," because "he just held me and said he loved me and I know he's so happy for me right now." As Jamie (Jolie?) sobbed in his seat, Angelina proclaimed, "I have nothing without you; you're the strongest, most amazing man I've ever known. I love you."
And listen: I love this demented sibling lust performed on an international stage as much as anyone else. But the reason I really love this Oscar speech is because the rest of it is so completely unmemorable. There's nothing present-day Angelina Jolie about it at all, no shades of the elegant, perfectly polished Earth Mother she'd soon become. Jolie talks about fainting, mumbles through some sweet but rather bland thank-yous, gets a little wobbly — other than the few moments where she essentially expresses a desire to mount her own brethren, the whole thing is rather … pedestrian.
Can you imagine present-day Jolie hopping onstage in a long-sleeve black dress, unwashed Elvira hair, and little silver earrings, saying whatever the hell popped into her head? Can you imagine her openly admitting her nerves, saying, "Whoopi, uh, everybody," letting her voice shake, or heaping praise upon her now-estranged father? Nowadays, we're lucky if we get a single word out of Jolie that doesn't feel shellacked. My point is: I miss this Angelina! I love this freaky bitch with messy hair who was maybe having sex with her family. Bring her back! —Rachel Handler
Alfred Hitchcock, The Irving Thalberg Memorial Award, 39th Academy Awards, April 10, 1967
If you ask me, the best Academy Awards speech ever given was a non-speech. In April 1968, Alfred Hitchcock — routinely cited first, then and now, among the great directors who never won a competitive Oscar — received the Academy's Irving G. Thalberg lifetime achievement award. By that time he was one of comparatively few movie directors whose physique and face were utterly familiar: He'd spent years introducing TV segments on Alfred Hitchcock Presents, where he even had his signature theme music, all bassoons and lilt. Over the years, he'd cannily cultivated his Britishness and his taciturnity and that baritone to create an image of a cuddly master of horrifying images. (The manipulative cruelty involving Tippi Hedren came out much later.)
At the Oscars, he stepped to the lectern as the orchestra played the galumphing theme from his show, and leaned in toward the low microphone. Long pause. "Thank you." And he leaned back. Then back in for a moment, awkwardly, to add "very much indeed" — by which time the mic had been cut, making three words of his five-word acceptance inaudible to TV viewers. Then he turned and walked offstage, seemingly impassive.
As every film buff knows, Hitchcock himself makes a brief background appearance in each of his films. In one he's waiting for a bus; in another he shows up on a sign in a window. His appearance at the Oscars is about as long as any of those, and involves more dialogue. And the awards-show audience reacted as you'd expect: an explosive guffaw. Everyone immediately got the joke. This was, simultaneously, Hitch refusing to break character for a mere trophy, and his latest and greatest cameo. On top of that — and need this even be said? — it was the definitive solution to the two problems of the Oscar speech. He didn't accidentally leave out someone who ought to have been thanked. And he didn't bore everyone. —Chris Bonanos
Hattie McDaniel, Best Supporting Actress, 12th Academy Awards, February 29, 1940
"I sincerely hope I shall always be a credit to my race and to the motion picture industry. My heart is too full to tell you just how I feel, and may I say thank you and God bless you." That's how Hattie McDaniel, the first African-American Oscar winner, finished her Best Supporting Actress speech in 1940, after accepting an award for playing Scarlett O'Hara's slave and maid, Mammie, in 1939's Gone With the Wind. Columnist Louella Parsons called it "one of the finest speeches ever given on the Academy floor."
Despite the fact that a list of winners had leaked ahead of the ceremony, the emotion in McDaniel's voice was overwhelming, as well it should've been. The campaign was spurred on by McDaniel herself, who marched into Wind producer David O. Selznick's office with a stack of rave reviews and demanded to be entered in regular competition. McDaniel was the daughter of two former slaves, and before she decided to give acting a try, she worked a singer-songwriter with her brother's minstrel troupe and, after the stock market crash of 1929, as a washroom attendant and waitress in Milwaukee, Wisconsin. This was a truly groundbreaking victory, setting the stage for incremental, though far too slow, integration in the movie industry. Since then, there have been 72 Oscar nominations for black actors and 14 wins.
Sadly, McDaniel's win capped a tumultuous and often degrading promotional campaign that began a year earlier when she and other black performers were disinvited from Gone With the Wind's premiere in Atlanta, Georgia — a segregated state — and continued up through the ceremony itself, which took place in a segregated hotel. McDaniel was only allowed in the building after Selznick intervened with management, and she was relegated to a small table against a back wall. The phrase "credit to my race" was supposedly forced on her by MGM.
McDaniel was never able to transform her win into more diverse and lucrative roles. Her best-known performances after that were as domestics, in Disney's Song of the South (1946), and as one of several actresses to play Beulah (1951) on radio and TV. She died in 1952 of breast cancer with a net worth of $10,000 and $11,000 in tax debts. Her Oscar went missing at some point in the late 1960s and has never been found; it was supposedly donated to Howard University, but in 1998, the school denied ever receiving it. Mo'Nique referenced McDaniel in her 2010 Oscar speech after winning Best Supporting Actress for Precious: "I want to thank Hattie McDaniel for enduring all that she had to, so that I would not have to." —Matt Zoller Seitz