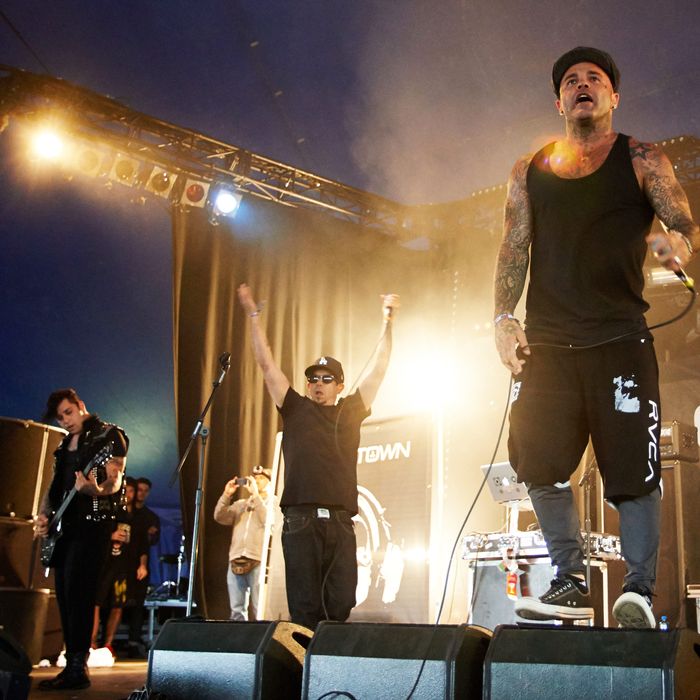 Crazy Town on a much bigger stage than the one we're about to talk about.
Photo: Gary Wolstenholme/Redferns via Getty Images
On a basic, human level, you'd have to be cruel to sneer at Crazy Town for continuing to exist. Making it in the music industry is hard enough for bands that manage to maintain a low level of success and attention, commercial or otherwise; in their 24-year existence, front man Seth "Shifty Shellshock" Binzer and his revolving door of rap-rock compatriots haven't come close to achieving such a level of consistency — but, nevertheless, they've persisted.
Well, it's actually a little more complicated than that: For most of this century — from the band's 2002 sophomore flop Darkhorse to 2015's comeback attempt The Brimstone Sluggers — Crazy Town has existed mostly in stasis, with factors ranging from Binzer's struggles with drug addiction and his failed shot at a solo career to the accidental overdose of late early-era member Adam "DJ AM" Goldstein and a near-constant personnel shift featuring enough former members to repopulate the Polyphonic Spree. The band's biggest hit, 2000's megaubiquitous "Butterfly," also counts as their only one; despite the slippery single's cross-continental chart-topping appeal, Crazy Town never came close to replicating its success. Not even a collab with Rivers Cuomo — who lent his guitar skills to Darkhorse single "Hurt You So Bad" in the wake of his own goodwill-murder spree following Weezer's return from hiatus — could move the figurative needle.
Between that album and The Brimstone Sluggers, there's been promise of albums having never materialized, from 2008's Crazy Town Is Back to the pre–Brimstone Sluggers work-in-progress Megatron. At its peak, one of nu metal's defining characteristics was its ultramasc tendency to cast oneself as constantly under siege, fighting the good fight against forces both institutional and unseen; after multi-instrumentalist Bret "Epic" Mazur's departure in 2017 marked the last vestiges of Crazy Town's founding lineup (save Binzer) coming to an end, the band tacked on an "X" to the end of their name, elaborating on Instagram that the designator "symbolizes a territory that has just been won."
Taking to their own IG comments to offer general goings-on context is perhaps the most contemporary aspect of Crazy Town's current form. Their official website is littered with broken links. Minus their Instagram usage, the band's social-media presence mostly exists to get the job done when it comes to promotion. There's little about Crazy Town's aesthetic or music — frozen-in-amber rap-rock ripped straight from the Bush era — that's up for serious critical reevaluation; even when considering the nu-metal leanings of pop superstar Post Malone, their legacy is largely nonexistent, and there's been little indication of a follow-up to The Brimstone Sluggers. In 2019, Crazy Town are contemporarily contextless, a simple fact that might cause you to ask why you're even reading about them right now to begin with.
But what if I told you they just headlined a small, hip-leaning venue in Brooklyn? This past Saturday night, Crazy Town top-lined a triple bill at Sunnyvale, a club lying on the edges of Williamsburg and Bushwick that typically hosts more explicitly indie-ish fare; the last time I'd attended a show there, it was to see a set from crunchy East Coasters Ovlov, and in April they'll be hosting a set from genre-bending savant Sean Nicholas Savage. On February 22, however, it was Crazy Town's night, a booking that seemed surprising on its face to anyone familiar with which bands play where in NYC. Harder fare — even bands like Crazy Town, who were reportedly booed off stage during their 2000 Ozzfest appearances before getting kicked off the lineup entirely — typically and capably fills rooms like Manhattan's Irving Plaza and Gramercy Theater; setting aside the question of whether or not Crazy Town were even capable of booking a room bigger than the 200-capacity Sunnyvale, the mere notion of the band taking the stage in such a supposed hipster enclave was previously hard to conceive.
With tickets ranging from $15 a pop to $44 for a slightly more upscale meet-and-greet experience, the relative affordability of the show meant that the curiosity factor of the show itself — Crazy Town! In Brooklyn! — was all the more alluring. If you're a childless and relatively well-to-do Brooklyn resident with disposable income and a loose level of concern for how you spend your time, there are probably worse ways to spend it than plunking down the cost of a movie ticket to see the "Butterfly" guys do "Butterfly." If the word irony has popped in your head once or twice while reading this paragraph, consider your suspicions justified: As the band took the stage to the strains of Beastie Boys' Paul's Boutique, there were more than a few bearded beer-chuggers chuckling at the odd, out-of-time frivolousness of it all.
As it does with so much, nostalgia plays a factor in the potential appeal here. We're fully in the throes of ascendant generations gazing fondly upon pop-cultural artifacts from the late-1990s to the mid-2000s, regardless of taste. There have been music festivals celebrating the mere existence of this time period; Backstreet's been back for a minute now. More broadly, as generations age they're typically prone to reaching for familiarity when it comes to splurging on leisure time (why else do you think Woodstock's coming back?). With no recent music to promote and little else other than their own past to mine, it makes more than a little bit of sense that Crazy Town would play a venue in Brooklyn — or anywhere, really — in which they could attract an audience with the purchasing power to satiate their own nostalgic cravings.
And Crazy Town's top-lining presence was far from the only element of the Sunnyvale lineup that felt like the audience had collectively tripped through a time warp. The first opener, the hazy guitar outfit Teen Body, worked in a cover of Sugar Ray's "Every Morning" into their set to presumably (as Blink-182 once put it) get the feeling right; the other support act, NYC rockers Grim Streaker, came across as a hybrid of '70s punk snarl and the type of Yeah Yeah Yeahs–adjacent attitude that could be found at any Lower East Side venue in the mid-to-late 2000s. It almost goes without saying that very few people in the three-quarters-full venue were there for either support act; everyone knew who the main attraction was, and there was an undercurrent of fascination and excitement when Crazy Town finally took the stage.
Whatever the expectations were to the mix of onlookers and genuine fans, it's questionable whether the band actually lived up to any of them in the performance that ensued; perhaps the most literally explosive portion of the set came when Binzer claimed that one of the band's amps had caught fire earlier in the night. When he first appeared onstage during the band's intro music, he spent a considerable amount of time looking at his phone; in between calls for "a couple Red Bulls up here" and a bizarre story involving drummer Luca Pretorius allegedly being attacked by a gaggle of squirrels earlier that day in Brooklyn's McCarren Park, the band ran through a career-spanning set that almost sounded too good — any and all eyebrow-raising suspicions occasionally confirmed whenever Binzer would remove the microphone from his face, a backing track with prerecorded vocals blaring on regardless.
But Crazy Town more or less seemed like they were enjoying themselves anyway, especially when they blared "Butterfly" to score the biggest crowd reaction of the night (for a set predicated on mosh-pit-eliciting hard rock, there was surprisingly little moshing). Even Binzer was singing along full-throatedly with the confidence of someone knowing what people want and the satisfaction of someone knowing that they're giving it to them. The set ended, and Binzer called for the house lights to be brought up; he summarily asked the audience to put their middle fingers in the air for the 'Gram, and everyone complied willingly. The moment was sincere, endearing, and even a little sweet — a sincere sensation that no level of irony or nostalgia was able to sully, if only for a few minutes.