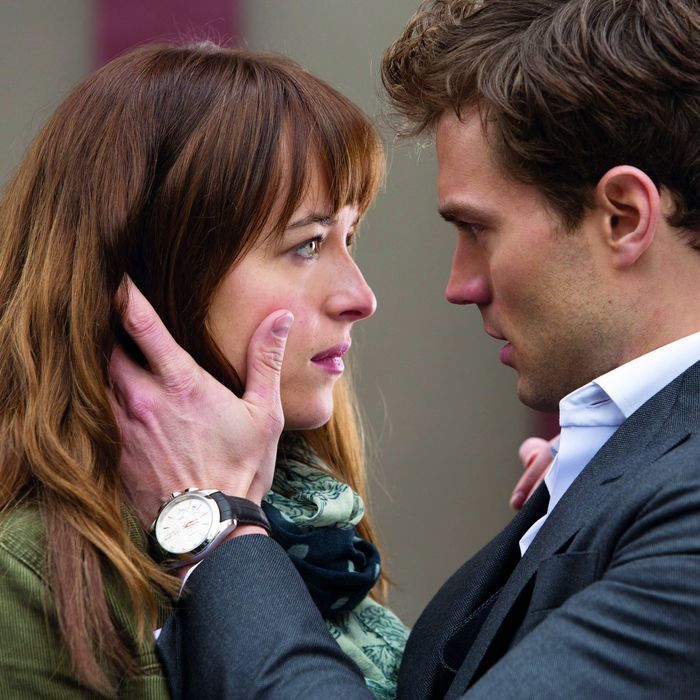 Yes!
Photo: Universal Pictures
Quite unexpectedly one afternoon in January, I pressed play on "Earned It," the Weeknd song from 2015. And then — for no reason in particular — I pressed play again and again and again until I finally just double tapped that button on Spotify that plays one song on repeat. I needed to hear a Canadian talk about being used and abused, and ultimately concede, in sexy rhymes, how perfect I am. I needed a lot of horny violins bouncing around my brain. Then I looked at the calendar, and frowned: I realized that for the first Valentine's Day in four years, there will not be a Fifty Shades movie arriving to my local Cineplex, nor will there be another Fifty Shades movie coming soon. There are no new chronicles of "laters, baby" or "I fuck … hard." I'm spiraling: What will I do now that I'm not spending Valentine's Day with my two favorite valentines, Christian Grey and Anastasia Steele?
It's cool to love these movies with detached irony, but I genuinely enjoy them. These are romances, they're horror movies, they're comedies — they're masterpieces. They are chaotic and tonally incoherent in a way that only the most skilled actor could pull off. In one scene someone is kissing, and in the next scene they're spanking, and in the next scene Christian Grey (Jamie Dornan) is singing Paul McCartney's "Maybe I'm Amazed" at the piano. No other series leans quite as hard into the utter insanity of every single actor playing every scene to a different tone and for a different audience. I love it. If I could print out every page of these scripts and wear them as a sheet mask, I would do it. Nothing in this life "makes" any "sense." Finally, we have a romance that is attuned to the utter folly of deciding to (a) marry someone, or (b) let them rub their privates in and around your privates.
It's only when I realized that we'd be without a new installment this year — for the first time in what feels like decades — that it started to sting. Here is the clearest way I can explain this specific malaise: "There should be more horses, more soldiers … more crying, more cameras," Natalie Portman, playing the titular role for which she should've won an Oscar, declared in Jackie. Her husband has just been killed, and she moves around the White House like a phantom, coping with her loss and wondering why no one else feels it as acutely as she does. My thing — Valentine's Day without the Greys — is on a much smaller scale, but still: This Valentine's Day, there should be more awkwardly pregnant pauses, more demented, revenge-seeking exes, more publishing houses that seem to be barely functioning, more of Dakota Johnson telling a real-estate agent to climb into her shit-colored car and drive back to Seattle!
It's not that I'm lonely — tonight I'm having dinner with my best friend at a disgustingly trendy restaurant; for the past few weeks I have been periodically texting an eligible bachelor who knows Green Book is bad and seems to pay his rent on time! — it's that I have a Ben Wa balls–size hole in my heart. I am legitimately quite heartbroken. I can easily stream Fifty Shades of Grey, Fifty Shades Darker, and Fifty Shades Freed in the comfort of my own Brooklyn apartment. But where is the thrill?
There are, in truth, better love stories than Christian and Ana's. There are more romantic meet-cutes. There are even more glamorous spending-money montages or helicopter dates. But let other movies "work." This is the only franchise where corporal pleasure turns into a corporate thriller, where our heroine can get fingered to Van Morrison, where love comes with a side of "fifty shades of fucked up!" This Valentine's Day, I could watch When Harry Met Sally and wish the people I love didn't mind that I'm a picky eater. I could watch The Mindy Project and fantasize that everyone I love could quote all the Nora Ephron movies I've committed to memory. Or I could rewatch the Fifty Shades movies and laugh a lot and feel not particularly interested in mimicking or re-creating or fantasizing about anything in particular, because the price for sleeping with Jamie Dornan is having to suffer through extended mouth-breathing from Christian Grey.
God bless these movies. We deserve a new one every single year.