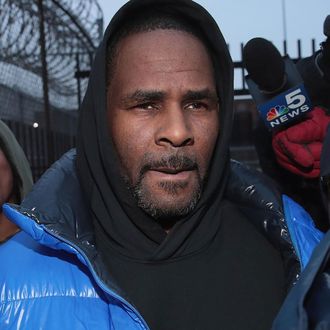 R. Kelly.
Photo: Scott Olson/Getty Images
R. Kelly was released from prison on Monday after days behind bars scrounging to cough up the $100,000 needed to meet the minimum on his $1 million bond. The bond was set after Kelly was charged with ten counts of aggravated criminal sexual assault against four women, including three minors, to which he has pleaded not guilty. But, according to Kelly's lawyer, his financial situation was too dire for him to make bail. Ultimately, someone paid the bail on his behalf, but who would do such a thing? According to the Daily Mail, which viewed court records, his benefactor was a local named Valencia Love who runs a child-care facility, in addition to owning a few restaurants, who listed herself on the payment form as a "friend" of Kelly's.
After learning that Love bankrolled Kelly's release, some Yelp users have posted negative comments on one of her restaurants. She defended her decision in response to one of them, saying, "I just help out a Friend if he guilty let him pay for it thru the courts. I am sure some of them have bail out murders drug dealers etc." Following his release, lawyer Michael Avenatti, who is representing one of Kelly's alleged victims, claims that Kelly visited a local McDonald's that Kelly used to frequent to allegedly prey on young girls. There, Avenatti says, Kelly posed for photos with underage girls, which is a violation of his bond conditions.
But Kelly may not be out of jail for long. According to TMZ, Cook County prosecutors are looking to bring further criminal charges against Kelly for unpaid child support. He reportedly owes his ex-wife Drea Kelly, who has also accused Kelly of abuse, $160,000 in child support; any amount over $20,000 can be considered a felony. Kelly's lawyer, Steven Greenberg, said in a statement to TMZ, "In 30 years of practicing criminal defense law, I have never seen anyone prosecuted for non-payment of child support. Maybe it happens, but I've never seen it done in Illinois." If charged, TMZ says Kelly can be immediately arrested and thrown back in jail.
Update, 6:00 p.m. ET: In a statement to Fox reporter Tia Ewing, Love has clarified that the $100,000 was not hers nor did it belong to Kelly, but did not say where the money came from. She also claims that Kelly is not broke and would've posted bond himself on Thursday, but "he's my friend and I knew he needed help." Love says Kelly has told her he is innocent and that "if he did it, he is wrong."