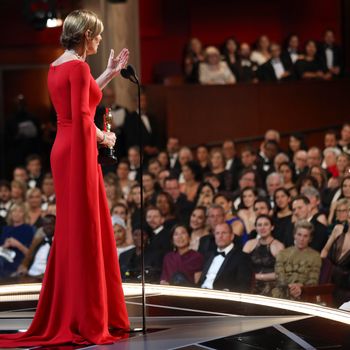 Allison Janney, who
will
be a presenter after all
Photo: Matt Sayles/Getty Images
Since Kevin Hart stepped down from hosting the Oscars approximately eight hundred years ago, keeping up with the Academy's endless tweaks and reversals around this year's ceremony has been a full-time job. For those who still don't know what to expect after the last red carpet interview this Sunday, we've compiled a list of the latest in the Academy's announcements. Bear in mind that, this year more than ever, these facts are subject to change.
1. There won't be a host.
After leaving us speculating about who would host the 2019 Oscars well past Thanksgiving, the Academy announced Kevin Hart as their host in early December. After Hart's homophobic tweets from 2009 to 2011 drew negative attention to the Academy's choice of host, Hart refused to apologize and instead stepped down from the position. Rather than find a replacement, the Oscars announced they'd go hostless for the second time in the ceremony's history. On February 20, rumors circulated that Whoopi Goldberg might be a secret host, but ABC has denied the story.
2. There will be musical numbers.
From four of the five nominees! Plus, at least one extra. After initially announcing that they would only stage two of the five nominated songs at the ceremony, the Academy bowed to criticism and announced it would make room for all five numbers. Due to scheduling issues, however, "All the Stars" from Black Panther will not be part of the lineup. These remaining songs are:
• Bette Midler performing "The Place Where Lost Things Go" from Mary Poppins Returns.
• Lady Gaga and Bradley Cooper (not Jackson Maine!) performing "Shallow" from A Star Is Born.
• Jennifer Hudson singing "I'll Fight" from RBG.
• Gillian Welch and David Rawlings (sorry, Tim Blake Nelson-Heads) dueting on "When a Cowboy Trades His Spurs for Wings" from The Ballad of Buster Scruggs.
• Due to logistical issues, Kendrick Lamar and SZA will not be singing "All the Stars" from Black Panther, and nor will any other artist, so it will not be part of the telecast.
On February 19, the Academy tweeted that Adam Lambert and Queen will also perform on the broadcast (presumably without Rami Malek's vocals "mixed in").
3. Here are the presenters:
On February 1, the Academy announced they would discontinue the tradition of having the previous year's four acting winners present the trophies to their successors, and that they would reportedly look for bigger stars to present these major awards instead. Fans weren't happy, and neither was 2018 Best Supporting Actress Allison Janney, so the Academy reversed this decision, too. The new presenting lineup is:
For the Acting Categories:
• Allison Janney
• Frances McDormand
• Sam Rockwell
• Gary Oldman
For the eight Best Picture nominees, a selection of notables unconnected to the films will introduce each film. Serena Williams has already been revealed as A Star Is Born's representative, but you can possibly figure out the rest yourself:
• Chef José Andrés
• Dana Carvey
• Queen Latifah
• John Lewis
• Diego Luna
• Tom Morello
• Mike Myers
• Trevor Noah
• Amandla Stenberg
• Barbra Streisand
The first three waves of announced presenters are:
Elsie Fisher, Danai Gurira, Brian Tyree Henry, Michael B. Jordan, Michael Keaton, Helen Mirren, John Mulaney, Tyler Perry, Pharrell Williams, Krysten Ritter, Paul Rudd and Michelle Yeoh.
Javier Bardem, Angela Bassett, Chadwick Boseman, Emilia Clarke, Laura Dern, Samuel L. Jackson, Stephan James, Keegan-Michael Key, KiKi Layne, James McAvoy, Melissa McCarthy, Jason Momoa and Sarah Paulson.
Awkwafina, Daniel Craig, Chris Evans, Tina Fey, Brie Larson, Jennifer Lopez, Amy Poehler, Maya Rudolph, Charlize Theron, Tessa Thompson and Constance Wu.
4. Here's what the sets will look like:
On February 18, Academy Awards production designer David Korins posted a first peek of his design for the Dolby Theatre, calling the undulating gold proscenium "CRYSTAL CLOUD," although many have noted its striking resemblance to a certain presidential haircut. Korins added that "we have about 40,000 real roses on stage," but did not disclose whether or not Kenny G would be stranded among them.
5. Every award will be televised.
In February, the Academy announced that four awards, including the award for Academy President John Bailey's own cinematography branch would be cut from the broadcast, awarded during commercial breaks, and edited down to air later on in the evening. After facing high-profile backlash from seemingly all of Hollywood, the Academy reversed their decision, announcing they would give each winner "90 seconds" of traditional, live coverage.
6. Except for Best Popular Film.
That particular idea was scrapped in September.
7. What is Whiskey Cavalier?
It's not a Gene Kelly musical-within-a-musical, nor is it a thoroughbred Triple Crown winner, despite the name insisting otherwise. It's a spy procedural that ABC was hoping to lead out the Oscars broadcast, This Is Us-after-Super Bowl-style. Many speculated that this was the reason behind the Academy's various efforts (I want to say 'schemes' but I won't say 'schemes') to keep the broadcast to a tight three hours, though conventional wisdom cites such factors as raising ratings and broadening the appeal.
The Oscars will air live on February 24 at 8 p.m. EST on ABC, all 24 categories and five songs — and previews for Bourbon Chavelier or whatever — intact.