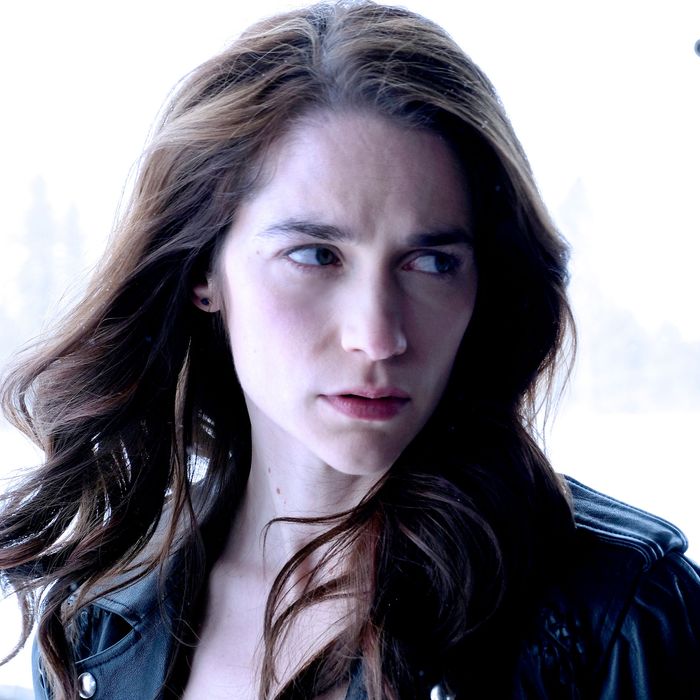 Melanie Scrofano in
Wynonna Earp.
Photo: Michelle Faye/Wynonna Earp Productions, Inc.
The Syfy series Wynonna Earp isn't on the air right now, but that doesn't mean all is well in the demon-infested town of Purgatory.
#WynonnaEarp began trending on Twitter late this week, after executive producer and showrunner Emily Andras deleted a tweet Thursday night indicating fans needed to be ready to "fight" for the show's upcoming fourth season. (She left up another tweet: "Don't fuck with my family.") While the future of Wynonna Earp is not totally dire yet, according to multiple sources who spoke with Vulture, the concerns of Earpers are not unfounded. The production start date for season four has been pushed back, sources say, and it's not clear when cameras will roll.
Asked an array of questions Friday, Andras gave Vulture this exclusive statement: "Wynonna Earp means the world to so many of us — crew and cast and fans alike. And the story's not over."
Wynonna Earp, a rollicking supernatural Western set in a demon-infested town called Purgatory, is based on a comic book created by Beau Smith and put out by IDW Publishing. A sister company, IDW Entertainment, functions as the studio that makes the Syfy series. Since it debuted in 2016, Wynonna Earp has acquired an incredibly active and committed fan base, so devoted to the saga of gunslinger Wynonna Earp and her family and friends that they've created a thriving online community and a series of conventions devoted to the show.
If things were going according to plan, the fourth season would already be shooting on snowy sets in and around Calgary. Wynonna Earp typically begins shooting each season in December or January, but this year, filming was set to begin a bit later, in mid-February. That date initially got pushed by about a week, according to knowledgeable sources, but at this point, it's still up in the air. Star Melanie Scrofano replied to a fan's query on Thursday with this tweet: "I don't know anything, unfortunately. All I know is we aren't shooting and I don't know why."
Money problems at IDW seem to be the cause of the production delay. According to a public filing posted in late December, the company has had to take out some hefty loans, and the filing cites a "need for a cash infusion." At the moment, IDW has an ambitious slate of TV projects to pay for, including Locke and Key, V-Wars, and Wynonna Earp.
Another tidbit tucked into the December filing: Syfy feels so strongly about Wynonna Earp that, last year, the cable network actually ordered two additional 12-episode seasons of the show from IDW Entertainment, which is contractually bound to deliver those seasons. Sources with knowledge of the situation say that the network is as much a fan of Wynonna Earp as ever. Asked for comment, a representative for Syfy issued this statement: "Syfy ordered Season 4 of Wynonna Earp from IDW and is completely committed to the series. This has not changed."
It's not as if IDW hasn't had time to prepare, since Wynonna Earp's renewal was announced last July at San Diego Comic-Con. However, there has been executive turnover: The presidents of both IDW Entertainment and IDW Publishing left their positions last year. That December filing also makes it clear that IDW has been "self-financing production costs for seasons four and five" and that Syfy's license fee for the right to air the show in the U.S. "only covers approximately half of IDWE's costs." (The show is licensed to Space in Canada and to other media companies around the world; there's also a Netflix deal in place for seasons that have already aired.)
Asked about the production delay and the company's ability to deliver two additional seasons of Wynnona Earp, an IDW representative issued the following statement: "IDW is committed to continuing to tell the Wynonna Earp story. Much like the fans, we are passionate about not only the series, but the comics, the characters and the overall message that the Wynonna Earp franchise carries. We are in the process of working out the details for how the Wynonna story will continue and will share new details very soon."
As the situation unfolds, the show's fandom has mobilized in a big way, and Earpers have used the hashtag #FightForWynonna to let the world know they want more from Wynonna and crew. "We've done this before, but need it now possibly more so than ever before!" writer and Wynonna Earp expert Bridget Liszewski wrote on Friday. "Fighting for our show is nothing new so be loud and be proud and get to it!"