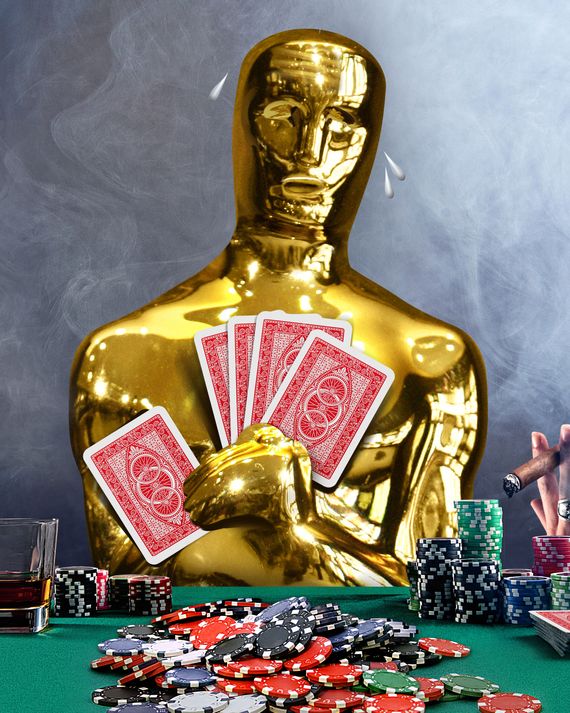 Illustration: Joe Darrow for Vulture
The Favourite is not the favorite to win the Oscar for Best Picture at the upcoming Academy Awards, but if you have a hunch, you can bet it at +1,110 odds right now at the FanDuel Sportsbook in New Jersey. Meaning a $10 wager would return $110 in profit if the Olivia Colman–led cast walks away with the hardware. The actual betting favorite? Roma, currently listed at -340, meaning a winning $10 bet would pay $13.00, $3.00 plus the $10 investment back.
It's taken almost a century, but the 91st presentation of the Academy Awards on February 24 will mark the very first time that licensed U.S. sportsbooks will have a green light from state regulators to offer wagering on the Oscars, or any entertainment awards. This would not be possible if not for another U.S. institution: the United States Supreme Court, which in May 2018 decided in favor of New Jersey in the case Murphy v. NCAA, ruling on Tenth Amendment grounds that the federal ban on full-fledged sports betting outside Nevada unconstitutionally commandeered states.
One month later, New Jersey's legal sports-betting industry was born, making way for now ten land-based sportsbooks and even more online. In 2018 from mid-June to the end of 2018, bettors placed a combined $1.25 billion at licensed sportsbooks on contests from college football to cricket. Regulations require that you must be physically present in the Garden State to make a wager on a mobile device or in person at a sportsbook. Residents of other states will have to wait until next year or longer, or make a round trip into Jersey to put down bets, then head back home over the GWB or through the Lincoln Tunnel, as thousands of New Yorkers did during the football season (believe it or not).
For now, this new betting frontier in New Jersey opens another entertainment avenue, and potential new patrons for the sportsbooks among those who focus on the silver screen, not screen passes.
"The Oscars presents an exciting opportunity for us to expand our offerings for current customers and reach potential customers who may not be interested in sports but are interested in Hollywood," a FanDuel Sportsbook spokesperson told Vulture. "These offerings are all about adding a bit of fun to an event and we're glad to be offering this to our customers."
Those offerings, and the odds, vary from sportsbook to sportsbook. DraftKings Sportsbook right now has only posted odds for Best Picture, while FanDuel and MGM's platforms include markets for all major categories, including Best Film Editing, which appears to be up for grabs with The Favourite actually the favorite as of this writing at +105, while the oddsmakers put Vice close behind at +160 (risk $10 to win $16) and Green Book as the category's long shot at +1,800.
Long popular in Europe and offshore, but off-limits in the U.S.
Betting on the Oscars, whether sportsbook-style wagers or pools at watch parties, is certainly not a novel idea. European bookmakers and offshore sportsbooks operating in black and gray markets, but servicing millions of U.S.-based bettors, have offered these betting markets for years.
Nevada regulators recently reconsidered their prohibition on entertainment wagering, but have not yet pulled back the curtains, citing integrity concerns. Foremost, the potential for abuse through inside information. Award winners are indeed predetermined and thus information, however closely guarded, is known to some.
But regulators for New Jersey's nascent market, citing numerous requests from the sportsbook operators, advised licensees in late January that "after reviewing the relevant information on integrity issues," bookmakers would be allowed to offer Oscars betting. The sportsbooks must tell the Division of Gaming Enforcement what wagers they plan to offer, and what limits they intend to place on bettors.
Why limits? Because low betting limits, or a cap on the amount one person (or account) may wager, or win, is a guard against potential abuse. Would anyone share confidential information, risking their reputation or career, for $500 or $1,000, or even $5,000 if they spread their action around town, which might get sniffed out?
Among the New Jersey sportsbooks offering Oscars betting is the Australia-headquartered outfit PointsBet.
"All markets for the Oscars are set up with win-limits of $1,000," PointsBet CEO Johnny Aitken told Vulture. "We're up currently with the big six markets (Best Picture, Best Director, Best Actor, Best Actress, Best Supporting Actor, Best Supporting Actress), and more markets will also be available for betting as we get closer to the event."
Seven additional jurisdictions have legalized, or preemptively legalized and launched state-licensed sportsbooks, since the high court ruled: Arkansas; Delaware; Mississippi; Pennsylvania; Rhode Island; Washington, D.C.; and West Virginia, while lawmakers in nearly two dozen more are kicking around legislation. But so far, New Jersey is the only one to give the nod to Oscars betting.
Prognosticating and pricing
Bookmakers and bettors alike gain more and better information about who will hoist the Oscars as February 24 approaches. One key indicator is the British Academy of Film and Television Arts Awards (BAFTA), which wrapped on Sunday.
The FanDuel Sportsbook trading team — the folks who set lines, move them as necessary, and manage risk overall — haven't made much adjustment since first posting the Oscars odds, and measuring initial betting action. That may change after Sunday's BAFTA Awards. The FanDuel spokesperson said, "These English awards could be a sneak peek into the Oscar winners."
Like the BAFTA Awards, the Screen Actors Guild Awards also are regarded as somewhat if not highly predictive of Academy Award results.
"As in most years, the Screen Actors Guild Awards are hugely useful for predicting the Oscars," said PointsBet's Aitken. "In 2014, Matthew McConaughey was a long shot for the Best Actor Oscar for his role in Dallas Buyers Club, but after his SAG win he went from +400 to -400 odds — and won the Oscar."
So people who have already put down a bet may have gotten good value, or may now know they're holding losing wagers. Prior to the BAFTA Awards, Roma was -170 to win Best Picture. But after Roma took home Best Film at the BAFTA Awards, its price halved at FanDuel to -340.
Art is subjective and films pull at heartstrings, two factors that bookmakers bake into the odds. This year, at least one bookmaker is expecting some emotion-driven dollars.
"We expect there to be a lot of sentimental money this year for A Star Is Born across all the main categories," Aitken said. "Although we don't expect it to take home one of the big six awards, it looks like it's as close to certainty as you can get for Best Original Song with "Shallow."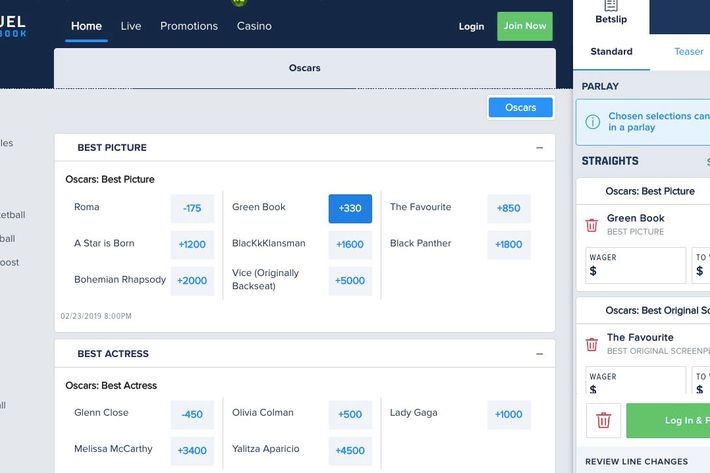 Which is why at FanDuel Sportsbook, "Shallow" is now -4,000 to win the category; that number puts the implied probability of a Gaga win at 97.5 percent, and -4,000 means you'd need to wager $4,000 to win $100.
If you think Jennifer Hudson has a fighting chance with "I'll Fight" from RBG, which she'll be performing live, you can put down $10 to win $60 at its current +600 odds.
While "Shallow" is basically a stone-cold lock, "there's a lot of 'short favorites' in the main categories," Aitken explained, meaning they're favored, but not by much. "That's true for Roma (Best Picture); Rami Malek, Bohemian Rhapsody (Best Actor); Glenn Close, The Wife (Best Actress); and Regina King, If Beale Street Could Talk (Best Supporting Actress)," all priced in the coin-flip range.
As the Oscars draw nearer, if you intend to put down a wager, it's best to do some homework, known in sports-betting parlance as "handicapping." For starters, watch the films. Check a credible prognosticator such as FiveThirtyEight, which brings a mathematical approach to its predictions. Of course, follow Vulture's coverage, and you'll probably also want to follow Major League Baseball pitcher and film aficionado John Axford, who in 2014 went a perfect 18-for-18 with his predictions and a stellar 18-for-24 last year.
The New Jersey sportsbooks probably won't garner millions in wagers this Oscars season or much revenue from it, largely due to the low limits, but it's a win-win for sportsbooks seeking to engage new customers and for folks looking to profit from their Academy Awards acumen.
"The Oscars, like other entertainment markets, attract an equal share of serious and casual bettors — both male and female," said Aitken. "It is a very light and fun way to spice up a viewing party for the event given everyone has an opinion on what film or performance was the best."
Come February 24, we'll watch the show, we'll watch the stars, on TV for hours and hours, and probably we'll watch Lady Gaga and Bradley Cooper push A Star Is Born toward a Best Original Song Oscar. Probably.
Brett Smiley, once upon a time an overnight scribe for Intelligencer and Vulture, is the editor-in-chief of Sports Handle, a website covering the U.S. sports-betting industry. You can follow him on Twitter @brettsmiley.