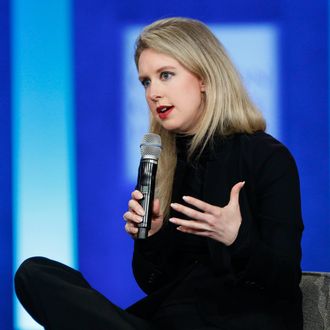 Elizabeth Holmes.
Photo: JP Yim/Getty Images
In case one Elizabeth Holmes documentary this month wasn't enough, ABC News and 20/20 are bringing you their own special about the catastrophic fate of the tech start-up Theranos. On Friday, Rolling Stone previewed a trailer for The Dropout, which shares its name with the recently released ABC News podcast, also about the disgraced founder.
Based on the clip, 20/20's two-hour special features a wealth of interviews, including one with CNBC's Jim Cramer, who hosted Elizabeth Holmes on his show in October 2015 to refute emerging reports that Theranos's supposedly game-changing blood testing technology was a fraud, conducted by ABC News chief correspondent Rebecca Jarvis. Jarvis also hosts the network's The Dropout podcast, which premiered in January.
After settling with the Securities and Exchange Commission in 2018, Holmes currently stands indicted on federal fraud charges. The Dropout debuts on March 15, just days ahead of Alex Gibney's forthcoming Elizabeth Holmes documentary The Inventor, set to air on HBO on March 18.