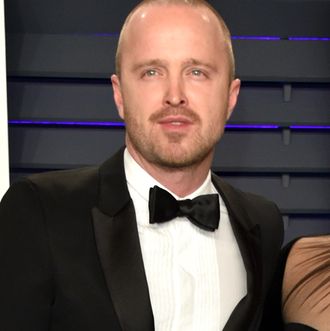 Aaron Paul.
Photo: John Shearer/Getty Images
Okay, so, we know the Breaking Bad movie is happening. But, is the Breaking Bad movie happening? Previous reports have assured us that Vince Gilligan is hard at work on the project, which is set to debut on Netflix first. But when Aaron Paul, one of the two main Breaking Bad guys, was asked about the film at the Sun Valley Film Festival on Friday, he was a little too hypothetical about it. "Rumors are funny — I once heard a rumor that I was being cast as Han Solo," Paul said, according to Variety. "I haven't heard anything about the Breaking Bad movie, but if there is one and it comes together I'd love to be a part of it." Hmm.
Paul continued to play games with our hearts, the one thing you're never supposed to do, by teasing a Jesse Pinkman movie. "In case you haven't caught up on the TV series, Walter dies, so …. it has to star Jesse," he told the crowd. Which will only work if all the characters have to say "Jesse" this much.