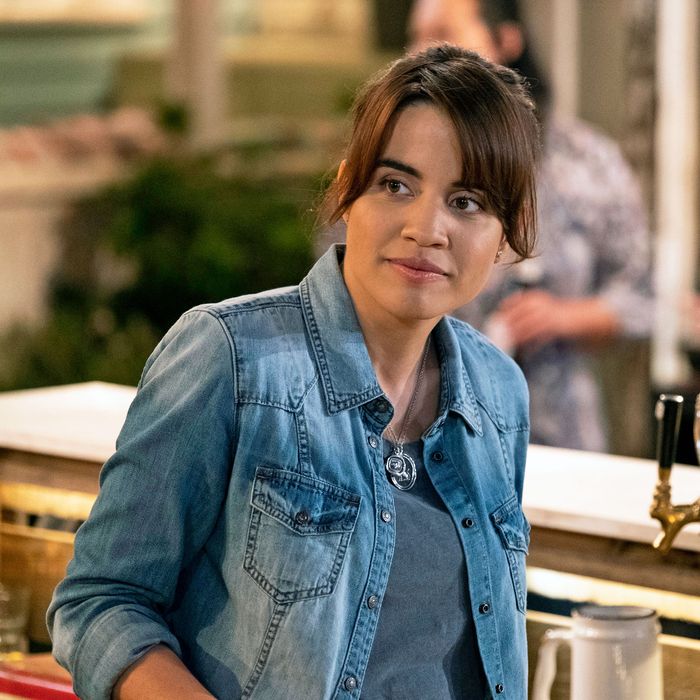 Right now, at the start of its first season, the new NBC sitcom Abby's feels like something vintage. It's a weird way for a show to feel so early in its run, but the overarching vibe of Abby's is that of a new, young group of people who've moved into an ancient, much-loved but definitely a bit run-down house, eager to restore it to its former glory. The personalities are new, and there's a bright-eyed drive to make this thing work, but the surrounding architecture is noticeably, intentionally outdated, and no one seems quite sure yet how many changes they're allowed to make. Whatever Abby's might become in the future, right now it's still in the realm of potential.
The show is created by Josh Malmuth, a veteran of Superstore and New Girl, and one of its executive producers is Michael Schur, who by now sits atop a small and very friendly little empire of sweet TV shows about good people trying their best (The Good Place, Brooklyn Nine-Nine, Parks and Recreation). Abby's fits neatly into that world. It's about an illegal backyard bar, a popular and long-established neighborhood drinking spot run by Abby (Natalie Morales) and populated by a constellation of people who love to hang out there.
There are no enemies at Abby's bar. One seems to show up in the pilot episode, when Bill (Nelson Franklin) arrives to announce that he's Abby's new landlord and he's not fond of the idea of owning an illegal bar. Abby and all the regulars seem well on their way to organizing against him, but it becomes clear almost immediately that there's no real need for opposition. Bill, like everyone else at Abby's, just wants some people to hang out with every night. In the three episodes given to critics, no substantial antagonist ever materializes. The sources of conflict are Bill's ex-wife (who provides almost no narrative friction), and a flavored vodka everyone hates. The flavored vodka does lead to a nice discussion about friendship, but all in all, Abby's stakes are astonishingly low.
Some of that comes from the show's aforementioned vintage architecture. It is, very transparently, a modern update on Cheers, with Morales as the Ted Danson figure; Neil Flynn, Jessica Chaffin, and Leonard Ouzts playing various iterations of Norm and Cliff; and Kimia Behpoornia as Rosie, an excellent, endearing update on Cheers's Coach. Although Cheers is a famously friendly show, Abby's makes a mistake in replicating that show's genial outer layer without also translating its deeper core of hurt. Characters are allowed to truly loathe one another on Cheers. They are often there for transparently uncomfortable reasons, and they escape to the bar as a respite from outside problems that they do not try to hide. With the minor exception of Chaffin's Beth, who often complains about her children, and Bill, with his gently bad ex-wife, none of the people populating Abby's bar seem truly troubled by much. It prevents Abby's, and Abby's, from feeling like the tenuous, endangered oasis it wants to be.
The Cheers influence is not just in the premise, either. Abby's is shot in front of a live audience, and it has some of the visual language of a three-camera sitcom. But it stumbles in trying to incorporate some single-cam tricks; generally the first three episodes rely too much on middle- and close-up shots, preventing us from really seeing the full scale of the space. It feels a little claustrophobic in Abby's backyard, which may be the intention, but it detracts somewhat from what makes the show feel distinct and special — namely, the fact that the live audience for Abby's does not sit in a studio, but rather on the outdoor set of Abby's bar.
The things that give me hope for the show's future are all in the vein of that decision to film Abby's outdoors (which I love and want to see more of!). It is a deliberate swerve from the beloved and slightly fusty Cheers frame, as though pushing the setting from a basement bar out into an actual backyard can literally breathe fresh air into the story. The push toward freshness is also there in Natalie Morales's Abby — who makes fun of another character for saying "congrats!" when he realizes she's bisexual — and in Rosie's gentle strangeness, and in Abby and Beth's friendship, and in the proudly strange swerve of the story in an episode called "The Fish" that culminates in Bill wearing a giant stuffed fish hat after having been declared Fish Pope. There are enough elements here to suggest that Abby's could eventually come to terms with its own modernity, that its combination of old and new could coalesce into something that feels funny and weird and vital.
Right now, though, Abby's still seems a touch too precious about its Cheers heritage. One of the rules at the bar is no phones, and when they appear, Abby chucks them mercilessly over the fence. It's a good little device to explain why, in 2019, a bunch of people at a bar aren't all staring at screens, but it also feels like the show taking an easy shortcut around an important way in which the world has changed in the last 20 years. It's a way to insistently drag Abby's a little backwards in time, and I wish the show were more comfortable trying to negotiate between its old-school architecture and its contemporary inhabitants.
Early wobbliness aside, Abby's is not a show to dismiss. There is so much potential in its creators and cast (Neil Flynn is so good as Fred), and even though its experiment doesn't seem to have come together quite yet, there is a well-established history of comedies like this that have taken some time to find themselves. The legacy of Cheers will not be harmed by a new group of people moving in and rearranging all the furniture, and hopefully Abby's will figure out soon how to make itself more at home.