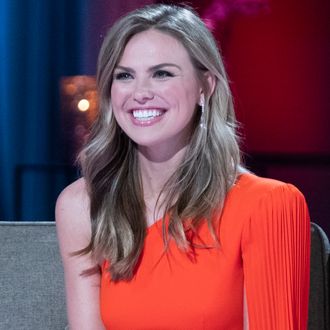 Hannah Brown.
Photo: John Fleenor/ABC via Getty Images
When Miss Alabama USA Hannah Brown was unveiled as the next lead of The Bachelorette this week, viewers were pretty divisive with their reactions, given that Brown placed relatively low while competing on Colton Underwood's magnificent trainwreck of a Bachelor season. Still, ABC believed Brown's off-kilter, self proclaimed "hot mess" personality was exactly what Bachelorette viewers needed this time around, and the network's reality chief is now opening up about how this casting decision was made. "She came in and had nothing to lose, saying, 'I don't know, I'm just going to be myself.' There was just something different that we hadn't seen in a Bachelorette before," Rob Mills told THR. "Very kind of charming and goofy. When she had her intro video for The Bachelor and she said, 'I'm Hannah — all aboard the hot mess express!', you think that's probably just shtick. And then we figured out, no that's actually true. I think that came through on the live show, too."
The live show Mills is referring to, as you may have guessed, was The Bachelor's finale, where Brown met five of her suitors before her season officially began filming. It was, well, pretty hot mess-y, with Brown stuttering, not forming coherent sentences, and looking visibly nervous as a parade of hot gentlemen broke out their best seduction techniques for her. Mills admits the response was "all over the map" for Brown's debut, but is optimistic things will improve outside of a high-pressure live setting:
I think some people thought, "Oh my gosh, how is this person going to be the Bachelorette when they seem to really not know what to say or where to stand or what to do?" And then there are people who said, "We've never seen this before and it seems endearing and charming." And I was in that camp. I think it's very easy to teach somebody how to pick up a rose or say a name, but you can't fake the natural sort of charm and nervousness and everything that she had, and I thought that was really, really great.
Good luck, you weird pageant queen. We're rooting for you.