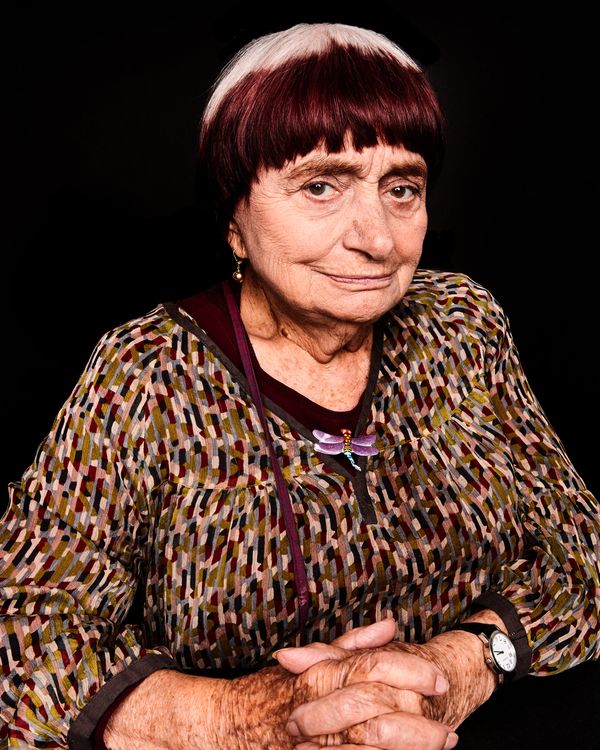 Photo: Bobby Doherty/Vulture
Until the swan-song documentary Varda by Agnès enters public release, the last memory that cinephiles worldwide will have of the French New Wave great Agnès Varda will be from her penultimate film, 2017's Faces Places. As she travels around the French countryside with artist J.R., making blown-up print-outs of the people and animals they encounter, she leaves a lasting impression on everyone she meets, including us. Maybe the image of Varda posing with one of her beloved cats perched on her shoulder like a whimsical pirate's parrot will be the one to linger. Maybe it'll be the sight of her on the dance floor, looking not at all out of place among the young adults cutting it up. Maybe it'll be the tableaux of her and J.R., symmetrically slumped on either side of a train compartment, sleeping a well-earned sleep.
By my count, that film's most indelible image also happens to be the most compactly representative of the infinitely complex, contradictory Varda. During a visit to the Louvre, she instructs J.R. to push her through the Grand Gallery in a wheelchair at top speed. As the camera rushes to keep up with the seemingly weightless pair, she overwrites a similar sequence from her contemporary Jean-Luc Godard's Band of Outsiders with a parody at once gleeful and subversive, thrilling in the moment and still dense with subtext after it's passed. By bending the barriers between art and life, she opened up a middle space where her portraiture of women — and, eventually, one woman in particular — could flourish. Flying past the paintings, J.R. bounding behind her, she looks untouchable.
Agnès Varda passed away in her Paris home early morning Friday at the age of 90, concluding a battle with breast cancer that did nothing to diminish her prolific output. She leaves behind a sizable and infinitely dissectible body of work, much of it joined by her interrogation of the divides between fact and invention, as well as the feminist ethic she expressed by training her lens on psychologically fully-formed women. With scripted films like Vagabond and the canonized Cléo from 5 to 7, she dreamt up women at the mercy of their societies, eventually moving on to real-life figures. Jane B. by Agnès V., released in a restored version just three years ago, cast her compassionate, analytical gaze on Jane Birkin and found a mortal behind the icon. In her blending of the organic with artifice, of documentary with narrative, she found elusive, transcendent truth. In time, she would apply this technique to herself; note the title parallelism in her final work, the to-be-released Varda by Agnès. The artist's final triumph was gaining an understanding of Agnès the person.
Across her two dozen films, she burrowed into the psyches of filmmakers and farmers, revolutionaries and housewives. She could find profundity in the crannies of anyone's brain; indeed, the animating principle of Faces Places is that wandering around and shooting the bull with regular folks can yield brilliance. But she gained her most fascinating subject of all by rotating the camera in her own direction. She could be curious about curiosity, intellectually stringent about her intellect. She had a sense of humor about her sense of humor. She possessed that rarest, most precious quality that so many great auteurs lack, a vital trait developed only over decades of empathy for her fellow women and human beings: a true awareness of herself.