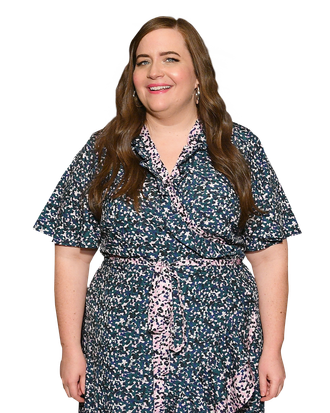 Aidy Bryant.
Photo: Dia Dipasupil/Getty Images
Saturday Night Live cast member Aidy Bryant has been absurdly likable since her induction to the cast in 2012. In her six seasons on SNL, Bryant's been at the forefront of many of the show's most memorable sketches like "Back Home Ballers," "(Do It in My) Twin Bed," "Girlfriends Talk Show," and "Dyke and Fats." In 2016, Bryant branched out by releasing Darby Forever, a short film with an all-star cast including Retta and Natasha Lyonne about the adorable and peculiar daydreams and crushes of a woman who works in a fabric shop. The short embodied her signature mix of sweetly emotional and outlandish sensibility, but its brevity left fans waiting for another Bryant-helmed production.
With Shrill, Bryant finally has the space to do what she'd "been waiting to do in a lot of ways," as she told Vulture. For her, this means much more than just starring in the show, but having say over the costuming, set design, and casting. Developed from Lindy West's 2012 collection of personal essays of the same name, Shrill the TV show follows Annie, a fat woman who makes the conscious decision to reject feeling bad about the way people treat her because of her weight. Bryant crafted the show's story with West and Ali Rushfield (Love, Parks and Recreation), and together they created a series imbued with the same confident, empowering energy as the book.
Bryant's sense of humor is abundantly displayed on Shrill, but what's most engrossing is her nuanced performance of Annie's awakening. We watch as she consciously pivots to confidence, and as she reckons with the pushback she gets for daring to act in a way that society doesn't expect her to. Vulture spoke with Bryant about making a narrative TV show for the first time, how important it is to have cute clothes available for fat women, and what she envisions for a second season.
Can you tell me a bit about how you came to work on this project?
I had read Lindy's book and I loved it! I found out that Elizabeth Banks was optioning it and I wanted to be a part of it. We took meetings and we were off to the races. They were so great 'cause I was like, "I really want to help write and produce," and they were like, "We want that, too." It was kind of a perfect marriage.
Had you known Lindy and Alex Rushfield before Shrill?
No, neither one of them. We right away got into meetings, and dinners, and hanging out, and getting to know each other.
While watching Shrill, I found myself watching the credits just as raptly as the rest of the show. Essayist Samantha Irby wrote an episode, and Carrie Brownstein and Gillian Robespierre directed, and comedians Lolly Adefope and Patti Harrison act in the show. What was your process in assembling the group of people who work on the show?
I'm super involved in casting, and a lot of those people [I was aware of before Shrill] — like Lolly was someone I had known of because we both have the same agent. Patti and Jo Firestone I had known from New York, just being here and thinking that they were brilliant. It was kind of a mix of being like, "Oh, I love this person, I wonder if they would come out," and that kind of thing.
How did you go about building the parts of the show that weren't particularly linked to the book?
I think that's kind of the nature of a writers room. I think sometimes we would be talking about something that was in the book that was maybe a little specific or not as active because it was like on a computer, so we would try to brainstorm a universal truth and how to make it more active. The pool party is a good example of that. We were talking about looking at images of fat women on Tumblr in our late teens, and seeing fat fashionable women on blogs, and how much that meant to us. We were like, "What's a physical manifestation of that?" and that's the Fat Babe Pool Party.
You have such a specific aesthetic, like on your Instagram, or with Darby Forever, or even with your old video Sharing. I was so glad to see that come through on Shrill. Can you tell me a bit about your goals in figuring out props and costuming?
I have some experience of doing that at SNL a bit — with working with designers and costumers and getting that stuff to a place where you're like, "Yes! That's what I was thinking of." For this, it was kind of like [the experiences I've had at SNL] on a larger scale. Getting to dig into, "Okay, how does this person dress? What is her style and point of view?" It was something that I had been waiting to do in a lot of ways.
A lot of what the world has seen from you is acting out different characters, which are so well-written, but the objective of them is to be quick and ultimately funny. How did it feel writing for a character that you would be embodying for a longer period of time?
I think in a lot of ways I was lucky, in that even though I'm new to writing narrative stuff, I know the character very well. It's very close to me! It wasn't like I was having to write a space captain or something; I know how it feels. I know how it feels to be singled out, and I know how it feels to be embarrassed, or to be trying hard and be dismissed. Those kinds of things kind of made it flow easy, if that makes sense.
You mentioned how you've been able to work on costuming a bit on SNL — do you feel like any other previous experience tied to this project a lot and helped you figure out how to structure a narrative TV show?
I think for the most part I went into this like, "Wow, I don't know anything about making a full TV show, let's find out." Very quickly I was like, "Oh, it's the same as SNL, but instead of doing the process in a week, you do it in a year or two years." Ultimately SNL is the model for making something: You're writing, you're rewriting, you're rehearsing, then you're shooting, then you're editing. That is what it is. Pretty quickly I was like, "Oh, I know how to do this." I think certainly some of the stuff with marketing and how we would present the show to the world, I had no experience in that arena. I learned so much. I really wanted to be careful about presenting something that was not condescending or patronizing to fat women. I wanted to make sure that it wasn't diminishing in any way and that you let this character be the full center of the story.
It's really exciting to see you continue to take up more space and have more control over what you're making. Is there anything you haven't done already that you'd like to do?
Gosh! You know, I don't know. I kind of like to just take things as they come and see what strikes me in the moment. I've never been that good about being like, "Okay, next year I'm going to do this, and then the next year I'm going to do this!" I'm excited for people to see this show, and maybe it'll get someone's brain going, or my brain going, and we'll be like, "Oh, we should try this or that." But I don't know! I'm open-minded.
I had read in your profile with the Cut that you have clothes made for yourself and you were considering starting a line of clothes for fat women. Is that something you're still considering doing?
Oh, yeah! It's not even considering; I'm fully working on it on the side. I have two full-time jobs, but I'm still working on it.
I feel like it makes you like comedy's Rihanna. It's amazing.
Thank you, that's the ultimate compliment!
Are any of the clothes you're wearing on the show clothes you made with stylist Remy Pearce?
Yeah, almost everything I wear on the show is made from scratch. It was sort of a collaboration between the costume designer and me. Like, "Okay, I kind of like this and that," and she would pick fabrics and those kinds of things. There's a button-down dress with a collar that's something that I made that I wear all the time in different fabrics. We're working on making that for my little line. [Laughs.]
Did you work on sewing projects growing up? Darby Forever is set in a fabric store, so it seems like it's popping up a lot.
I mean, honestly, no. I wish I knew how to do that! I'm jealous of people who do know. Definitely my family always had quilts around, and textiles, and my grandma's a painter, and she was always using that kind of stuff in her art. I have always valued creative people, so I have always liked doing that stuff. Let me be clear: I'm never sewing these clothes myself! It's through the help of a stylist who has someone who's a tailor who can really make these things. I don't know how to do anything!
Like you said before, you have two full-time jobs, and you're working on this, and I feel like even with SNL it's already a notoriously hard job. How do you balance everything, and how do you make it all work for yourself?
Yeah, I definitely don't! I don't balance it and I don't make it work! I'm trying very hard. I truly used to be a big planner, and I would be like, "I want to know what I'm doing tomorrow and the next day and this'll relieve my stress." I've really let go of that and I just take it a day at a time. Sometimes I have to take it like an hour at a time, and I'm like, "Okay, I'm going to do this SNL stuff for an hour, then I'm going to do two phone calls for Shrill, then I'm going to finish my SNL stuff, then I'm going to go back and do something for Shrill." I just kind of pop around and make it happen when I can, then I also try to, you know, have a husband, dog, and my family. [Laughs.]
Where do you see the show going for a second season as it distances itself from the book?
I think in a lot of ways we set up this person who is much bolder than we've seen before, so I'd be excited to see what kind of risks and adventures she'd be willing to take now that she's sort of trying to let go of some stuff and be free. Also, I think with having six episodes, it kept us stuck to our A story, which is all about Annie, and I'd love to get into some stuff about Fran, and all our other characters, really.