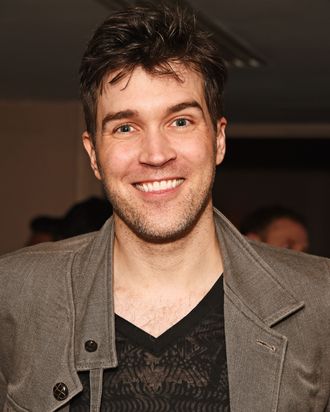 Dan Mallory.
Photo: David M. Benett/2016 David M. Benett
Lo and behold, critically acclaimed scammer Dan Mallory — who writes under the pen name A.J. Finn — may soon become an award-winning author. This morning, Mallory's best-selling debut novel, The Woman in the Window, landed on the shortlist for a British Book Award in the category of Crime & Thriller Book of the Year. The prizes, also known as the Nibbies, were established in 1990. They've undergone a few name changes since then, but past winners include J.K. Rowling, Michael Moore, and Gail Honeyman. This year, Mallory is in the company of nominees like Michelle Obama and Sally Rooney.
If you'll recall, Mallory was outed as a pathological liar in an investigation published by The New Yorker earlier this year. There's some delicious irony in his being nominated for a British Book Award: One of his many fabrications was a British accent, which he adopted for a period of time despite being born and raised in the U.S. One colleague explained this bizarre tick to The New Yorker as "a grown man walking around with a fake accent that everyone knows is fake," adding that the "habit lasted for years." But it's a rather trivial sin alongside his other lies, which were about having cancer and the deaths of various family members.
But in today's world, the schemers often live to see another day. Mallory's publisher HarperCollins kept him on in the wake of the scandal, and his second novel is slated for release in January 2020. The movie adaptation of The Woman in the Window, starring Amy Adams, Gary Oldman, and Julianne Moore, drops in October of this year. We'll have to wait until the "British" prizewinners are announced on May 13 to see if he'll be not just a best-selling novelist but an acclaimed one, too.