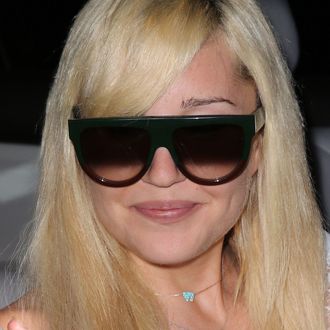 Amanda Bynes.
Photo: David Livingston/Getty Images
Months after reemerging into the public eye for an in-depth interview about her career, health struggles, and future, Amanda Bynes has returned to a rehab facility after suffering a "relapse." According to People, Bynes checked into rehab in January after a series of triggering events at the end of 2018, and is "getting help and treatment from mental health professionals and addiction counselors for drug addiction and mental health issues." People also reports that Bynes, who was staging a slow return to acting following her undergraduate graduation from the Fashion Institute of Design and Merchandising, attributed her reacclimation process into Hollywood as a major breaking point for her well-being. She was sober for four years before her relapse.
Bynes, who has generally eschewed social media and interviews ever since her very public breakdown in 2014, gave a personal and introspective interview to Paper last November, where she excitedly discussed what the future held for her. In a particularly fun anecdote, she explained how she got Channing Tatum cast as her co-star in She's the Man, even though the film's producers were convinced he was the wrong fit. "I totally fought for Channing to get cast in that movie because he wasn't famous yet," she recalled. "He'd just done a Mountain Dew commercial and I was like, 'This guy's a star — every girl will love him!' But the producers were like, 'He's so much older than all of you!' And I was like, 'It doesn't matter! Trust me!' " Here's hoping a smooth and safe recovery will be in Bynes's future.