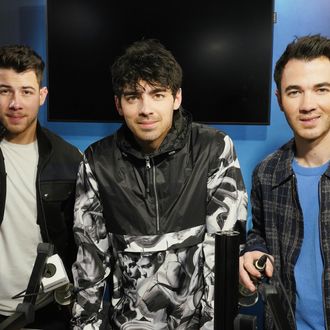 The Jonas Brothers.
Photo: Cindy Ord/Getty Images for SiriusXM
Like the swallows returning to Capistrano or salmon swimming upstream to their natal freshwater rivers, so too are the boys finally back to town. And Amazon Studios plans on capturing every beautiful moment, according to their announcement Monday that a Jonas Brothers documentary is in the offing. The as-yet-unnamed film will purportedly follow Nick, Joe, and Kevin as they get the band back together, promising "a very personal, behind the scenes look at the Jonas Brothers as they reunite for this exciting tour." The documentary will premiere globally on Amazon Prime Video.
"Our fans are the best in the world and have shared in our journey as the Jonas Brothers and us as individuals," the Jonas Brothers said in a statement. "In releasing this documentary we wanted to make sure we partnered with an innovative platform, like Amazon, that could reach our fans around the world." In the meantime, if you remain very still, you can catch your own glimpse of the trio in their native environment: that balloon-covered castle where they shot the video for "Sucker," the first new Jonas Brothers song in six years.