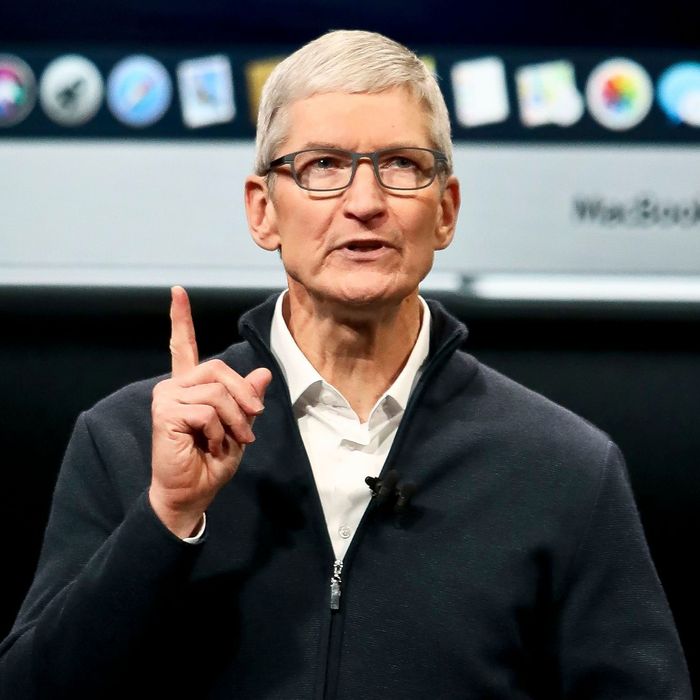 Apple CEO Tim Cook.
Photo: Bebeto Matthews/AP/REX/Shutterstock
Not long before he passed away in 2011, Apple co-founder Steve Jobs famously told biographer Walter Isaacson that he was working on plans to streamline and revolutionize the TV experience, much like his company had forever changed music and phones. "It will have the simplest user interface you could imagine. I finally cracked it," Jobs said. Apple has yet to introduce its own TV sets, and its Apple TV streaming box has been a niche product relative to the company's other devices. But it hasn't given up on fulfilling Jobs's vision for remaking TV.
On Monday, at one of its patented media events at Apple HQ in Cupertino, California, the tech giant will unwrap a long-gestating plan to turn itself into a significant player in the TV business. And while the super-secretive Apple has said next to nothing about what's on the agenda — even to the producers and networks it's working with! — some details have emerged. Here's a guide to what we do (and don't) know about Apple's TV kickoff, and what it could mean for the television business as a whole.
So, what is Monday's announcement all about?
Apple is expected to use the event to unveil a new video strategy, one built around original streaming content commissioned by the company. Expect cameos from big stars — Reese Witherspoon, Oprah Winfrey, and Steven Spielberg are all possibilities — and a first look at footage from the new shows Apple has ordered. The tech giant may also announce an upgraded or perhaps completely rebuilt version of its TV app, allowing cord-cutting consumers a more convenient way to subscribe to and stream content from a host of non-Apple video suppliers (similar, though likely nowhere near as far-reaching, as services such as YouTube TV and Sling). Numerous publications have reported that Apple will also use Monday's presentation to roll out a new way to subscribe to newspaper and magazine content.
Is Apple trying to take down Netflix?
Nope. The company's TV effort will certainly be ambitious: It's spending at least $1 billion to create a launch roster that will put Apple's originals slate on par with a service such as HBO. And it is certainly competing with Netflix (and Hulu and HBO and Amazon Prime) for both eyeballs and Hollywood talent. But there are no signs the company is looking to create an all-things-to-all-people platform such as Netflix. At least not yet.
Then what is it trying to do?
Apple wants to further diversify its revenue base. As awesome as iPhone and iPad sales are for Apple's bottom line, folks simply aren't upgrading their devices as often as they once did. The company needs more diverse and consistent revenue streams, and offering services that drive consumer subscriptions does just that. The $10 per month Apple Music plan currently has well over 50 million subscribers — nowhere near as many as Spotify's almost 90 million listeners, but enough to be a hugely important source of income. The company also recently bought Texture, an app that lets users pay a monthly fee to access the full content of dozens of print magazines. Per multiple reports, Apple will unveil a supercharged version of Texture, likely rebranded Apple News, featuring newspaper and magazine content for a monthly fee. The TV play offers a similar opportunity to keep money flowing to Cupertino by making sure Apple earns money off your iPhones and iPads long after you purchase them.
There's precedent for what Apple is doing here. The NBC television network and its predecessor radio network were owned jointly by RCA, Westinghouse, and General Electric, the companies that dominated early production of radio and TV sets. Having put devices in millions of American homes, they realized they could keep profiting off their wares by making and distributing content for them. Apple's strategy is much more involved, but not dissimilar.
How much — and what kind of — original TV content will Apple offer?
While Apple hasn't officially confirmed anything, its current slate of green-lit series consists of roughly two dozen projects. That's far more than the three shows Netflix rolled out when it started making original content in 2013 (House of Cards, Orange Is the New Black, and Hemlock Grove), and immediately puts Apple ahead of (or on par with) networks such as HBO, Hulu, Showtime, Amazon Prime Video, and FX. The new shows will cover a slew of major scripted genres: prestige dramas, thrillers, single-camera comedies, a couple of anthology series, thrillers, crime shows, sci-fi and fantasy, an animated series, and shows with music or musical themes. There's also at least one unscripted documentary series, though it doesn't seem as if Apple is going to do a bunch of reality shows based on what's been reported. At some point, Apple will also likely offer up programming for kids, since it's hired a team of three senior execs to work in the space.
What about stuff from other networks?
Apple's foray into making shows (and movies) is getting most of the buzz ahead of Monday's event, but there's also likely to be a far less sexy but still important component to the presentation: How will Apple's new TV initiative package and sell content from outside suppliers? Consumers with Apple devices can already order up Netflix or HBO as stand-alone apps, and if they own an Apple TV streaming box, the company's TV app kinda-sorta combines content from such services, as well as from cable and broadcast networks, on one landing screen. Per multiple reports and hints from industry insiders familiar with Apple's thinking, the company Monday may unveil its version of a programming "bundle," where you pay one price to get content from a bunch of networks. It doesn't seem as if the bundle will be anywhere near as inclusive as those offered by Sling or YouTube TV, with a source telling us that perhaps 10 to 15 networks could be included. One service that won't be participating: Netflix, which has definitely ruled out being part of any Apple offering since it wants subscribers to watch Netflix shows on, of course, Netflix.
How much will it cost?
Industry analysts and media reports have been all over the map on this. Some reports last year suggested that Apple was planning to offer its TV shows for free to anyone who owned certain Apple devices; others have speculated that it will charge a flat rate in the same neighborhood as Netflix, Amazon Prime Video, or the ad-free version of Hulu. It seems highly unlikely that Apple will just give its programs away, since the whole point of its video effort is to increase subscription revenue.
However, Apple could make its programming available at no extra charge as part of a larger subscription bundle of video content (or perhaps a mix of video, music, and news offerings). For example, Apple might package HBO, Showtime, and Starz together for a discounted rate of $25 — something cable companies have long done — and sweeten the pot by including its own programming for no added charge. Or a consumer could pay $20 per month for Apple Music, Apple News, and Apple TV shows. In this way, Apple's video play could be more like Hulu or Amazon Prime Video than Netflix: The original content is a way to make a larger package of services more attractive, rather than the sole point of the service. (With Amazon, that bigger goal is to get people buying more things on Amazon; Hulu is using its first-run content to evolve beyond its original mission, which was to repackage reruns of network TV shows.)
Back to Apple's original content. Who's behind the new projects?
Some big Hollywood names are making shows for the company. Witherspoon has teamed up with Jennifer Aniston for a series set in the world of morning news shows. Sci-fi and fantasy giants Ronald D. Moore, David Goyer, and M. Night Shyamalan have projects in the pipeline, while comedy is repped by It's Always Sunny in Philadelphia's Rob McElhenney and Charlie Day, as well as Master of None's Alan Yang. There's even an animated musical series from Bob's Burgers creator Loren Bouchard.
Has Apple made any big talent deals, like the ones Netflix struck with Shonda Rhimes and Ryan Murphy?
Yup. The flashiest deal — and the only one to warrant a press release — is its multiyear agreement with Oprah Winfrey to "create original programs that embrace her incomparable ability to connect with audiences around the world," per a press release. Exactly what Oprah will be producing for Apple remains a very big mystery, but given the company's penchant for surprise, it would be quite logical for her to pop up at Monday's event and possibly announce what she's up to. (Is it too much to hope that Winfrey will be rebooting her talk show in some form?) The company's deal roster so far also includes pacts with writer/showrunners Kerry Ehrin (Bates Motel) and Jason Katims (Friday Night Lights), feature-film deals with A24 and Imagine Documentaries, and series agreements with Peanuts and Sesame Street Workshop.
Apple isn't known for being edgy. Will its shows all be family-friendly, PG-13 fare?
A Wall Street Journal report last fall suggested that the company was telling producers that it "doesn't want gratuitous sex, profanity, or violence" in its shows and that as a result, its fare wouldn't play in the same prestige space as an FX or HBO show. Our sources suggest the word gratuitous could be key to understanding Apple's intentions. While it's unlikely something as dark and violent as Sons of Anarchy or the most controversial episodes of Westworld or Game of Thrones would end up on Apple, plenty of its shows will feature adult themes and content, including profanity, per people familiar with the company's thinking.
Are they planning to make movies, too?
Yes. Apple's current feature slate consists of four projects — including a Sofia Coppola film starring Bill Murray and Rashida Jones, and a nature documentary narrated by Chiwetel Ejiofor — with more in the works.
When will I be able to start watching?
Historically, when Apple announces a new product or offering, it wants consumers to be able to experience it (or at least preorder it) not long after the launch event. Back in 2005, when the company unveiled a video-capable iPod and opened the iTunes Video Store, episodes of Desperate Housewives and Lost were available within days. Given that several of Apple's original shows started production months ago, it's not inconceivable that the company could premiere its first show (or shows) within a few days. But unless Apple is planning to pull off the sort of shock-and-awe move Netflix used with its surprise post–Super Bowl release of The Cloverfield Paradox, all indications suggest that won't happen. Apple will almost certainly want to market and promote its first few shows for at least a month or two ahead of time, making summer or early fall much likelier targets for premiere dates. This doesn't mean that Apple won't give consumers something to buy or stream right away. Assuming Apple announces a subscription-based video bundle with access to existing networks, that offering could see the light almost immediately after Monday's event.
Will episodes come out weekly, or will full seasons drop all at once?
Even folks who've been working on shows for Apple aren't quite sure, but we've talked to Hollywood-based sources who've heard that Apple may take a hybrid approach to releases: A show could debut with two or three episodes available to stream at first, with future episodes released weekly. Hulu uses this strategy for a handful of series, including The Handmaid's Tale and The Act. Most likely, Apple execs will decide on a show-by-show basis, rather than lock themselves into any strict rules.
Will there be ads?
All indications suggest that there will not be ads in Apple shows.
Will I need to own an Apple device to watch shows on its new service?
Probably not, at least not in the long term. While Apple may initially focus on serving the hundreds of millions of iPhone and iPad owners, history suggests that it'll eventually open up its video play to folks with Android devices or smart TVs. Apple Music launched as an Apple exclusive before migrating to other platforms. And earlier this year, the company made a deal with Samsung to bring the iTunes Store and AirPlay 2 to the company's smart sets. That's a sure sign that Apple wants to expand the universe of customers who can opt in to its subscription services.
Is Apple introducing any new technology at this event?
Maybe! There have been rumors of a cheaper version of the current Apple TV box, possibly a dongle or stick-like ones made by Google and Roku. There hasn't been much by way of a radically resigned Apple TV, but the company is known for surprises, so…
How long has Apple been working on its TV play?
The bulk of what we'll see on Monday — the new shows, the big stars — actively began taking shape in June 2015, when Apple hired the co-heads of Sony's TV-production arm to oversee video strategy. But as noted above, the company's interest in getting into the TV business goes back to when Steve Jobs was alive. More recently, there were flirtations with TV shows tied to Apple Music, such as the short-lived Planet of the Apps, the still-running adaptation of Carpool Karaoke, and a never-seen drama from exec producer Dr. Dre called Vital Signs, green-lit back in 2016 and now presumed dead.
Who is overseeing Apple's TV initiative?
Those aforementioned former Sony execs, Jamie Erlicht and Zack Van Amburg, have day-to-day control of the company's TV-production business. They report to Eddy Cue, Apple's head of software and services. Van Amburg and Erlicht oversee a team of around two dozen senior execs.
How will we know if Apple's TV effort is working?
When Netflix launched House of Cards as its first big original six years ago, I posed a similar question: How will we know if the show is a hit? My answer back then was pretty simple. "If Netflix is writing eight-figure checks for original content five years from now, it'll probably be safe to declare House of Cards a success." (It's safe to say that plan worked out.) The benchmark for success at Apple is pretty similar: If the company is still making a decent amount of original shows a half-decade from now — and millions of people have signed up for one of its news and video subscription bundles — its strategy will probably be considered a success.