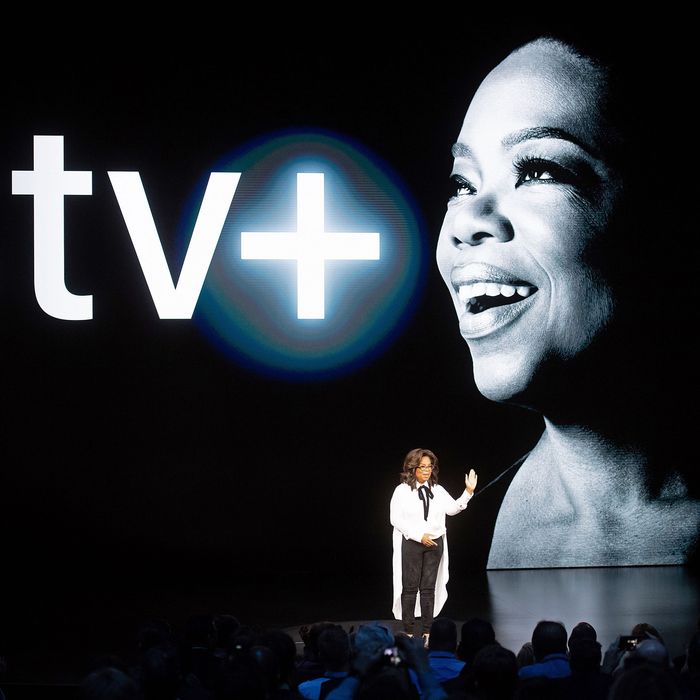 Photo: Noah Berger/AFP/Getty Images
After nearly two years of rumors and speculation, Apple has finally unveiled its battle plan for the streaming-TV wars — sort of.
The star-studded event at the Steve Jobs Theater in Cupertino, California on Monday made it clear the tech giant will compete with Netflix, Disney, and a half-dozen other major conglomerates when its subscription video service, called Apple TV+, launches this fall. And as expected, Apple will beef up its ongoing effort to simplify the modern TV-watching experience with an upgrade to its years-old TV app. Starting in May, you'll be able to subscribe to Hulu, Showtime, HBO, and two dozen other services from within a single user interface on the app (and you won't even need an Apple device to do it). But Apple was far less forthcoming about other key components of its Apple TV+ strategy, including any substantial look at its new shows or how much it plans to charge for access to them.
Reporters and media industry observers were probably annoyed by the lack of detail, but Apple's choice to stay silent about pricing makes sense for now. Once the company decided its collection of first-run Apple TV+ shows from Reese Witherspoon, Steven Spielberg, Oprah Winfrey, and many other bold-faced names wouldn't be available to consumers until this fall, there was no upside to offering up more than the broad outlines of the company's vision. Sure, having all those stars on stage simply talking about their shows made for a deathly boring experience for folks watching in Cupertino or via livestream (including some of the new Apple TV+ employees who flew north for the event). But Apple wasn't trying to win Twitter on Monday, or even get anyone to subscribe to Apple TV+ quite yet. Revealing substantial footage from its new shows today, nearly six months before audiences will be available to watch, violates Marketing 101. Netflix didn't share the first trailer for its first big original show (House of Cards) until mid-November 2012, about 10 weeks before the show started streaming.
While linear TV networks reveal trailers for their shows about four months before they premiere, that's mostly for the benefit of potential advertisers. Apple doesn't need to woo Madison Avenue, and given how many top creatives it has onboard already, it didn't need to convince anyone in Hollywood its TV effort is for real. Given the extremely online nature of entertainment journalism in 2019, serving up even bite-sized teaser-trailers on Monday would have turned today's announcement into a referendum on Whether Apple TV+ Shows Are Any Good. Even offering a few clips from a couple of shows might have prompted stories about what Apple didn't show off. The brief sizzle reel with quick shots of the biggest stars was probably the best option, PR-wise: It was proof of life for those of us wondering what Apple had been up to the past two years, but without actually raising the question of whether Apple TV+ has the goods to succeed.
Similarly, Apple's decision to hold back on revealing the monthly price tag for Apple TV+ is also logical, given how competitive the subscription video-on-demand space is about to become. Disney and WarnerMedia are also rolling out SVOD services this fall, and they're expected to offer far more library content than what Apple is planning so far. Why reveal your price point to consumers before your competitors do, particularly since those rivals won't have Apple's leg up in terms of distributing its offering to a billion potential customers? Putting out a number today would also allow reporters (including this one) to start asking whether Apple is charging too much or too little for its service. Apple can't put off that discussion forever, of course. But if it can get a better idea of what its new rivals will be charging, why not wait a bit?
Despite the general lack of news from Apple's TV event, the company did confirm a few interesting, if mostly expected, things. Here are the three standout details worth watching in the months ahead, while we wait for Apple TV+ to debut sometime this fall.
• As telegraphed by a deal with Samsung announced at CES in January, Apple's new TV app (and Apple TV+) will live outside the Apple ecosystem, even on rival set-top boxes like the Roku player. In fact, you won't need any Apple hardware to watch Spielberg's new take on Amazing Stories or subscribe to pay networks like HBO via the Apple TV app. It's a sign the company is going for the biggest possible subscription base for Apple TV+.
• Apple Channels, like a similar offering from Amazon, will allow consumers to buy a more streamlined viewing experience: You won't have to switch between the HBO and Starz app anymore to watch shows from different networks. We knew a lot of companies were in talks with Apple about the offering, but we now know most big-name services — HBO, Starz, Showtime, Epix, CBS All Access, Sundance Now, and about 15 other networks — have all signed up. (Netflix said no, and it looks like you'll still need to watch Hulu shows within the Hulu app, per a rep for the service.) What we still don't know is how aggressively Apple will bundle these services for one fee, akin to what it's doing with magazines on Apple News+.
• The fall launch date for Apple TV+ was rumored before today, but far from guaranteed. There'd been informed speculation some shows might even launch this summer. But Apple, as is the company's habit, is doing things more slowly. The new TV app and Apple Channels will roll out in May, which means tens of millions of Apple users will test out the new interface months prior to the debut of Apple TV+. It also means Apple will have a long runway to work out bugs in the new app before putting its own shows on the platform (and, crucially, before it starts charging folks). And it will give Apple plenty of time to build launch campaigns for its new shows, a key factor given the need to drive subscriptions. Apple might even use its traditional September iPhone event to hype the official launch of Apple TV+. The downside? Apple is losing the chance to hook in potential subscribers now, ahead of the rollouts of new services from Disney and WarnerMedia (and possibly a free offering from Comcast).