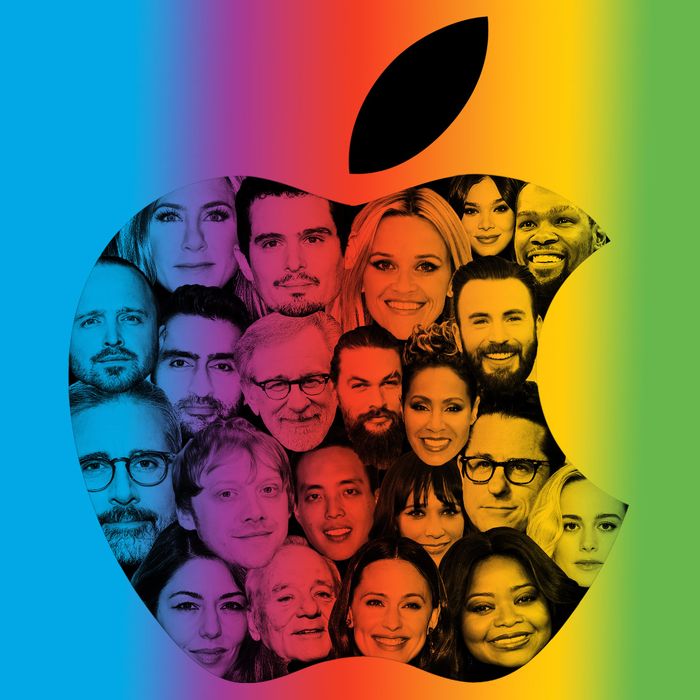 Photo-Illustration: Maya Robinson/Vulture and Photo by Getty Images
Anyone who still doubts the seriousness of Apple's commitment to Hollywood hasn't been paying attention. Slowly and methodically over the last two years, the company's fledgling TV and film production unit has been putting together what's easily the most ambitious content slate ever assembled for a streaming service at launch. The company has nearly two dozen TV series and four feature films in the works for Apple TV+, dwarfing the output of Amazon Prime Video (five series) and Netflix (six series, including the revival of Arrested Development) during their respective first two years of making originals. The company has also struck deals with several big brand names — Peanuts! Sesame Workshop! Oprah! — to develop programming for the service.
Here's a look at what's already been ordered ahead of today's big Apple TV event, broken down by genre, plus the film and development deals also in the works. (For an ever-updating list of Apple TV projects and premiere dates, make sure to bookmark our list of every Apple TV show in development.)
TV
Drama
The Morning Show
Arguably Apple's big prestige play, Kerry Ehrin (Bates Motel) translates Brian Stelter's Top of the Morning to the small screen with a big-screen cast (Jennifer Aniston, Reese Witherspoon, Steve Carell, Gugu Mbatha-Raw, Billy Crudup, Nestor Carbonell, and Mark Duplass are all on board) and veteran director Mimi Leder (ER, On the Basis of Sex).
My Glory Was I Had Such Friends 
Jennifer Garner is reuniting with J.J. Abrams for an adaptation of Amy Silverstein's 2017 memoir of the same name, which told the story of the women who helped Silverstein through the process of a heart transplant.
Swagger
Kevin Durant's life as a young basketball player provides the inspiration for a drama from writer/director/showrunner Reggie Rock Bythewood (Shots Fired.)
Crime Drama
Are You Sleeping?
Octavia Spencer stars in an adaptation of Kathleen Barber's true-crime novel, which explores how the boom in crime podcasts can have unintended consequences for suspects and victims. Reese Witherspoon is executive producing, while Lizzy Caplan and Aaron Paul are also attached to star.
Untitled Hilde Lysiak Project
Brooklynn Prince, breakout star of The Florida Project, teams with Jim Sturgess in a based-on-a-true-story mystery series about a young girl whose sleuthing game is strong. Dana Fox (Ben and Kate) and Dara Resnik (Daredevil) are the show's creators; Jon M. Chu (Crazy Rich Asians) will direct and executive produce.
Science Fiction and Fantasy
Amazing Stories
Steven Spielberg's 1980s anthology series — a ratings dud for NBC that's nonetheless beloved by Gen-X kids — is being rebooted (and reimagined) by the creators of ABC's Once Upon a Time.
For All Mankind
Ronald D. Moore, the guru behind Outlander and the 21st-century reboot of Battlestar Galactica, explores what might have been had the worldwide space race never ended, in a drama starring Joel Kinnaman (Altered Carbon).
Foundation
David Goyer (Batman Begins) and Josh Friedman (Avatar 2) are adapting Isaac Asimov's Foundation novels into a series that, like the books, focus on the human citizens of the Galactic Empire.
See
Aquaman himself (Jason Momoa) and Alfre Woodard star in a futuristic drama series from writer Steven Knight (Peaky Blinders) and director Francis Lawrence (The Hunger Games: Catching Fire).
Comedy
Untitled Rob McElhenney and Charlie Day Project
The It's Always Sunny in Philadelphia guys star in a half-hour set at a video-game development studio. Danny Pudi and F. Murray Abraham also star.
Dickinson
Emily Dickinson's origin story, comedically told with Hailee Steinfeld in the title role.
Little America
A comedic anthology revolving around immigrants in America, with Lee Eisenberg (The Office) as showrunner. Alan Yang (Master of None) and The Big Sick's Kumail Nanjiani and Emily V. Gordon are also on board as executive producers.
Thriller
Defending Jacob
Chris Evans (Captain America) stars in and produces this limited series based on the 2012 thriller from author William Landay.
Untitled Brie Larson Project
The Oscar winner stars in and produces a drama about an undercover CIA operative that's based on the true-life adventures of an actual agent. Lynette Howell Taylor (A Star Is Born) will also serve as an executive producer.
Untitled M. Night Shyamalan Project
The famed director is teaming with 24 writer Tony Basgallop for a psychological thriller, with Lauren Ambrose and Rupert Grint among the cast. It's Shyamalan, so the plot details, unsurprisingly, are a secret. But Deadline reports the series will feature half-hour episodes and involve young parents and a nanny.
International
Pachinko
Based on the novel by Min Jin Lee, which tells the saga of four generations of a Korean immigrant family and takes place in Korea, Japan, and America.
Shantaram
The story of a man who escapes from an Australian prison and ends up in Bombay, where he tries to carve out a new life in India's underworld. Based on Gregory David Robert's novel of the same name, with Eric Warren Singer (American Hustle) writing.
Music-Adjacent
Central Park
An animated musical from Bob's Burgers vets Loren Bouchard and Nora Smith, who are writing and executive producing with actor Josh Gad. Gad is also part of the voice cast, which includes Leslie Odom Jr., Daveed Diggs, Kristen Bell, Stanley Tucci, Tituss Burgess, and Kathryn Hahn.
Little Voice
A romantic drama set in New York City with original songs from Sara Bareilles. J.J. Abrams is among the executive producers.
Children's Programming
Helpsters
Featuring a new puppet named Cody, Sesame Workshop's first Apple series is pitched at preschoolers and will aim to teach them helpful skills like coding.
Non-Fiction
Two Oprah documentaries
Oprah Winfrey will produce two documentaries for the service, one — tentatively titled Toxic Labor — about workplace harassment, and the other a multi-part series about mental health.
Oprah's live-streaming book club
Oprah hopes to "convene a meeting of the minds, connecting us through books" via a book club concept that will feature live-streamed conversations with authors.
Feature Films
On the Rocks
Director/producer Sofia Coppola reunites with Bill Murray for the story of a young mom (Rashida Jones) who reconnects with her over-the-top dad (Murray) for a New York City adventure.
Hala
A coming-of-age story from writer/director Minhal Baig about a 17-year-old girl (Geraldine Viswanathan) raised in a conservative Muslim household and struggling to balance two cultures. Jada Pinkett Smith is an executive producer on the project, which screened at Sundance this year.
The Elephant Queen
Documentary nature feature about an elephant matriarch, narrated by Chiwetel Ejiofor (The Lion King).
Wolfwalkers
Animated fantasy adventure about a world where wolves are viewed as demonic and nature is evil.
… And the Rest
Untitled Damien Chazelle Project
The La La Land director is doing a show for Apple. What it is, we do not know.
Home
A docuseries about extraordinary homes and the folks who built them.
Calls
An adaptation of the acclaimed French short-form series, which uses minimalist visuals and unconventional audio sources to tell its stories.