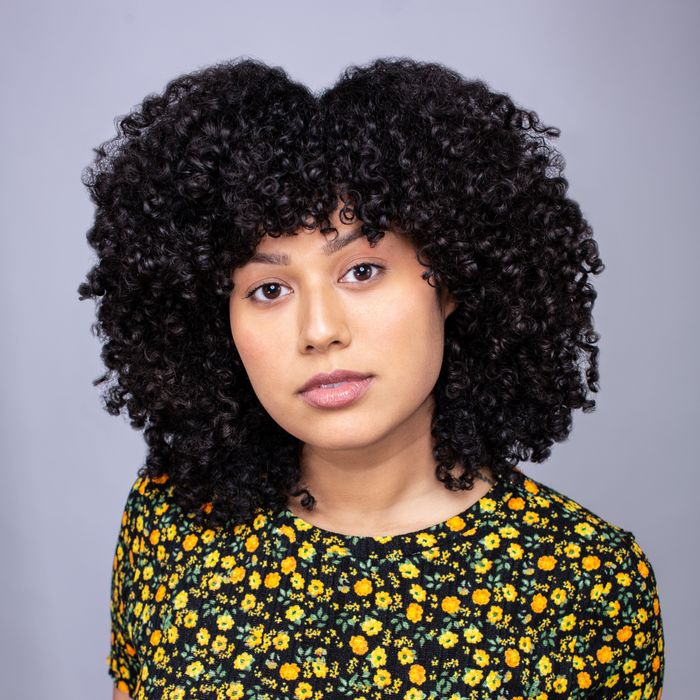 Ariel Leaty.
Photo: Jenni Walkowiak
Ariel Leaty (@ariel_comedy) is a comedian, actress, and model from New Jersey (and she isn't embarrassed about it). She co-produces a show with her best frenemy Gordon Baker-Bone called Culture Vultures and co-hosts a forthcoming podcast called What's Eating You? with Bryan Yang.
This week, Ariel and I discussed screaming into the Twitter void, making heavy jokes, and how she achieves those perfect curls.
This fact really does keep me up at night. LL, am I supposed to give up my pride for you? You haven't had a hit in years, the hubris!
How did you get your start in comedy?
I started in comedy in January of 2014 as a New Year's resolution to do something that scared me. I studied my little five-minute set, did an open mic (that was essentially a bringer), and did really well (in my head)! I caught the bug and was off trying to get booked any and everywhere. So I guess what I'm trying to say is that I'm the only person to ever truly fulfill my New Year's resolution and I'm still awaiting my medal.
Your face is in every other social media ad for pretty much any millennial-targeted startup or product. Have your experiences acting/modeling informed your comedy at all?
Why, yes, I'm a local celebrity, thanks for asking. I'm certainly more confident because of all of the auditions I've been going on. (For those of you not in the industry, an "audition" is like a job interview, where no one looks at your résumé and all that really matters is your "look" and "energy," much like an actual job interview.) So in that way, my acting and modeling work has definitely seeped into my stand-up. As in, my stand-up now mostly consists of me just standing around looking pretty? And I've never been more booked and busy? Is this the secret to success?
Do you think that having Twitter as a platform has been good for your career?
I don't think Twitter has done too much for my career. I am straight up screaming into the abyss and no one is paying attention. There are definitely some old tweets that I'm really proud of that got no love and I'm like, "Okay, that's it! I quit comedy!" But you gotta keep on trucking and believe that you're gonna be one of the guys that gets picked up for a writing job from your innovative tweets. Right?
This tweet was one of the first ones that "blew up" for me … and by "blew up," I mean more than four likes. I guess people were searching "leukemia" that day or something, I don't know. But, hey, fun fact: If you dig deep enough through my tweet history, you'll find I'm pretty much always just tweeting about my underwear, so that's a cool thing I recently learned about myself.
You were diagnosed with leukemia in 2014. Did that experience shape your current brand of comedy?
For a while I did "sick girl" jokes. Being nearly bald and telling cancer jokes will really bring the energy at a comedy show down, in case you were wondering. I'm still toying with the idea of going back and doing new versions of these jokes, but I really don't know. Am I ready for that to be my "brand"? Do I want people to think that that's all that I'm about? I found that audiences had a tendency to latch onto those particular jokes and would either feel bad for me, or they'd get bummed out thinking of a family member or friend going through it. I got the sense that they were all collectively thinking How dare SHE talk about this heavy subject? especially after my hair started to grow back and I seemed fine, even though I was still receiving chemotherapy until late 2017. Clearly I haven't cracked the code yet so here I am, doing Tinder jokes with the rest of 'em! (Really GOOD Tinder jokes, but Tinder jokes nonetheless.)
This tweet is my ticket to Hollywood, baby! I love doing impressions and definitely don't do them enough online or onstage, so it felt really good to know that people rocked with it. Gabourey Sidibe and Akilah Hughes approved!
Do you prefer doing stand-up or doing characters? What are some of your favorite characters that you've performed?
To me, characters and stand-up go hand in hand, because I'm also kind of playing a caricature of myself when I'm up there. I do characters in my stand-up without really meaning to, by constantly changing my voice and demeanor to illustrate who I'm talking about. I usually gain inspiration for a new character just by living life and meeting ridiculous people. And I live in New Jersey, so believe me, there's inspiration everywhere. I do this one character, Aaron, "the dude you met on OKCupid" that definitely creeps people out but boy, do I love being that clueless fuckboy. Clueless fuckboys are wildly underrepresented, in my opinion.
Please give us your hair routine!
Okay, here goes. First, and I cannot stress this enough, I do not dye my hair or heat style it. That creates smooth ringlets that haven't been tampered with. Co wash with Deva Curl Decadence, deep condition with Shea Moisture Manuka Honey, and use a wide-tooth comb to detangle in the shower. Once I'm out and my hair is still 80 percent wet I add my Holy Grail product, Miss Jessie's Multi Cultural Curls. It's expensive but my hair loves it (and I'm worth it, duh). When I use it I don't need to add anything else. I'm telling you it's just this product; stop searching, okay? And for those of you reading saying "I'm not spending all that money on my hair," then you MUST not care about the outcome, honey!